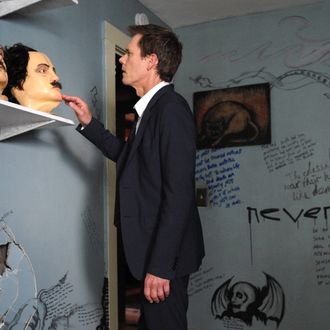 Kevin Bacon in The Following.
Photo: Sarah Shatz/FOX
We've written before about how the next-day ratings you see reported on Vulture and other outlets are only part of the picture in assessing how a show is playing with audiences. Those early numbers tell how many people watch an episode live or within a few hours of its broadcast (via DVR); they don't account for people who catch up the next day, later in the week, or via alternative means such as Hulu or network websites. Of course, in some cases, even DVR data doesn't really matter: The recent debuts of shows such as Smash, Monday Mornings,  and The Job were so lowly, it's unlikely they'll look good even once all the extra viewing is tallied. But considering how much hype is given to the overnight Nielsen numbers, it's worth checking in every so often on just how much of a difference DVRs (and other viewing alternatives) can make when trying to assess how a show is doing with viewers. Here are four recent after-the-fact viewing numbers that caught our eye.
Over at Fox, the January 21 premiere of The Following was strong even in the overnights, with a reported same-day audience of 10.42 million viewers, according to Nielsen. When you add in seven days of DVR viewing (so-called L+7), that number jumps up another 4.68 million viewers, a leap of 45 percent, to just over 15 million viewers. That's usually all the data networks release for a show, but Fox provided Vulture with some additional numbers to show how the audience for The Following was even larger than the L+7 figure. The network says just over 1 million viewers caught the show's premiere on Video on Demand within two weeks of its debut, while there were nearly 1.4 million who streamed it via Hulu and Fox.com. The network also repeated the first episode of The Following on its own air on January 25, bringing in an estimated 2.84 million additional viewers. (Nielsen counted more than that for the replay, but Fox is subtracting 25 percent from its tally, figuring some Kevin Bacon diehards watched the show twice.) Add all of this up and, according to Fox, more than 20 million people watched the first episode of The Following. That's more than double what Fox's iconic 24 did during its first season back in 2001, long before DVRs became commonplace or Hulu even existed. And it's about the same as what Fox's biggest drama hit of recent years, House, averaged during its highest-rated season (2006–7).

CBS, meanwhile, is a network that still has shows that do well with or without time-shifting. Shows such as NCIS regularly pull in more than 20 million viewers in the overnights. But take a look at how DVRs are impacting the Eye's new drama Elementary. Last week's episode, the first after the show's post–Super Bowl berth, pulled in just under 11 million viewers in the overnight Nielsen report. So far, however, the show has already added more than 3 million viewers from DVR playback, raising its tally to 14.2 million. And among adults under 50, the Sherlock drama has jumped from a 2.3 rating to a 3.4. Is Elementary a runaway hit? No, but it's easily one of the biggest success stories of the season, particularly when you factor in those viewers who prefer to solve crimes on their own time.
 
Then there's FX's The Americans. After debuting to near-record FX audience levels two weeks ago (more than 3 million same-day viewers), the show took a hit in its second outing when overnight Nielsen data suggested the series had plummeted to just under 2 million viewers. But with three days of DVR data now in, the audience for The Americans has already jumped a whopping 58 percent, to 3.1 million viewers. Now, that's still well below the 4.6 million people who watched the premiere of The Americans within three days of its telecast. But it's not nearly as bad as the overnight data suggested, and it also indicates that a big chunk of the audience that seemed to disappear in week two simply decided to time-shift the show.

It's not just new shows that are being impacted by time-shifting. ABC's Modern Family has seen a big jump in the percentage of its audience that watches on a day other than Wednesday. For example, consider the show's January 23 episode. When the overnight ratings came out, it appeared as if American Idol had simply walloped the ABC sitcom. Modern Family averaged a 4.2 rating among viewers under 50 in the next-day numbers, while Idol earned a 5.5. It wasn't even close. But with a full week of DVR data in, Modern Family's ratings skyrocketed by 60 percent. Idol got a bump, too, but only a modest 20 percent. Final tally: Modern Family 6.7, Idol 6.6. America voted … and Modern Family ended up the No. 1 show of that week in the key demo.