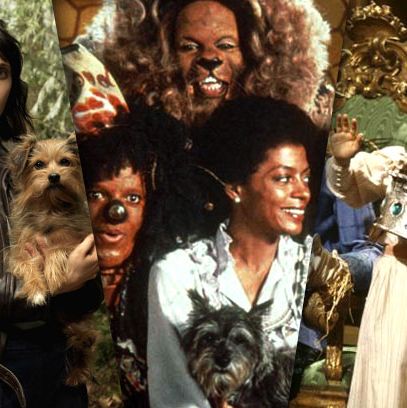 Little Dorothy Gale didn't take just one trip to Oz, so why should we? Fortunately, we now have Sam Raimi and James Franco to lead us back to the magic kingdom in Oz the Great and Powerful. This latest film serves as a prequel to The Wizard of Oz, but even that beloved classic offers only a small glimpse into the much larger world that prolific author L. Frank Baum created (and various others have twisted ever since, turning Dorothy into a seductress or even a villain). So if the 1939 Judy Garland is your only connection to this legendary land, put on your silver shoes (not ruby slippers) and click three times to discover some of the great and terrible ways of Oz.
The Original(s)
After publishing The Wonderful Wizard of Oz in 1900, Baum wrote thirteen more books about his fantasy realm. The 1939 movie was made from the first of them, but even by then, it was considered a remake — nine other (mostly silent) Oz pictures preceded it. Most Oz movies since have been derived from elements in the first three books — The Wonderful Wizard of Oz, The Marvelous Land of Oz (even though Dorothy doesn't appear), and Ozma of Oz. Since there's so much Oz to sift through, most of us just end up watching the Garland film over and over — it's the most quotable and the most pliable. Do you want to see it as a populist parable? A religious allegory? A feminist metaphor? It's all there, but even more so in the books. In The Marvelous Land of Oz, the boy hero — in order to gain power — has to become a girl. You go, Ozma.
Return to Oz
In this unofficial (and darker) sequel from 1985 (which you can watch here), Fairuza Balk isn't much more than a Munchkin herself. It's set six months after the tornado swept Dorothy away in the Garland film, and she hasn't quite recovered — so Auntie Em commits her to an insane asylum ("All she ever talks about is some place that doesn't exist!" Em says). Just as she's about to be subjected to electro-shock treatments, Dorothy manages to escape back to Oz, where she discovers that the Nome King has destroyed the Emerald City and that Princess Ozma (the rightful ruler of Oz and Dorothy's new BFF) needs her help. This movie is a cult classic because the Oz it presents is a scarier place, filled with the decapitated Mombi and her severed heads, plus the weird Wheelers, who chase Dorothy through the ruins — a perfect run-through for Balk for her work in The Craft.  And it never neatly resolves the question of whether or not Dorothy is sane or insane, whether Oz was just a dream or a nightmare, perhaps brought upon by electro-shock.
The Wiz
This 1974 "super soul" musical brought Oz to Broadway by way of the black power movement of the period, and it went on to win seven Tonys, including Best Musical. The inevitable film version, which arrived in 1978, was a lot less gritty. (Diana Ross as Dorothy! Michael Jackson as the Scarecrow!) But Jackson's workout on "Ease on Down the Road" remains a classic, and the movie also marks the spot where the singer met music supervisor Quincy Jones — his own personal Wiz. Semi-fun fact: Ashanti, who headlined a revival of The Wiz not too long ago, had previously appeared as Dorothy in a made-for-TV Muppets movie.
Wicked
Novelist Gregory Maguire had a great idea: What if the Wicked Witch of the West wasn't really wicked at all? The author explored this provocative notion in four books (Wicked, Son of a Witch, A Lion Among Men, and Out of Oz), the first of which appeared in 1995. Fitted out with songs, the story arrived on Broadway in 2003, with Idina Menzel and Kristin Chenoweth headlining. In Maguire's reimagining, the Oz mythology is turned on its head. Elphaba, the traditional bad witch, isn't evil — she's just the misunderstood victim of a cruel propaganda campaign (it's not easy being green). And the good witch Glinda isn't Elphaba's enemy — they're old school friends. The musical emphasizes the friendship, while the books get deeper into the politics (book four is a retelling of The Marvelous Land of Oz and its question of whether or not Oz can be a utopia with a planned economy). A movie version is slowly taking shape (Stephen Daldry, make this happen!), and the prospect of sequels is built in, of course. They could be pretty wild — in book four, Dorothy is on trial for murder! (She did kill two witches, after all.)
The Wizard of Oz, the musical and reality show
Possibly impressed by all the theatrical action that Wicked was getting, Andrew Lloyd Webber and Tim Rice have now whipped up their own musical take on the Oz story, pairing all of the famous songs from the 1939 movie with new numbers of their own devising. (This way, all the witches get to sing). The show has played London and Toronto and is surely eyeing Broadway as its final destination. Michael Crawford was the Wizard on the West End, while the role of Dorothy is cast separately in each country via a TV reality show called Over the Rainbow. This on-the-road casting approach is how Webber found a Joseph for Joseph and the Amazing Technicolor Dreamcoat, a singing Savior for Jesus Christ Superstar, and a Nancy for a restaging of Oliver! (Semi-fun fact: Samantha Barks of Les Miz placed third in the competition for that role). Casting Dorothy this way makes her seem more populist than ever.
Dorothy of Oz
Lea Michele already revealed she's a major Wicked fan by singing that show's best-known song on Glee. Now she gets to take her own trip to Oz in the upcoming animated film Dorothy of Oz, which was written by Baum's great-grandson. Even if it shares some of the same characters and themes as Return to Oz, this story is lighter — Dorothy returns to Kansas to find that everyone she's missed so much is moving on out. So she heads back to Oz again and finds there's more trouble there. Oz fans who take a shine to the cute China Doll girl in Oz the Great and Powerful will find a bossier version of her here.
Tin Man
In this TV miniseries, a steam-punk update of the Oz tale where Auntie Em is an android, Zooey Deschanel plays DG (Dorothy Gale, get it?), a girl who has no memory of the fact that she hails from O.Z. (or Outer Zone). She befriends various approximations of the Scarecrow (a man who's lost half his brain), the Tin Man (a cop with a tin badge), and a Cowardly Lion (here a cowardly psychic). There's also a wizardly sort of guy played by Richard Dreyfuss, and some brand-new backstory: We learn that DG's witchy sister Azkadellia (Kathleen Robertson) killed their mother, but that it was sort of DG's fault. Not exactly adorkable.
Dorothy and the Witches of Oz
Dorothy's great Oz adventure wasn't all a dream in this TV miniseries — it was all a suppressed memory. Best-selling children's-book author Dorothy Gale learns that the imaginary Oz she's been writing about is actually a real place, because some of its residents have been paying her visits in modern-day New York. The series was recut into a theatrical feature possibly on the basis of its several famous faces (Billy Boyd, Sean Astin, Ethan Embry, Christopher Lloyd). There's also a meta touch — it pokes fun at the idea of putting the Oz story in a contemporary setting (during a discussion about turning the books into a movie and dressing Dorothy in all leather). There are worse things that could happen to our gal, though. For example …
Lost Girls
Dorothy does porn! In comics god Alan Moore's three-volume, X-rated parody of Victorian pornography, Dorothy is one of three classic kid-lit heroines (the others are Wendy from Peter Pan and Alice from Alice in Wonderland) who meet up as adults in 1913 London. Looking back on their legendary lives, they realize that sex has been at the root of almost everything. How did Dorothy really get to Oz? Her first orgasm — talk about "Surrender Dorothy"! Cue the requisite girl-on-girl action. But these aren't just dirty books — the art (by Moore's longtime partner Melissa Gebbie) and the language are too cleverly indebted to Victorian erotica, and Moore's sociosexual observations keep poking through (so to speak). Still, in poring over all the shtup-centric shenanigans going on here, you know for a fact you're not in Kansas anymore.
Once Upon a Time
Granted, this family-friendly ABC show will be going to Neverland before it gets around to Oz, but the Emerald City is already near at hand. Check the flying monkeys in Henry's book (you can see them in the pilot when Emma crashes and pages go flying). Hear Rumpelstiltskin ask Jefferson to fetch him a pair of magic slippers. Note Regina's wisecrack about magic turning you green. And then there's the poppy dust. Plus, in the episode called "Hat Trick," which features many doors to different worlds, a green curtain bearing the symbol of Oz. Next step: somewhere over the rainbow.