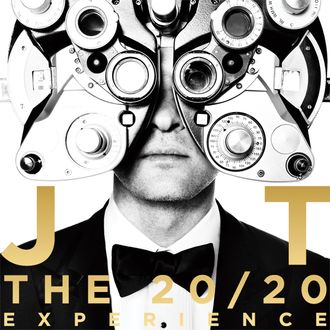 Justin Timberlake's third album, his first in seven years, started streaming Monday night on iTunes. (First Bowie, then Timberlake — good gets lately, iTunes!) Vulture immediately initiated back-to-back-to-back spins of The 20/20 Experience, and we've gotten both versed and jazzed enough to tackle some imaginary questions from imaginary fans on both ends of the very real excitement/trepidation spectrum. Here we go.
Does anything on The 20/20 Experience sound like Gloria Estefan?
"Let the Groove Get In" does. Very much so.
But do all the songs sound exactly like Justin Timberlake songs?
The finale "Blue Ocean Floor" is unexpected and sounds ready for an indie movie.
How much of this thing can I dance to?
Almost all of it. Will it define your year of movement the way FutureSex/LoveSounds did for your 2006 and 2007? The ball's in your court. Get back to us.
"Mirrors" and "Suit & Tie" seemed pretty busy — are any of these songs not packed with tons of ideas?
"Strawberry Bubblegum, " "That Girl," and "Blue Ocean Floor" keep things relatively simple.
How much mic-time does Timbaland get?
Not nearly as much as he did on FutureSex/LoveSounds, although he produced every song here, eight of them single-handedly. Zero "featuring Timbaland" credits, although his voice does pop up.
Are there songs about Jessica Biel?
Probably "Strawberry Bubblegum" and "That Girl," although they're fairly opaque. It seems safe to bet the "you are / you are / the love of my life" chant toward the end of "Mirrors" is directed toward Biel. (Whose name is actually now Timberlake.)
Does The 20/20 Experience feature the term "space lover cocoon?"
Yes, it really does.
I nurture a borderline obsessive love for long songs — will I enjoy this record?
Yes. Seven songs are longer than seven minutes. Two, "Mirrors" and album intro "Pusher Love Girl," pass the eight-minute mark. Only two tracks are less than six minutes.
Are there cameos from anyone other than Jay-Z?
Nope. But the skit leading into "That Girl" introduces JT and the Tennessee Kids.
"Suit & Tie" made me feel disappointed and/or sad and/or angry and/or ambivalent — are there songs I'll like better?
Definitely.