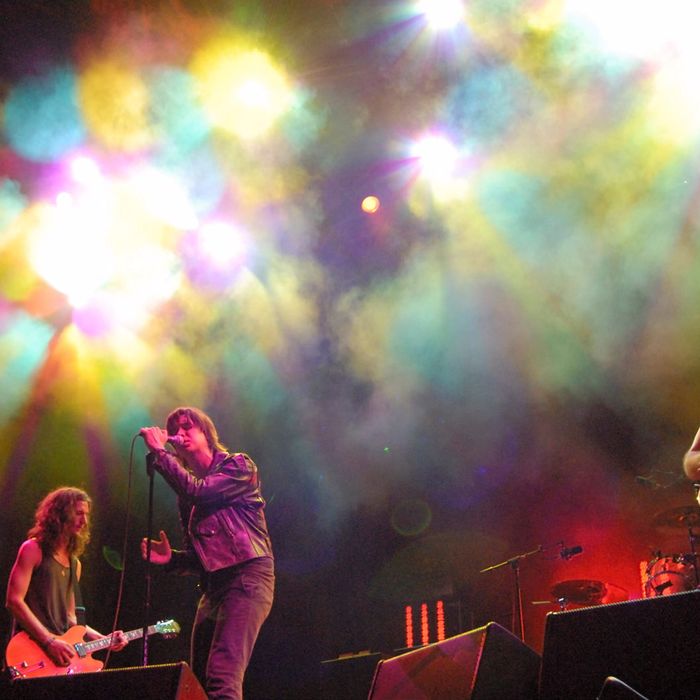 Photo: Dosfotos/? Corbis. All Rights Reserved.
Twelve or so years ago, the Strokes released Is This It, an album that — depending on your view of things — was either the Second Coming or the Great Downfall of rock and roll. (It turned out to be neither; it was just a very good record.) Julian Casablancas and friends have been living in its shadow ever since, and though they've never managed to top Is This It as an album, the Strokes still know how to write a good Strokes song. So in honor of Comedown Machine, their fifth album, Vulture ranked the 25 best Strokes songs of all time. (Listen to them all in the Spotify playlist below.) Sorry, Angles fans; this isn't the list for you.
25. "Razorblade" (First Impressions of Earth)
First Impressions was all over the place, but "Razorblade" kind of succeeded in spite of or because of this. An anti-love-song love song, it somehow works that the chorus apes the melody of Barry Manilow's "Mandy." Though we like to think they were referencing Homer Simpson's version.
24. "All the Time" (Comedown Machine)
Does it sound like 2013 Strokes trying to be 2001 Strokes? Very much so. Is that a bad thing? Listen to First Impressions of Earth again.
23. "Red Light" (First Impressions of Earth)
It's one of the few songs on First Impressions that sounds like the first two albums. The stars of this one are Albert Hammond Jr. and Nick Valensi, who knock out one of their most whimsical guitar exchanges in the band's catalogue.
22. "Between Love & Hate" (Room on Fire)
Have the Strokes sounded any drunker than this? It's a cross between early Walkmen, Biz Markie's "Just a Friend," and 5:30 a.m. after whatever insanely cool party the Strokes were at that night.
21. "Chances" (Comedown Machine)
This is the sort of straightforwardly pretty song that wouldn't make sense on any other album, but we're happy to have it in the canon. Now it just needs an indie rom-com make-out scene to soundtrack.
20. "Only Wanna Dance With You" (Ke$ha, Warrior)
Never mind that the Strokes are giving away their most disciplined material, or that Julian isn't even really singing (good job, Max Martin). The energy's right. (And shouldn't the Strokes be allowed to share in the Strokes copycatting?)
19. "Trying Your Luck" (Is This It)
The middle stretch of Is This It rightfully gets all of the attention, but this bummed-out, phoned-in three minutes is a welcome breather. Also: "At least I'm on my own again/ instead/ of/ anywhere with you." Julian Casablancas is pretty much the master of caring by not caring.
18. "Electricityscape" (First Impressions of Earth)
First Impressions has a whole bunch of "rock" songs that just don't really hold up against the other Strokes albums. "Electricityscape" is the best one, despite having the worst title of any of their songs.
17. "Alone, Together" (Is This It)
No Strokes song plays with tension better than "Alone, Together." It builds and pulls back right before release a couple times, until Julian yells "Oh" like he meant to say "all right" but forgot the "right" part. The rest is particularly badass.
16. "One Way Trigger" (Comedown Machine)
Everyone's been comparing this one to A-Ha's "Take on Me." Sure, it has a falsetto and comparable rhythm, but if you told us twelve years ago that the Strokes would have a song that sounded like A-Ha, we would've said, "Give my ears that song immediately."
15. "The End Has No End" (Room on Fire)
This is a deceptively complex song. Forget verse-chorus-verse, it's chorus1-verse-chorus2. They got melodies for days.
14. "Under Cover of Darkness" (Angles)
Collaborative songwriting didn't serve Angles all that well, but somehow the piecemeal structure works on this one (the album's lead single). It's like a funhouse, with choruses instead of weird mirrors.
13. "I Can't Win" (Room on Fire)
Efficiency has always been a Strokes virtue (or, it was in the glory days), and the Room On Fire closer keeps it extra-tight: two minutes and 42 seconds, with a word limit on the chorus. (That's why Julian milks the "Iiiiiii caaaaaaaaannnnnnnnn't winnnnnn" for eight seconds. We timed it.)
12. "The Modern Age" (Is This It)
The first song on their first EP, "The Modern Age" is the song that launched hundreds of bands with leather jackets and vintage amps. (Hell, Kings of Leon basically spent two records exclusively playing southern-accented versions of "The Modern Age.") 
11. "12:51" (Room on Fire)
You can hear future Julian in here (next to the Cars and the hand-claps). He warned us.
10. "Tap Out" (Comedown Machine)
In many ways, Comedown Machine sounds like Casablancas having his cake (or his synthy solo album sound) and eating it too (with the Strokes). "Tap Out" sounds like so many things and nothing else, yet still feels like a great Strokes song.
9. "Someday" (Is This It)
For die-hard Is This It fans, "Someday" is a Pavlovian trigger — the good stuff is starting, pay attention now. It's also vaguely prophetic: "In many ways, we'll miss the good old day" was true then, but it's truer now.
8. "Under Control" (Room on Fire)
At some point, the Strokes were going to have to do a ballad. Even the coolest band in New York needs an arms-around-your-buddies'-shoulders belter.
7. "Taken For a Fool" (Angles)
First, it features maybe one of their top two or three catchiest choruses ever, easy. Second, "Monday, Tuesday is my weekend." Come on! Even when they're married with kids, the Strokes can't stop making everyone seem like dorks.

6. "New York City Cops" (Is This It, internationally)
The song was cut from Is This It after 9/11, and it's taken on a sort of mythic quality as a result — thanks in part to this legendary 2002 Radio City performance, featuring Jack White and Julian's broken leg. Squint and you can see the cast.
5. "Take It orr Leave It" (Is This It)
It's last call, everyone at the bar already hates you, and you should probably go home. Not the Strokes, though — closing time is when things get rowdy. Same goes for closing songs.
4. "I'll Try Anything Once" (demo)
"You Only Live Once" — which this demo eventually became — is a First Impressions standout, and we should also credit the Strokes for getting to YOLO six years before everyone else. But this grainy, barebones version is virtuoso Casablancas — and it's a straight heartbreaker too.
3. "Reptilia" (Room on Fire)
There is a crop of fans who argue that Room on Fire is better than Is This It. Simply, the argument is that Room took the Strokes rubric and just made it hit harder, faster, louder, Strokesier. "Reptilia" is that contingents theme song. It's the Strokesiest Strokes song.

2. "Last Nite" (Is This It)
You can hear it in the intro — the band comes in one-by-one, confident, no rush. The Strokes know they're playing for (and from) history. They got this. No big deal.
1. "Hard to Explain" (Is This It)
We end at the beginning. "Hard to Explain" was the Strokes' first single, and it acts like a mission statement for the band's sound: retro yet contemporary, catchy as hell, drums that sound like a machine, Television-like dueling guitars, driving bass. And there's that breakdown — the "I missed the last bus, I'll take the next train" part — which is seriously like the best thing ever. People have personal favorites, but "Hard to Explain" is the Strokes song.