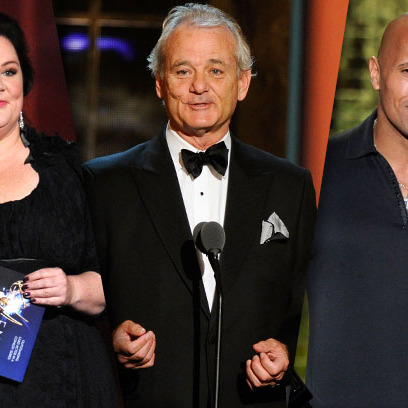 Jimmy Fallon. Neil Patrick Harris. Jimmy Kimmel. Tina Fey and Amy Poehler. You hear these names bandied about every year to host the Oscars, but aren't they a little too … expected? Over the past five years, the Academy has endeavored to surprise us with its ultimate pick to emcee the Oscars, eschewing the comedians who've hosted rival telecasts in favor of movie stars (Hugh Jackman, James Franco, Anne Hathaway) or fresh faces with a strong appeal to young men (Seth MacFarlane). Even when the Academy brought back Steve Martin in 2010, they paired him with awards hosting newbie Alec Baldwin, and while Billy Crystal came onboard for last year's, it was only after the more surprising choice, Eddie Murphy, fell out of the job. With that in mind, let's brainstorm who's likely to be in the mix for next year's Oscar hosting gig, with eight picks who haven't already done this sort of thing to death.
1. Dwayne Johnson
For Him: Adjust to the idea and you'll start to wonder why it hasn't happened before. Johnson is a charming, gracious presence who regularly kills it when hosting Saturday Night Live, and he's a movie star who'll be appearing in one of 2013's most guaranteed hits, Fast & Furious 6. If the Academy wants to hire another host with demonstrable appeal to a young male demographic, they could hardly do better than Johnson. Another plus? Many of the people suggested on this list would sweat taking the gig, but the Rock is not a guy who's easily intimidated.
Against Him: Johnson doesn't come with his own comic connections, so he would likely be at the mercy of whatever writers his producer picked.
2. Steve Carell
For Him: He's got exquisite comic timing, he's totally beloved, he's always funny at awards shows, and he looks great in a tux. Also, if the Academy still wants to hire Tina Fey without rehashing her Globes stint with Amy Poehler, they could pair her with Carell: The two starred together in Date Night and have another project lined up set to shoot this year.
Against Him: Carell is a likely Oscar contender this year for his work in Bennett Miller's drama Foxcatcher, and this would likely muddy the waters. More to the point, is this a job he would even want? I happened to speak to Carell the week after Fey and Poehler toplined the Globes, and talk naturally turned to awards-show emceeing; when I asked whether the Academy had ever approached him to host, he demurred and called it the most thankless job in the world. That's not exactly encouraging.
3. Emma Stone and Jennifer Lawrence
For Them: Can. You. Imagine? It would be like a completely epic slumber party that the whole world was invited to! We know that Lawrence and Stone are good friends, and they're both seriously funny whether delivering lines or speaking off the cuff. J. Law's an Academy favorite, while Stone woke up early to help announce the Oscar nominations this year. Let's get these deep-voiced broads together on stage, you guys!
Against Them: Lawrence is again expected to be a Best Actress contender this year (again!) for her drama Serena; couple that with her demanding Hunger Games schedule, and she'd almost certainly be taken out of contention. Sure, Stone could always host on her own or co-host with somebody else, but … LawStone or bust, guys. Also, while Jennifer Lawrence was good at about 99 percent of the things she attempted over the past year, that not-as-good one percent included her Saturday Night Live stint, a crucial precursor for the big gig.
4. Bill Murray
For Him: He's Bill freaking Murray! And if you don't think the Academy would be able to hire an elusive, testy Saturday Night Live alum who famously stormed out of the Oscars the year that he lost, I'll remind you that just two years ago, they managed to land Eddie Murphy. (Of course, Murphy then fell out of the Oscarcast when the Academy dropped producer Brett Ratner.)
Against Him: Planning the Oscar ceremony comes with enough anxiety on its own; hiring Murray, who's famously hard to handle when he's frustrated, could potentially just complicate things further.
5. Robert Downey Jr.
For Him: An awards-show staple who's genuinely funny and quick-witted, Downey Jr. is the biggest movie star of the moment. He combines popular appeal (and a four-quadrant demographic draw) with an Academy-friendly ledger that includes two previous Oscar nominations, and he's not likely to be in the nominatable mix this year, so he'd potentially be free to take the job.
Against Him: Rumor has it he's turned down this gig in the past. Also, his boastful, grandstanding awards-show appearances have gotten a little less delightful and a little more Charlie Sheen–y as of late.
6. Will Ferrell and Kristen Wiig
For Them: They were marvelously funny when presenting at the Golden Globes, and they pair together well. They would almost certainly lure the best writers to the telecast, including their frequent collaborator Judd Apatow, who wrote one of the funniest Oscar sketches of recent vintage. Get Apatow or Lorne Michaels to produce the show, and it'd be a comedy nerd's dream.
Against Them: The Oscars don't want to be perceived as hiring the Globes' sloppy seconds.
7. Melissa McCarthy
For Her: The huge box-office bow of Identity Thief helped solidify McCarthy as a major movie star, and she's become a regular Oscar presence following her Bridesmaids nomination for Best Supporting Actress. Over the past decade, Ellen DeGeneres was the only woman deemed funny enough to earn a solo stint hosting the Oscars, so who better than McCarthy to pick up that slack?
Against Her: McCarthy wasn't so riotous this past Sunday when paired with Paul Rudd in their Oscar presenting gig, but on her own (or, say, coupled with her The Heat co-star Sandra Bullock), perhaps she'd have better luck.
8. Tom Hanks
For Him: Doesn't it feel like this should have happened by now? Tom Hanks is a venerated Oscar winner with two statuettes and five nominations to his name, but he's never actually hosted the show. I noted this past week that there are three types of awards-show hosts in the modern era — the Song-and-Dance Man, the Deadpan Wit, and the Bomb-Thrower — while the commenters mentioned another sort of host who's fallen out of favor in recent years, the Father Hollywood figure like Johnny Carson or Bob Hope. If there's anyone who comes close to assuming that mantle now, it's Tom Hanks. This would be the smoothest, most professional show ever.
Against Him: Hanks has two big shots at Best Actor this year, since he's playing the title character in the Paul Greengrass–directed hostage drama Captain Phillips and Walt Disney in Saving Mr. Banks. He may be the ideal Oscar host, but 2013 doesn't look like the ideal year for him to do it.