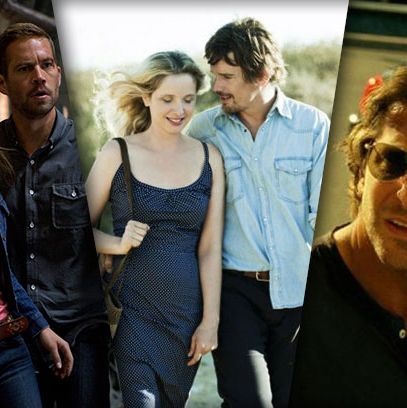 Does it sometimes feel to you like there's nothing good to see in movie theaters for several weeks … and then, all of a sudden, too many big films all come out at the exact same time? Get used to that feeling, because 2013 vacillates wildly between two sorts of weekends: the ones where you'll only get a single wide release blockbuster, and then those where five of the movies you want to see are all pitted against each other. What are this year's looming box-office battles, and is there any way of avoiding all this agita and spreading the wealth a little bit? Let's check out the calendar.
May 24
Fast & Furious 6
The Hangover Part III
Epic
Before Midnight
May is typically considered the first real month of the summer movie season, but this year's May is an awfully weird release corridor, you guys. Much of it is dominated by weekends that see only one single wide release, as on May 3, when Iron Man 3 comes out, and May 17, when Star Trek Into Darkness has multiplex debuts to itself. And then you come to the four-car pileup of May 24, when two of the summer's sure-to-be-blockbuster sequels — Fast & Furious 6 and The Hangover Part III — are pitted against each other while the family crowd has the animated Epic and art-house audiences finally get their paws on another kind of sequel, Before Midnight. Can't we spread the wealth a little bit? Warner Bros. really ought to move Hangover up a week to tussle with Star Trek; while the J.J. Abrams space sequel will be strong competition, surging Fast & Furious 6 could very well match its box-office gross this year, so why not stake out a window with less going on? Plus, it'd give Hangover more space to be the only comedy in wide release, since the first two weeks in June see the bows of Vince Vaughn and Owen Wilson's The Internship and the star-packed apocalypse comedy This Is the End.
July 19
R.I.P.D.
Red 2
Turbo
The Conjuring
We've got some more slim weekends in July before July 19, when the Ryan Reynolds supernatural adventure R.I.P.D. is pitted against Bruce Willis in Red 2, horror movie The Conjuring, and animated comedy Turbo. We'd bump Conjuring, the latest flick from Insidious helmer James Wan, to the following weekend, when the new X-Men film The Wolverine is the only blockbuster awaiting wide release.
September 20
Insidious Chapter 2
Prisoners
Rush

Why are these three male-skewing films all going up against each other on September 20 when there are several other options available? Insidious Chapter 2 is the sequel to last year's horror sleeper; Prisoners teams up Hugh Jackman and Jake Gyllenhaal in a kidnapping action flick; and Rush finds Ron Howard directing Chris Hemsworth in a race-car drama. Any one of those films ought to leap to September 6, where only the Vin Diesel space flick Riddick is currently parked. Yeah, that's aimed at men, too, but it's a sequel to 2004's $57 million grossing underperformer.

October 4
The Delivery Man
Gravity
Paranoia
Sin City: A Dame to Kill For

Something is a little cuckoo here, because October frankly looks like a more crowded month than anything we're getting this summer. The very first weekend kicks things off with two very mainstream films — the Vince Vaughn comedy The Delivery Man and the Liam Hemsworth–Harrison Ford thriller Paranoia — and two more high-minded wide releases with tons of geek buzz, the noir sequel Sin City: A Dam to Kill For and Alfonso Cuarón's eagerly anticipated Sandra Bullock space epic Gravity. The latter has already been pushed back nearly a year and is positioned for a potential Oscar play, but if it's picture-locked, can't we maybe move it to September, where it'd be far more welcome as a visual and mental treat for discerning audiences?
October 18
The Butler
Carrie
Malavita
The Seventh Son
Another puzzler: The fantasy film The Seventh Son and the Carrie remake will both be trying to lure teen girls on October 18, while the star-packed Lee Daniels–directed White House drama The Butler will split adults with Luc Besson's Robert De Niro–Michelle Pfeiffer mob comedy Malavita. This is a busy month, but Seventh Son would be better served the previous weekend, where its primary competition is the very different Tom Hanks drama Captain Phillips and Spike Lee's Oldboy remake.
November 15
The Wolf of Wall Street
The Counselor
The Fifth Estate
Grudge Match
The Best Man Holiday
What the hell, Hollywood? November is a tricky month dominated by two tentpole sequels, Thor: The Dark World on the 8th and The Hunger Games: Catching Fire on November 22, but crammed in between those weekends are five wide release films on November 15. Adult audiences will find their attention split by auteurist works by Martin Scorsese (helming the Leonardo DiCaprio drama The Wolf of Wall Street), Ridley Scott (the action thriller The Counselor), and Bill Condon (WikiLeaks exposé The Fifth Estate), while Stallone and De Niro team up with Kevin Hart in the sports comedy Grudge Match, and the African-American dramedy The Best Man finally gets a sequel. Move the latter up a week to face Thor, and here's why …
November 27
Black Nativity
Frozen
Mandela: Long Walk to Freedom
We're glad that Hollywood is finally putting out more movies with black leads, but why are they all coming out up against each other, splitting up a usually underserved audience? In addition to The Best Man Holiday on November 15, Jennifer Hudson and Mary J. Blige top line the musical Black Nativity on November 27, the same weekend that the Weinsteins make an Oscar play for Idris Elba in Mandela: Long Walk to Freedom. And then the next weekend brings Tyler Perry's A Madea's Christmas! Black Nativity obviously has to stick close to a holiday release, but if the Weinsteins flipped Mandela with one of their earlier fall/winter releases, that'd be a smart play.
December 20
Anchorman: The Legend Continues
Monuments Men
Saving Mr. Banks
Walking With Dinosaurs
Christmas is always a crowded release corridor, and this year is no exception. On December 20, Tom Hanks stars as Walt Disney in Saving Mr. Banks, and he's going up against George Clooney in another period drama, the star-studded Monuments Men. Meanwhile, we finally get the new Anchorman sequel, the family audience has Walking With Dinosaurs in 3-D, and then five days later, there's the Keanu Reeves action flick 47 Ronin, franchise reboot Jack Ryan, the national expansion of David O. Russell's next drama, and Ben Stiller's comedy The Secret Life of Walter Mitty. Will any of those films fall back into 2014? If we had to guess, we'd say 47 Ronin (a troubled production already hit by delays) makes the most sense moving back a few more months.