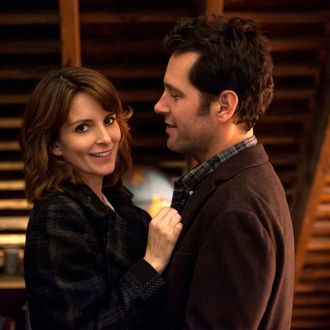 Photo: David Lee/Focus Features
Admission, about a Princeton admissions officer (Tina Fey) who discovers that a young applicant (Nat Wolff) may be the son she gave up for adoption when she was a college student, opens today. The film, which co-stars Paul Rudd, is a light comedy with a very different approach than that of its source, a pensive 2010 novel by Jean Hanff Korelitz. This kind of markedly different stylistic adaptation can be a shock for a novelist: We asked Korelitz and the film's screenwriter, Karen Croner, to share their thoughts on a process that can be emotional on both sides.
Jean Hanff Korelitz: Serious writers pretend they don't care about film adaptations of their work, but it's a colossal lie: We all care. My first three novels were all the subjects of intensely exciting flurries of calls from producers and even stars' production companies, and once someone actually hired a screenwriter to adapt one of my books — but it all came to nothing, so I tried not to get too excited when a Hollywood suitor came calling for Admission, my fourth novel.
Besides, Admission was a very internal book: It's about a highly cerebral woman's crisis as she confronts a long-kept secret. Her job as a Princeton admissions officer, moreover, mainly consists of sitting in a room reading folders. Not very cinematic! Still, the Hollywood people seemed really nice, really smart, and really interested. Development had progressed to include producers, a director (Paul Weitz), and a star (Tina Fey) when I sat down for lunch with the screenwriter, Karen Croner, on New Year's Day 2010. It was like a first date with someone I was already betrothed to.
Karen Croner: When I found Admission, I had just gone through the horrific process of getting my son into a private middle school — which in L.A. is a kind of blood sport. I thought, An admissions officer suffering? That wasn't sad to me; that had major comic potential. I wanted to write that story! And I relished the opportunity to take a good hard look at what the stress of the college admissions process does to kids and parents. I read Jean's beautiful book and fell in love with the characters, the premise. At lunch that day I told Jean the truth — my script would explore the darkness of her novel, but I also wanted to mine the humor. I would absolutely be true to the premise and themes, the soul of her book, but the story, tone, and some characters would change significantly. She looked very worried, and I wondered: Would we end up as enemies? Would this lovely woman hate me when she saw the major changes I would need to make to her story in order to make it visual, comedic, dramatic, and condensed enough to be told in a feature film?
JHK: I felt like I was handing over my baby to an unknown fate, which in this case is a particularly apt metaphor. Admission hinges on a private admission about a child born in secret and given up for adoption, only to return and upset the protagonist's carefully ordered life. One child, two mothers. I was the birth mother here, but Karen was the adoptive mom, and I would be unable to interfere in a single one of the decisions she was about to make.
KC: In Hollywood, once a novel is optioned the author is often completely ignored, and even lied to, a process that absolutely mortifies me. The worst example is when an author I know was not told that the main character, an older gentleman, was being changed to a teenage girl! Also, some producers prefer to keep the authors completely in the dark, especially regarding director choices and casting. I have always made a point of keeping the novelist involved every step of the way, for better or for worse. Some of my best friends are novelists whose work I've adapted! Like NPR's Jacki Lyden, whose 1997 memoir Daughter of the Queen of Sheba is finally heading to the big screen.
JHK: Karen came to visit me in Princeton, where I've lived for twenty years. My husband is a professor at the university, and I worked as an "outside reader" at the admissions office for two years when I was researching Admission. We drove around looking at some of the sites in my novel, and we attached ourselves to a tour of the Princeton campus. When we joined a Q&A session at the Office of Admission, I was curious about the University's official reaction to the book. Karen raised her hand and asked the young admissions officer leading the session whether she'd read the novel. The officer replied that she had not, but that she understood the book was "full of untruths." I was just appalled by that. Then again, "full of untruths" is sort of the definition of … fiction.
KC: I was nervous about sending Jean the script, but after Tina Fey read my first draft and committed to making the film (a thrilling moment for me!), I knew Jean would be reading the script in the best light.
JHK: Karen sent the first draft of the screenplay in an e-mail, and I read it immediately on my phone. In my novel, the central adoption revelation is revealed on page 318. But when I saw that Karen had moved that to very early in the film, I actually lost my breath. I sat in the passenger seat of my husband's car, in traffic at the Holland Tunnel, hyperventilating. I would later refer to this as my Smelling-Salts Moment. It was immediately obvious to me that readers who had seen this film were going to have a very different experience of my novel. The entire rhythm of the narrative would be undercut because the reader would know, from the very first page, everything Portia was ignorant of. Then again, it occurred to me that readers coming to the book second would know what happens no matter when the revelations came in the film; I had already agreed to that when I agreed to the principle of adaptation. Maybe it just hadn't hit me until that moment.
KC: When Jean read my first draft, she told me she cried. Then she read it again and laughed. In a good way, I mean! I was relieved.
JHK: I read it again. This time, I started to see why the new story arc made sense. I also understood how daunting Karen's task had been; she'd had to take a 400-page novel about a woman who lives very much in her own head and turn it into a 117-minute visual entertainment. An entertaining entertainment. And it was very funny. And this time I was able to see what was the same, instead of only what was different. Both the novel and the film are about a woman becoming a mother — uncomfortably, somewhat unwillingly, but also with love. Once I realized that, I was able to sort of fall for the script. It really was an adaptation.
Admission began filming in May of 2012, at locations in and around New York City. I had been warned that the writer is seldom welcome on a film set, but producer Kerry Kohansky-Roberts and Paul Weitz made me feel welcome, and everyone was very nice to me. (Perhaps this was because the Admission crew was heavily populated with writers. Paul, Tina, Wallace Shawn, and Lily Tomlin all know what it's like to face a blank page.) I visited three times, and it was a revelation, because writing fiction is a complete solo act, and I had total control of my book for years until my editor and agent weighed in. Making a film, on the other hand, is so collaborative that no one person has ultimate authority. I couldn't help wondering what it must be like for Karen to lose control of her script as I'd lost control of my novel.
KC: As the director became more involved and I watched on set as he adjusted the script and scenes somewhat to his own sensibilities, particularly tonally, I started to understand, ironically, what it was like to be Jean, watching your work change in someone else's hands. Between takes, I actually started to write some short stories. They were intentionally unadaptable. Like Jean, I had to let go. Every screenwriter does. The director has to make it his or her own and it was still incredibly exciting to see the actors and Paul bring it to life. I actually stayed at Jean's house while we were filming in Princeton and we had some wonderful Chardonnay-filled nights in her garden talking into the wee hours, writer to writer.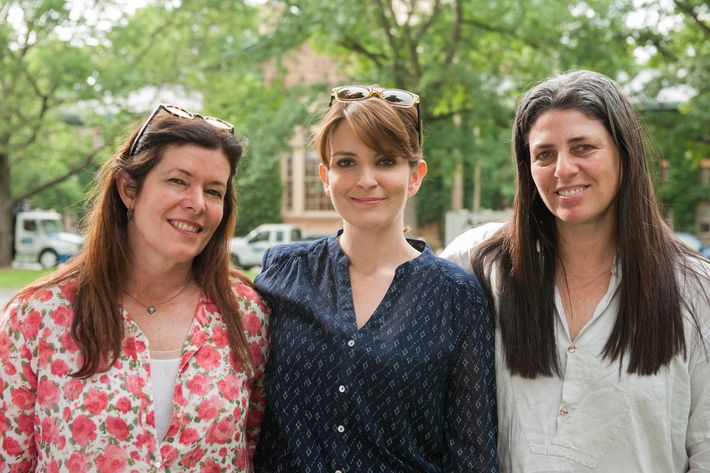 JHK: When it was all over, we both loved the film. And miraculously we were still friends.
KC: I think that's because we're not just writers but mothers, and we've both accepted that we can't control every single thing or person who will ultimately influence our children. We didn't compete with each other. We listened to each other, with respect and honesty. Admission is so altered from Jean's novel and then my script was filtered through the director's sensibility. So the movie's like our adult child: no longer the baby we gave birth to or the kid we raised, but someone totally separate from us. We truly love her, but she's her own person.
JHK: Plus, both of our actual sons have cameos in Admission. And they're adorable!
Jean Hanff Korelitz's fifth novel, You Should Have Known, will be published in 2014 by Grand Central. Karen Croner is currently writing an R-rated Universal comedy for Charlize Theron and an autobiographical TV series for Josh Schwartz and Stephanie Savage's Fake Empire Productions.