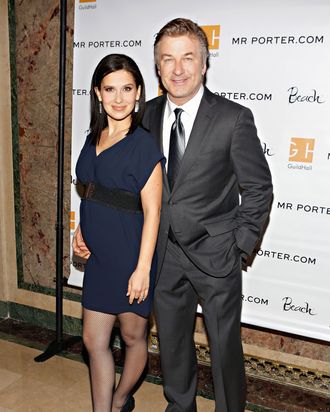 Alec Baldwin.
Photo: Cindy Ord/Getty Images
There are so many thought-provoking Shia LaBeouf tweets we could have asked Alec Baldwin to respond to last night at the Academy of the Arts Lifetime Achievement Awards. But the one we went with was this one: "The theater belongs not to the great but to the brash." Does Baldwin agree with his ex-Orphans co-star, who left the play on not-so-good terms? No, of course Baldwin doesn't agree with him! Here's what the 30 Rock actor had to say, exactly, when we asked him about the tweet.

"I can tell you that, in all honesty, I don't think he's in a good position to be giving interpretations of what the theater is and what the theater isn't. I mean, he was never in the theater. He came into a rehearsal room for six or seven days and, uh — you know, sometimes film actors — I mean, there are people who are film actors who have a great legacy in the theater. Some of the greatest movie stars had really serious theater careers and still do. And many film actors, though, who are purely film actors, they're kind of like celebrity chefs, you know what I mean? You hand them the ingredients, and they whip it up, and they cook it, and they put it on a plate, and they want a round of applause. In the theater, we don't just cook the food and serve it. You go out in the garden and you plant the seeds and you grow it. You know, it's a really very, very long, slow, deliberate — it's the opposite of film acting. It's a much more intensive and kind of thoughtful process. And there are people who that's just not their thing. So for those people who I think it's not their thing, I'm not really interested in their opinion of it. But thanks."
UPDATE: Shia is not a let-him-have-the-last-word kinda guy, and he released old emails from the play's director about Baldwin.