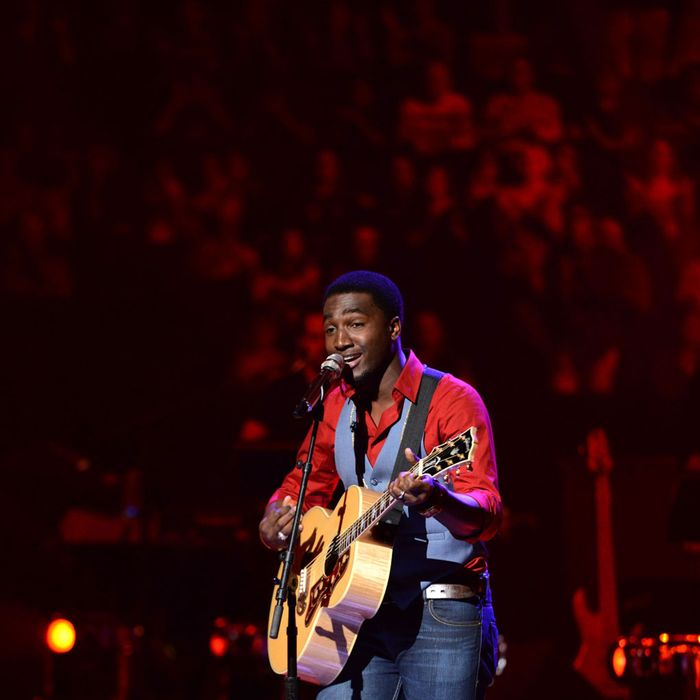 Photo: Michael Becker/FOX
Remember that episode of The Simpsons where the makers of Itchy & Scratchy want to spice things up, so they introduce an outrageous dog named Poochie? And then Homer — who has been voicing the ill-fated new character — suggests to the producers that whenever he isn't in a scene, everyone should ask "where's Poochie?" Tonight's American Idol reminded me of that episode, because I could feel Ryan, every judge, all of you, and myself asking "Where's Zoanette?" It's not a perfect analogy, as Idol's new addition actually works (though if it stops working, I would not put it past Nigel Lythgoe to murder Zo on the way back to her home planet). These idiots have finally, accidentally found a character who can revive this show, and I'm just going to be angry every time she isn't front and center.
Anyway, tonight the final ten boys of our top 40 contestants sing in a sudden death round, and the judges will narrow them down to five. And here are my snap predictions: I think Mathenee Treco, Nick Boddington, Burnell Taylor, Lazaro Arbos will make it through, plus I guess Cortez Shaw because he is the last one up, and that's the pimp spot. I will say that everyone is dressed in drab colors, which I think is a sneaky producer trick to make you vote for a girl.
Mathenee Treco is up first, and he's way more effeminate than he was last year! Has he always been like this? I kind of like it. Alas, he does Elvis Presley's "A Little Less Conversation," and it's a great big snoozeball. He's too tight physically, and his voice is constricted. He comes off like someone who can dance, but he never really gets outside of the Idol logo. It's a big disappointment, if you can be disappointed by something you had no expectations about. Nicki praises him in her cockney accent, which I have come to know as a harbinger of bad news.
Gurpreet Singh Serin definitely matches his turbans to his pants, and I admire that. Plus, he seems to take all of this show's mild racism in stride, so I'm kind of rooting for him, but ultimately his performance of some James Morrison song underwhelms. You can tell that there's some soul in his voice, but he never really lets loose in the way that we've seen him do before. The whole thing makes me drowsy. Nicki gives him a HELL NO, and Randy just says it was terrible without giving any actual criticism, and for once I just agree with him.
Vincent Powell is a name I vaguely remember having typed before, so maybe there's something good about him. And oh, it turns out he used to be a backup singer for Whitney Houston, which seems like the kind of thing these people might have wanted to mention to us before. But whatever: He either slays it, or just does a competent job and stands out by comparison. Either way, I'm awake again. (Though you can be forgiven for wondering where Zoanette is, and I will tell you: She is in the audience, stealing the entire show just by reacting.) Nicki tells him "Yo, that hit me in that spot with that bal' head right there." So, okay, Vincent Powell is going through.
Really, only Nicki is bringing the heat judging-wise. Keith continues to be a bland, benign presence; Randy is still history's great monster; and Mariah communicates almost entirely through sighs. Also, she is much titsier than I remember her being. She is all boob, and they are impeccably made-up. Remember how the mom in Carrie carried on about her "dirty pillows"? Mariah's breasts are spotless, dry-cleaned pillows.
Also, do you know how sometimes when you're listening to Jason Mraz, you're like "I wish he sounded more like someone who's been to musical theater camp?" No? Well, Nick Boddington's got you covered anyway. I like this guy's pluck; I like his clear tone; I have learned to overlook the fact that he looks like a cross between Ducky from Pretty in Pink and someone on the cover of a brochure for a breast cancer 5K. He sings yet another James Morrison song, or maybe it's the same one — who can tell with James Morrison? It's not the most inspiring thing, but Nick might get through just because the competition is so weak.
Josh Holiday has chosen to do an original! It's what we now call the Angela Miller Gambit, and for me it pays off. It's a pretty song! His vocals might not be as good! These exclamation points are exclamation points of encouragement! Do your thing, Josh Holiday! The judges also mostly praise the song rather than him as a vocalist, so that's probably bad news.
David Oliver Willis gives us a totally uninspiring version of Peggy Lee's "Fever." I've never seen this guy before, and all his interview footage comes from his initial autidion, so the producers are clearly not betting on him. It's fine. It's fine. Bryant Tadeo is from Hawaii, so obviously he does Billy Joel's "New York State of Mind." It's forgettable. As in, it's happening in front of me right now, and I am forgetting it. Jesus Christ, you guys. Tonight feels like waitstaff auditions for a piano bar in Ybor City.
Okay, I like Burnell Taylor. Remember Burnell Taylor? The guy with the shorts who lost all his stuff to Hurricane Katrina? Well, Burnell has burnelled off a few pounds, taught himself how to tie a bow tie, and is in this thing to win this thing. I like him. I really do. Sure, he does a little Mariah-esque air-conducting during his version of John Legend's "This Time," but he's got me listening to every word. We got a contender right here!
Lazaro Arbos, the occasional stutterer, does Keith Urban's "Tonight I Wanna Cry," which I have now heard a dozen times on this show alone. And it seems like ol' Laz is going to be one of those people who shows promise and then lets his nerves get the best of him once he gets in front of an audience. There are no big moments in his performance, unless rivers of sweat count as a moment. I've been rooting for this guy, but this competition will eat him alive.
Cortez Shaw got on my nerves in Hollywood when he sang only the crescendo of "I Will Always Love You." Tonight, he tries a ballad version of "Titanium," and it's a little masturbatory, but it's semi-interesting, which, on a night as boring as this, counts as super-exciting. Plus, he is crazy handsome. Cortez Shaw will go far.
Indeed, he makes it through to the next round, as do Lazaro, Vincent, and Burnell. David, Bryant, Josh, and Mathenee get the boot, and then it's down to Nick and Gurpreet, out of whom the judges pick Nick, which is good because I can't hear grown-ups say the word Turbanator anymore.
So next week there will be THREE NIGHTS of this, God help us. The boys go on Tuesday, the girls on Wednesday, and then our top ten will be revealed on Thursday. Will there be some kind of wild-card round to salvage the Jett Hermanos or Isabelles who got passed over for some of these weak-ass dudes? Maybe! Seriously, I don't know.
Anyway, where's Zoanette?