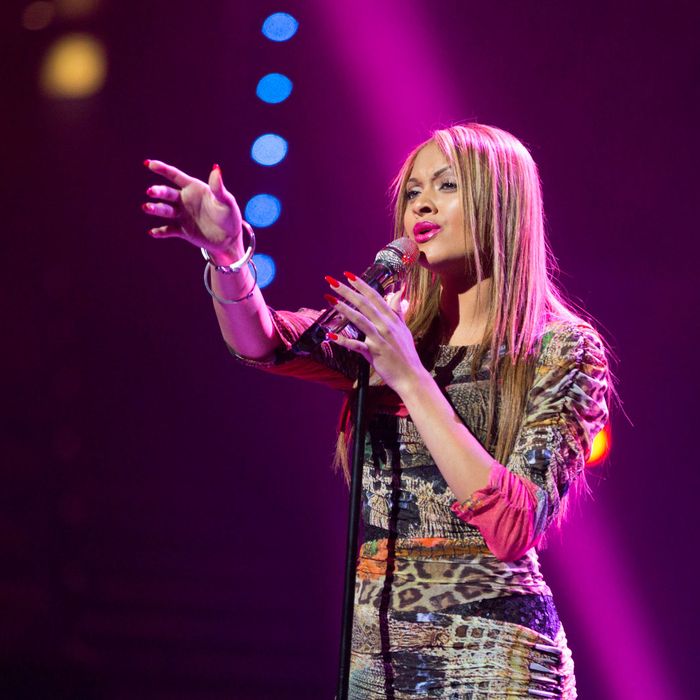 Photo: Colin Young-Wolff/FOX
You guys! After only seven weeks of this goddamn show, it's time for us to start voting. In fact, it's time to start supervoting; through the American Idol app, each person is assigned 50 votes to dole out however they choose. Man, they are desperate to neutralize the text-happy preteen-girl voting bloc, and they have chosen socialism.
We're still in Las Vegas, we're still disrupting the perfectly nice French clowns of The Beatles Love by Cirque du Soleil, and we begin with the most terrifying clown of them all: Zoanette. Now, listen: I love Zoanette. She is totally magnetic and entertaining in a way nobody's ever been on this show. If you didn't have to sign into this Idol app via Facebook, I'd give her all 50 of my votes. So it's a shame that her version of "What's Love Got to Do With It" is a room-temperature mess. She forgets the lyrics (or makes up her own; who can tell with her?), she's off-key, she looks like Sarge from "Beetle Bailey" in drag as Wendy Williams. The judges don't love it: Nicki says simply, "That wasn't it," while Mariah calls her a "bundle of festivities," which is not a thing. Also, the judging goes on forever, as we have not only too many people, but each of them loves the sound of their own voice. So Mariah ends her critique with "you said it yourself: You're unbridled," which is actually a thing that Keith said about her at the beginning of judging, but you forgive her because that was about 45 minutes ago. Anyway, it's terrible, but I suspect she'll still make it; Zoanette is why there's a Vote for the Worst.
Breanna Steer looks like Nicole Richie before she started taking herself seriously, and her version of Beyoncé's "Flaws and All" is actually quite good, which sounds weird after Zoanette. But she doesn't quite do enough to distinguish herself; you really have to bring it on the first night America gets to supervote. Nicki repeats herself that "that wasn't it," while Keith loves it. Randy says: "HA HA this is going to be an interesting … judge … thing," because he's only had twelve years to figure out what to call all of this.
It's unfair to have Aubrey Cleland right after Breanna because they're kind of the same person, and they should absolutely take Nicki's advice and start a group together. Especially since her version of "Big Girls Don't Cry" is kind of uninspired. She's beautiful, she can sing, but my mind wanders. Mariah tells her she has "multi-platinum potential," and everyone else urges her to "keep doing it," which sounds like code for "you're going home."
Janelle Arthur tells us she's always going to be the girl from the small town, which is adorable because she might even believe it. Her take on Elvis Presley's "If I Can Dream" is a little flat, and while it's not as good as she's been in the past, she's still a li'l charmer. I think it's rough, Nicki calls it the best vocal of the night so far, and we're both right. This is grim. Nicki also calls her a marshmallow, and Ryan tells the audience to vote "if you want s'more of her." It is Ryan Seacrest's finest comedic hour.
Tenna Torres is not wearing a dusty wig, so that's progress. I feel bad for her; she's a technically nearly perfect singer, but her personality hasn't popped yet, plus we haven't seen her in two full weeks. She needed to come out in a big way, and this might not be the performance she needed to give. Nicki says she likes the way her boobs look, and Randy bellows "WHAT! HA HA! HEY! HEY! WHAT!" for 45 minutes before Nicki says, "Randy, shut up," and then I go online and buy three more televisions because I have fallen back in love with the medium.
One overall note: This would be a much more entertaining show if Nicki and Mariah would acknowledge each other. Nicki and Keith seem to be having a grand time over on the left, Randy is off in his own world, but Mariah won't risk showing America her bad side by glancing over at anyone else. It's irritating. Oh, also, Mariah has nothing to say. This was a bad investment.
Angela Miller is now Angie Miller, and she's doing a Colton Dixon song, which I think is based on that Jesus Footprints story? You know, the one where someone is like, "During my hardest times, there was only one set of footprints in the sand," and Jesus is like, "Girl, I was carrying you then." The one with the very clunky metaphor. You know the one. She's at the piano, it is reminiscent of her Hollywood Week performance, the crowd goes wild. Nicki tells her "trumpets should sound when you walk in the room, little girl." There's no way she's not going through.
And if there's any justice, so is Amber Holcomb, who does Whitney Houston's version of "I Believe in You and Me," and slays it. She's confident, she has actual phrasing, she makes it her own. The judges love it! Keith advises fewer runs. Randy says she's in it to win it. Mariah continues to impersonate a dial tone.
Man, tonight's show is back-loaded. Kree Harrison sings Faith Hill's "Stronger," and it's perfect. She continues to dress like someone who runs a raw-milk stand at a farmer's market, but everything else is right on point. Nicki gets the No. 2 line of the night with "You already know that you're my wife," to which Kree responds with the No. 1 line of the night: "I'm just trying to do my wife proud." Please go through, Kree!
A funny moment was allowed to happen on American Idol with this whole wife thing, so obviously Ryan and Randy want in. Ryan says, "Nicki, did someone go to the Little White Chapel here in Las Vegas and not tell me about it?" Randy replies: "Ryan, didn't you drive them there? HA HA HA. Didn't you drive Nicki and Kree there? To the chapel? HA HA HA HA HA. WHAT." It's a perfect encapsulation of their styles: Ryan expresses himself through deft product placement, while Randy doesn't listen to anyone and thinks he's hilarious. I looked back during this portion of the show and there was one set of footprints leading to my liquor cabinet because Jesus went to pour Himself a whiskey.
Adriana Latonio is the youngest in the competition, and it shows, even though she's dressed in a 1994 Oscar gown. Besides Zoanette, her performance is tonight's one true clunker. Nicki tells her "after Angie, Amber, and Kree, you need to work harder and come back next year." It's been years since we've been able to say this about an American Idol judge, but: She's saying what we're thinking!
How am I just now noticing how much Candice Glover looks like Star Jones? It's uncanny, and it might be why I haven't totally connected with her yet. Oh, but her version of John Legend's "Ordinary People" is the performance of the night, hands down. She straight-up reinvents the song. She is bossy. Nicki tells her, simply, "That was it." Nicki even has a sense for narrative closure! My queen.
So, on Thursday, five of these women will join the top ten, and I think Candice, Angie, Amber, and Kree are locks. Obviously, I'm pulling for Zoanette. Randy teases a wild-card round, which they might really need, as this year is too packed with talent. But on the other hand, Idol is already taking up five and a half hours of my life this week and Jesus is out front waiting for his taxi, so maybe we should just get on with it.