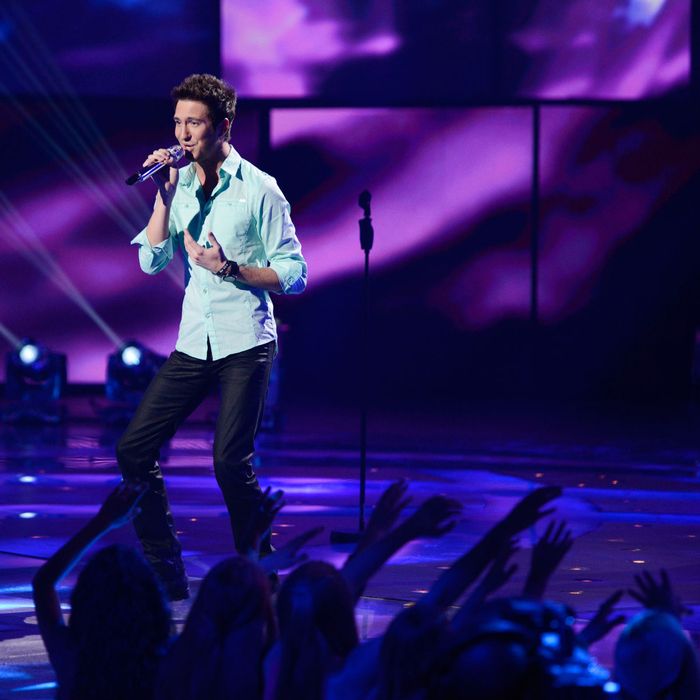 Photo: Michael Becker/FOX
You guys! Our votes have been tabulated, our top twenty have been shuffled back to Hollywood, and Glee and your local news have been pushed back a half hour. Let's take 90 minutes to read ten names, you want to? It doesn't matter. We're going to. American Idol does not kill time so much as treat time like a young backpacker in a Hostel movie.
On the movies tip, do you remember that part of Fast Times at Ridgemont High where Mr. Hand shows up at Jeff Spicoli's house on the night of the big dance and reclaims all the time Spicoli wasted over the school year? Do you ever fantasize about doing that to Nigel Lythgoe? Just tying him to a chair and talking world history and making him miss the Illuminati Father-Daughter Dinner Dance or whatever? May I tell you confidentially that I think about this every day?
Incidentally, my guess for how they'll spread this to an hour and a half is by making the last 30 minutes a sing-off for the surprise wild-card spot. (Spoiler alert: NOPE. There will only be a top ten. It just takes forever.)
Tonight is also the first time this season that the MegaJumboTron finally opens and spits these four judges out onto the Hollywood stage. Nicki is still working bangs. Mariah Carey is wearing Jessica Hahn's dress from Sam Kinison's "Wild Thing" video. If you can picture that in your mind without Google Imaging it: Congratulations, we are already friends.
Hey, before anything happens, let's take a long look at the last seven weeks' worth of shows that led us to this point! Anybody have any theories as to why this is the lowest-rated season of Idol since season one? (I might.)
And then, at 8:20 p.m., it is time to start the damn show. The boys are sequestered in some weird detention facility behind the stage, and Ryan will call each name and walk each finalist down to the stage individually, where the MegaJumboTron will reveal them to the live audience and the judges, who will be getting the news for the first time right then and there, ten seconds or so after we do. Have you got that? No, you haven't. Nobody has got that. Poor Ryan has to explain it a million times throughout the show, and it never makes sense. Anyway, the first name to be called is Paul Jolley, who reacts in his Stefonish way, and let me tell you: Hollywood's hottest long, awkward walk is this one, from the detention area to the stage. It's got it all: silence, confusion, a babbling Ryan Seacrest stalking creepily behind you, and that thing of where you wonder why they're doing it this way, and then you realize that if they put Charlie Askew through any more stress onstage, he'd open fire.
Oh, also each top-ten contestant will sing a victory song! And Paul sets the tone for the evening by choosing Heart's "Alone." Have you ever considered Heart's "Alone" to be victorious? Jesus H. Lord, I have a lot of questions tonight. After his desperate, yearning victory song, Paul is left out onstage while Ryan hustles back to Idoltanamo Bay. The judges eat up the time by giving Paul feedback, which is meaningless because nobody's voting on this part. This happens ten times, and it gets more awkward as it goes. This show could have been done in 30 minutes. This show could have been done in 30 seconds.
Next to make the top ten: Burnell Taylor! Great! I love this guy more every time I see him. He does India.Arie's "Ready for Love." It's glorious. I do wish he would dress slightly less than an extra from A Different World, but that's a small thing.
Curtis Finch Jr. makes it to the top ten, of course, and again poor Ryan has to chase him down the hallway saying vague nice things and not getting any response: "Look who did it!" "You did it, man." "You got there." "You're gonna go have your moment out there now." Curtis sings "So High" by John Legend, and he sounds great. Look who did it.
Look who else did it: Devin Velez. Ryan once again explains this byzantine new process: "They're not gonna know it's you coming out. They're gonna be on their feet. Cheering. Okay?" At least Devin has a victorious-sounding victory song: Israel Houghton's "The Power of One." I still don't think he'll make it too much further.
Left in the waiting room are Lazaro, Cortez, Elijah, Vincent, Nick, and Charlie, and if you thought Charlie looked miserable last night, you might not be prepared for what you see here. This is a kid who looks like a young Paula Poundstone under the best of circumstances, and now he is being put through the wringer on national television, so he has the added benefit of looking like he may vomit at any moment. Alas, only one can go through, and it is … Lazaro. Which is a shame, because Ryan is just beginning to get the hang of how to converse with these kids during this long stroll, and, well, conversation is not Lazaro's thing. Lazaro does have long, detailed directions for the musical director, though. He sings "Bridge Over Troubled Water," obviously, with giant white high-top sneakers, a wet-looking head, and flat vocals throughout. I want justice for Vincent Powell.
And then it's time for the ladies. First through is … Janelle Arthur! She brings her bottle of Smartwater with her for the Death March and is wearing a dress from the Mandrell Sisters collection as she tears into Dierks Bentley's "Home." The country audience will eat her up with a spoon regardless of how far she makes it in this competition. I hope she knows that and makes some bold choices over the next nine weeks.
Next through is Candice Glover, who sings the living shit out of "I'm Goin' Down." I'd love it if she'd learn a little restraint, but this is American Idol we're talking about here, so get ready for some melisma.
Of course Angie Miller makes it through, and her victory song is Beyoncé's "I Was Here." She's a little shaky, and it doesn't matter — this kid is the popular favorite right now, and I'm okay with it. She's like your spunky little sister. She also has all of the teeth. Like, if you're wondering where yours went, she has them. Another no-brainer is Amber Holcomb, who runs her victory lap with "I'm Every Woman." I'm fine with this. Get it out of the way now, Amber.
So: Left behind are Zoanette, Breanna, Adriana, Kree, Tenna and Aubrey, and if it's not Kree who's the last name called, there's going to be rioting. Luckily, it is. And she tears up a little bit on the long walk to the stage, to which Ryan says, "You're supposed to feel emotional when these things happen." For sure, Ryan Seacrest is where you turn for advice on being credibly human. She sings Susan Tedeschi's "Evidence," and it's joyous and soulful and smart, and my money is on her to little-engine-that-could it her way to the top two. America, let's have a Kree-Kree.
Oh, but there is a wild-card round of sorts! The sixth-place boy will sing against the sixth-place girl, and we will vote on who will be the eleventh person on the Idol tour this summer, which none of us will go see. It's a little anti-climactic, especially since it won't happen until next week.
So it's good-bye for both Zoanette and Charlie, which is probably just, but still a bummer because this season needs a character. (Plus, think of the song choices!) Also, Vincent, Cortez, Aubrey, and Tenna got boned. Can they audition again next year? Alas, Ryan didn't tell us tonight. There simply wasn't time.