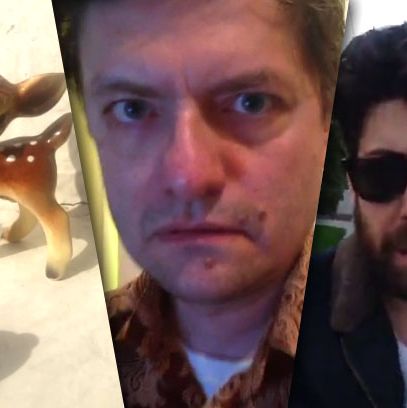 If the promise of six-second cat videos and endless Harlem Shaking hasn't yet brought you to Vine (Twitter's video app that's essentially the moving-picture-and-sound version of Instagram), let it be known, there are people out there making entertaining mini-movies and video series. Call it Shortest Attention Span Theater. Actor/director Adam Goldberg was crowned an early "king" of Vine movie-making, using the app's rudimentary editing capabilities to create something beyond simple stop-motion. With Vine not yet two months old, he and others are still finding interesting ways to work with the creative restrictions of super-short filmmaking. We've been digging around and found a few fun examples in no particular order, with nary a kitten in sight. Okay, we've included just a few cats. Because, you know … the Internet.
Community's Gillian Jacobs has been casting the tchotchkes around her house. Turns out one little guy has a past.
James Urbaniak has plenty of clever Vines, so it was hard to choose. But here, Urbaniak has a bad trip and also commits some sort of illicit transaction.
Apparently six seconds is exactly the minimum legth for a complete interview show. Comedian Steve Agee shows us with "Hollywood and Vine."
Same goes for a horror movie:
It seems almost all of Adam Goldberg's Vines are mini experimental films, a continuation of earlier posts or calls and responses to other Viners — including a random word-search game with Urbaniak, Agee, and Will Sasso — so we do suggest taking in the whole lot (which would probably max out at a whopping three minutes). But for starters:
And now the cats you were promised. Jake Fogelnest is the world's newest cat-TV executive:
Stand-up Will Sasso's account is occasionally taken over by a Long Island version of Arnold Schwarzenegger:
Twitter illustrator Ian Padgham's recurring Vine character has been up to no good:
Writer Bobby Miller shows us what it would have been like if Stanley Kubrick had Vine. Looking forward to a full series about other classic filmmakers.
Vine could use a few more classic music-video remakes, like this one posted by artist Marlo Meekins:
And finally, what Paris Hilton's pup has been thinking this entire time: