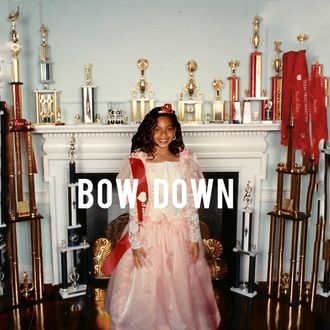 Tiny Beyoncé and her trophy army.
1. Sunday night marked the debut of the first new Beyoncé solo material in almost two years. (Unless you're Jay-Z or Ne-Yo or The-Dream or some other hyphenated human who hangs out in the studio with Bey. Are you??)
2. We're unsure whether to say "song" or "songs" because "Bow Down/I Been On" showcases two markedly different sounds, and it's two titles combined with that slash system that often marks two-for-one tracks. (Boston's "Foreplay/Long Time," that kind of thing.) Gray area.
3. Forget the little technicalities, though: Is this the most aggressive Beyoncé has ever sounded? We can let it gel a minute before making that call, but it's not too early to add "Bow Down/I Been On" to your Brutal Bey playlist alongside "Ring the Alarm," "Run the World (Girls)," "Single Ladies (Put a Ring on It)," and "Diva."
4. Speaking of "Diva," does "Bow Down" not feel like a direct sequel? The stuttering pitch-shifted intro, a lot of the vibe …
5. Speaking of pitch-shifting, you'll hear Beyoncé's actual voice for exactly 40 seconds during this three-and-a-half-minute track. You get to experience her commanding "bow down, bitches" plenty of times in that span, though. (You also won't hear Beyoncé's unmodulated voice sing an actual lyric after the one-minute mark.)
6. Speaking of bitches, Bey clearly says bishes a couple times, which we hope is a Kendrick Lamar nod. (Homework: "Money Trees," featuring lots of terrific uses of the phrase ya bish.)
7. Speaking of Kendrick Lamar, "Bow Down" comes from producer Hit-Boy, who, in addition to supplying Lamar with the beat to "Backseat Freestyle," has credits on Jay-Z and Kanye West's "Niggas in Paris," A$AP Rocky's "1 Train," Nicki Minaj's "I Am Your Leader" and "Come on a Cone," plus Kanye and G.O.O.D. Music's "Clique."
8. Speaking of Kanye, the "Bow Down" art (see above) seems like a nod to Ye's preferred single-song artwork style for the last few years. Observe "Mercy," "Looking for Trouble," "Clique," etc.
9. Back to Hit-Boy, though: He had a few remarks about "Bow Down," including, "Haaaa I finally prod for Hovs wife. … Beyoncè was the last person on my list to work with. I can't believe i prod for all my heroes by 25. … I make that music my heroes get to talk they shit on. … Please never compare me to these other guys who could never make a '1 train' by asap then 'Bow Down' for Beyoncé in the same year. Please." Fair enough.
10. Beyoncé's Tumblr has been a great resource for rehearsal photos, yacht photos, and the occasional Blue Ivy photo. This is the first time new music has debuted there. "Bow Down/I Been On" was the opposite of a promotional blitz — no mention on Bey's official site or her (almost never used) Twitter. Which either means Beyoncé's Tumblr is now a big(ger) deal, or …
11. … This song might not even be from her upcoming fifth album. Neither "Bow Down" nor "I Been On" appears on the recently leaked and probably verified track list.
12. An established Beyoncé fan Twitter reports or alleges that "Bow Down/I Been On" isn't the album's first single but two separate snippets. The tweet also says Hit-Boy only produced the "Bow Down" portion, while "I Been On" is credited to an R&B duo called Planet VI (Rihanna's "Pour It Up"), Polow Da Don (Chris Brown's "Forever," Christina Aguilera's "Woohoo"), and Timbaland (you know Timbaland). The same account is unsure if the song(s) will show up on the album.
13. Per MTV: "Fans may recognize 'I Been On' from a tour advertisement for the U.K. leg of the Mrs. Carter World Tour, which was uploaded back in February. Attendees of Bey's four-night run at Atlantic City's Revel last year also unknowingly got a small taste of the now-unveiled tune when the singer used a small clip from 'Bow Down' during her performance of 'Countdown.'"
14. And somehow Keri Hilson is being brought into this. Per HuffPo: "'Bow Down' is exactly the type of song that will rile up the Beyhive, Beyoncé's fiercely loyal fan base. That may spell unfortunate news for Keri Hilson, who recently admitted that she was exhausted by the amount of hate she receives from fans of other singers, intimating that Beyoncé plays a part in stirring the hate she's exposed to on a daily basis."
15. Beyoncé knows you might have some thoughts about her new world tour being called The Mrs. Carter Show, singing: "I took some time to live my life, but don't think I'm just his little wife / Don't get it twisted, get it twisted, this my shit, bow down bitches."