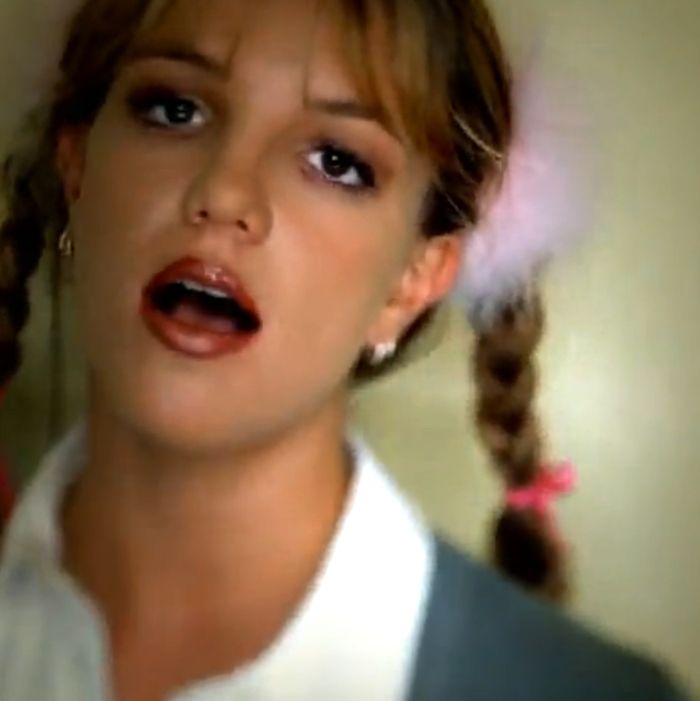 Among the many trashy delights of Harmony Korine's Spring Breakers is a booze-fueled, remarkably off-key sing-along to Britney Spears's first single, "…Baby One More Time." (You can hear at the end of the trailer, and you can hear the film's cast re-create the song here.) As luck would have it, 2013 is also the fifteenth — yes, 1-5 — anniversary of that legendary pop song. (Technically, "One More Time" wasn't released until the fall of 1998, but work with us here. It's close enough.) In celebration of that milestone, and of the song's promise to a new generation, here are fifteen thoughts, both big and small, about "…Baby One More Time."
1. The song was originally offered to TLC, who turned it down. (Another Britney reject hit: "Toxic," which was written for Kylie Minogue. But then Britney turned down "Umbrella." These things even themselves out.)

2. "…Baby One More Time" was written by an upcoming producer by the name of Max Martin. Maybe you've heard of him. Also, just because it's fun, here is a by-no-means-comprehensive list of hits that Martin has co-written in the interim: "I Want It That Way" (Backstreet Boys) "You Drive Me Crazy" (Britney), "Oops! I Did It Again" (also Britney), "Stronger" (Britney again), "It's Gonna Be Me" ('N Sync), "Since U Been Gone" (Kelly Clarkson), "Blow" (Ke$ha), "California Gurls," "Teenage Dream" (Katy Perry x 2), "Dynamite" (Taio Cruz), "Raise Your Glass" (Pink), "Time Machine" (Robyn), "I Wanna Go," "Till the World Ends" (both for Reinvented Britney), "What the Hell" (Avril Lavigne), "Domino" (Jessie J),  "Scream" (Usher) "We Are Never, Ever Getting Back Together," "I Knew You Were Trouble" (Taylor Swift), and "C'Mon" (Ke$ha). In conclusion: Max Martin for president.

3. Britney may or may not have been hung-over when she recorded it. (The relevant quote, given to Blender: "I didn't do well at all the first day in the studio. I was just too nervous. So I went out that night and had some fun. The next day I was completely relaxed and nailed it. You gotta be relaxed singing." If you want to really overthink this, she recorded it in Sweden, where it's a hell of a lot easier for a 16-year-old to get drunk.)

4. Personal sharing alert: The first time that I myself heard "…Baby One More Time" was in November (I think) 1998, at Atlanta's Fox Theater. I was there for an 'N Sync show, and this random girl in a pink bodysuit opened for them. I remember Britney doing "Sometimes," because it was … rocky, but "…Baby One More Time" didn't click until I heard it a few weeks later on — really — the Casey Kasem Countdown show. I remember thinking, Oh, this is that girl who couldn't sing at the 'N Sync concert. I would like to use this opportunity to formally apologize to Britney for the thought.
5. Here is some sheet music for the famous "duh DUH DUH" notes. Try it out on this weird Internet keyboard! (Recommended instrument: saxophone.)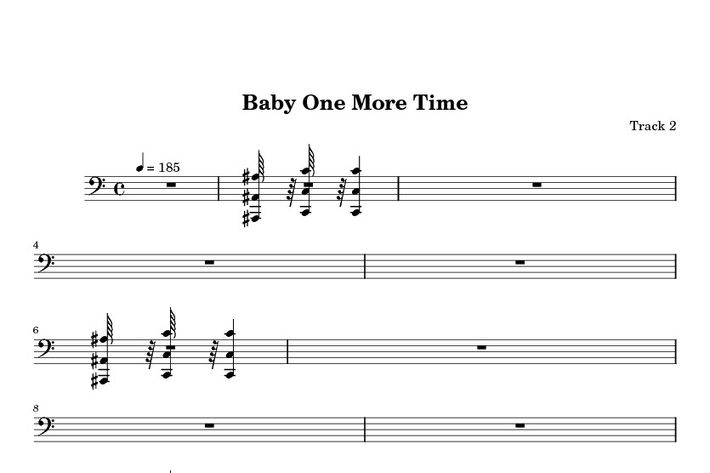 6. Moving on to the video: Who taught Britney to lip-synch, and why did they tell her that involves "enunciating all of the words of the song as clearly and unnaturally as possible?" Just watch her sing "loneliness." (Alternate interpretation: They told her to flick her tongue out as many times as possible, because that is "sexy.")
7. Legend — and by legend I mean a carefully rehearsed interview with the video's director — has it that Britney herself came up with both the video concept and the infamous schoolgirl uniform. Do we believe this? On the one hand, the whole video screams oversexualized record label voodoo; on the other hand, can't you sort of imagine Britney giggling and asking, "Wouldn't I wear a schoolgirl uniform?"
8. Part of the reason that seems possible is because of this video:
Though her explanation of "e-mail" probably supports the Evil Label Genius Theory.
9. While we're on the subject, here's a notable line from "Email My Heart:" "I can see you in my mind/ Coming on the line/ and opening this letter that I've sent 100 times." Britney, don't e-mail people 100 times.

10. It is virtually impossible to find pink fuzzy hair ties on the Internet these days. You can't get the fuzzy Clueless pens, either. Claire's is not what it once was.

11. The MTV show Becoming actually produced a spot-on version of the "…Baby One More Time" video, but it is not available online. Perhaps you would like to watch Becoming's "Slave 4 U?"

12. The most memorable Britney VMA performances are 2000's "Oops, I Did It Again" (the flesh-toned suit) and 2001*'s "Slave 4 U" (the snake.) But we must discuss this 1999 performance — the cheap remix, the pleather flare-bottomed pants, the dance move at the 2:17 mark. It is also hilarious that 'N Sync had to sit at those desks through Britney's entire performance. "'N Sync, now you may get down."
13. This one is also out there. (But in a more interesting way. Tap dancing!)
14. "…Baby One More Time" is the 252nd most popular karaoke song of all time, according to the American Karaoke Alliance. Seems like it should be higher than "All That Jazz" (No. 141. Really, America?), but okay!

15. What do you think became of this woman?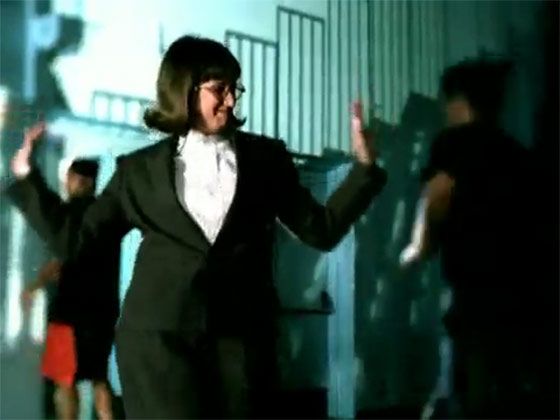 * These dates have been corrected. (Counting is hard!)