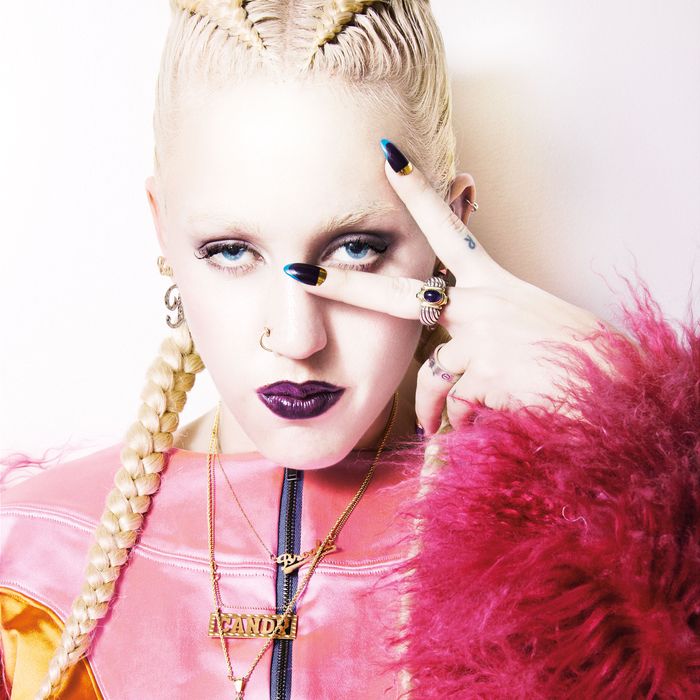 Photo: Vincent Urbani/New York Magazine
"They told me not to make something so sexual," says Brooke Candy, reviewing the final edit of her new music video, "I Wanna Fuck Right Now." Up on the computer screen, Candy, 23, pole dances in a metallic bikini and straddles a python to the song's droning chorus ("I wanna fuck right now / I wanna fuck right now now"). I ask who they are. "Record execs," she groans. Whether or not Candy signs with a label, her "vision isn't going to be fucked with."
We're in the Hollywood Hills home of the video's director, an Italian woman named Spaghetto, who says the concept was to present a "futuristic version of a classic diva." The python was on loan from a reptile handler who calls himself the Snake God. "Literally, the Snake God just texted me," says Candy, "and said, 'I'd really appreciate it if you tagged me in pics with my snakes.' Chill out, babe. Does he want more followers?"
Candy herself rose to social-media notoriety last August, when she appeared in a video by Canadian indie singer Grimes for the song "Genesis." In it, Candy plays a pink-braided, silver-­armored she-mutant who dances and grimaces while Grimes rides in limos and enjoys a picnic. The videos for Candy's own first three singles together have been viewed more than a million times on YouTube. If all goes to plan, her debut album, due later this year, will push her into the mainstream.
Three hours earlier, Candy is smoking pot and squatting on the floor of her home in Echo Park. In a tight leather suit, with hair in two blonde coils, she recalls Christina Aguilera's middle period, circa "Dirrty." Candy has recently moved in with her designer, Seth Pratt, along with four additional human roommates, two dogs, ten fish, and an iguana." 'Das Me' is really offensive," she says between bowl hits, summarizing the consensus about her first single, released last October. "But it's funny." In the video, she menaces the streets of L.A. with her "fag mob," her affectionate term for her entourage. In twelve-inch platforms and gold armor, Candy dances on cars, walks an Asian toddler on a leash, and gets pushed by black women around South Central in a golden wheelchair, rallying followers with slogans like " 'Slut' is now a compliment" and "Talk about my tit size? I need to see your dick size." Candy herself sleeps with men and women. "Every straight man I've ever met is filthy as a damn pig," she says.
We're waiting for Candy's father, former CFO of Hustler magazine and the current president of Hustler Casino, to deliver a box of shoes salvaged from Candy's car, which recently exploded. "My parents have seen everything. They've seen me stripping, they've seen my nude pics, and yes, they hate me," says Candy. "They don't understand what I do. My father was like, 'So you got flown to Europe, and everything was paid for, to be a backup dancer?' " When Brooke's father arrives, he's friendly and easily imaginable as a resident of Agoura Hills, the upper-middle-class suburb where Candy grew up. "Dad, this is a reporter," she explains. "That's great, honey," he says, then darts back to his car and drives away. "My dad won't agree with what I do until I make more money than him," she says.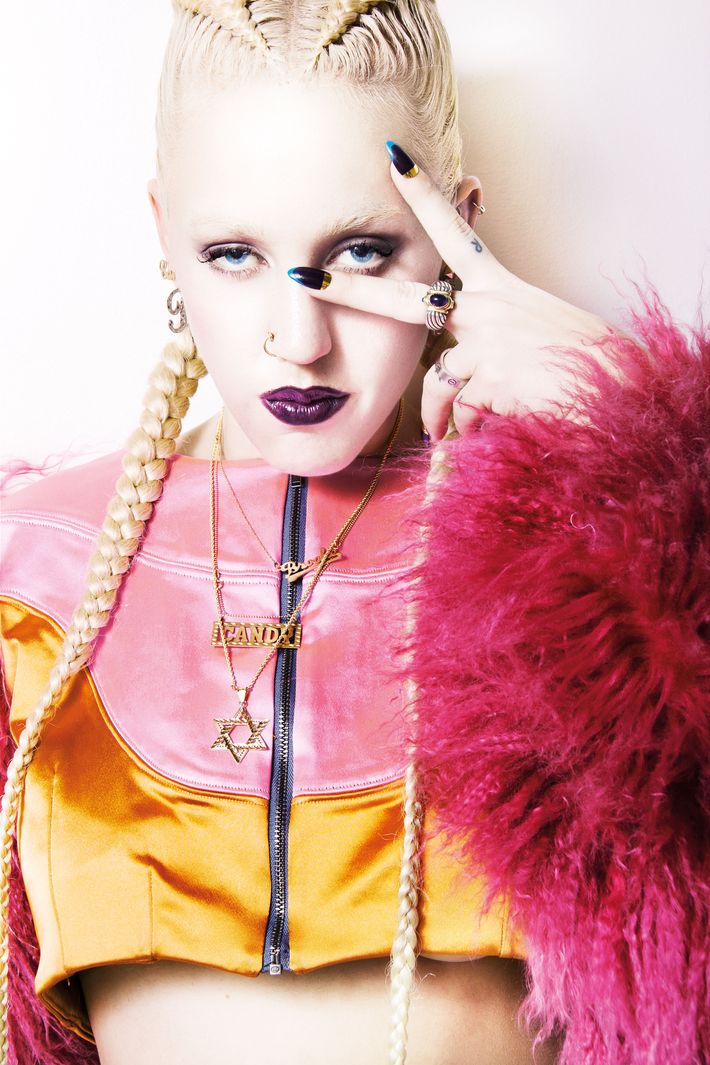 Later, as we drive to a recording session, we pass Seventh Veil, a West Hollywood strip club where Candy used to work. On a good night, she would take home as much as $1,500. "It's tiring, though. I don't even like men, and I have to pretend that I'm loving every fucking stupid piece of shit there." Candy stripped for eight months. "Azealia Banks stripped for three weeks, then she quit," Candy says of the New York rapper.
After a stint working in San Francisco, Candy moved back to L.A. a year ago to take an internship with stylist and reality star Rachel Zoe. "I gave her a ride home one time, and she was talking to me about all this stupid bullshit. She's so ditzy. I don't know how she's so successful with her empire. Her QVC line is really ugly." ­After that, she asked Larry Flynt for work as a Hustler photographer. Instead, he gave her a job designing windows for Hustler stores. "It was like: 'Dress the mannequins slutty.' I wasn't into it." Still, Candy sees Flynt as a role model. "He's worth three or four hundred million dollars. And he stands for cool shit: He wants to legalize prostitution and weed." Best of all, through "crazy ties," he managed to "get all this stuff on political figures and save himself from being fucked. He's a genius."
Bored at Hustler, Candy turned to stripping. She tells me she was never tempted by prostitution because the pay's not good enough, but she'd consider porn. Still, she figures she can earn more as a pop star, even before signing to one of the four major labels she says have already approached her. "I can get $3,000 for a fifteen-minute set. It's really fucking sick."
The following Saturday, Candy and friends gather at Cheetahs, a strip club in Los Feliz, to celebrate the release of a new music video by Ashley Huizenga, a performance artist and the daughter of Dr. H from The Biggest Loser. Guests mix uncomfortably with confused patrons there to see actual strippers. Candy arrives a little after midnight dolled up in blonde curls and a checked shirt. I tell her she looks like Madonna in Dick Tracy. "Thanks!" she says. "I've been getting a lot of Gwen Stefani."
Despite comparisons to Stefani and Nicki Minaj, Candy says she takes pains to distinguish herself from artists who "come off weird and take from the underground culture but were never really a part of it." Candy says Lady Gaga, for example, would send photographers to A Club Called Rhonda, an East L.A. party, to take photos of the clubgoers and copy their styles. Candy thinks her own look is already being appropriated by mainstream performers, producing a photo of Carmen Electra in pink dreadlocks as evidence.
As Cheetahs empties out around 2 a.m., the after-party moves to Candy's living room. But I find Candy in her bedroom, lying under the covers and watching The Wild and Wonderful Whites of West Virginia. We sit and talk for a while.
The conversation turns to travel. "Copenhagen is really clean and advanced," Candy says. "Hamburg is weird. Every single person is white. And everyone is ­really kooky, like partying for five days in a row in a sex-dungeon club where you poop on each other—which is chill. But for five days? I can't poop on you for five days. I can do one."
*This article originally appeared in the March 25, 2013 issue of New York Magazine.