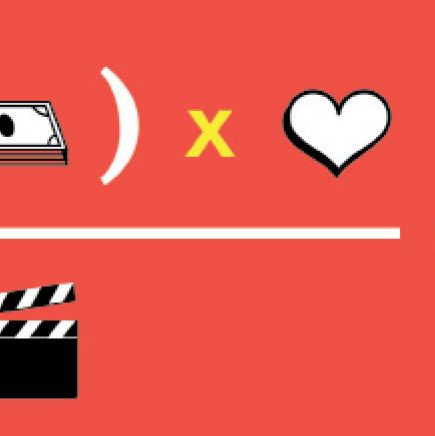 How do you get fans to pony up $3.7 million for a ­feature-length reboot of a canceled CW series? The 58,000-plus Veronica Mars devotees who supported its Kickstarter campaign got in return all sorts of ­incentives—signed posters, DVDs, the satisfaction of knowing their dream movie was finally getting made—but probably the most tantalizing was the chance to be in a scene with the film's star, Kristen Bell. For that, one backer handed over $10,000. Here, a review of similar Kickstarter booty.
Incentive: Boozing with Dan Harmon
Cost: $2,500
Six backers of the Charlie Kaufman stop-motion animation Anomalisa won a night out with the film's two executive producers, Harmon, who was the showrunner for Community, and Dino Stamatopoulos, a longtime comedy writer.
Incentive: Studio time with Matt Damon
Cost: $10,000
One backer of Extreme Realities, a docu­mentary about climate change narrated by Damon, will get the chance to attend a voice-over session.
The campaign is still ongoing, but so far there haven't been any takers.
Incentive: Teppanyaki with Horatio Sanz
Cost: $2,000
Photographer Seth Olenick went to Kickstarter for help finishing Funny Business, a book of comedians' portraits, offering one backer an evening eating chicken and steak with Sanz and two other comedians, a meal cooked at Benihana by Olenick himself, a master teppanyaki chef.
Incentive: A meal with Kate Aselton and Mark Duplass
Cost: $1,000
Five of the 121 people willing to pay to see Aselton direct a thriller written by her husband, Mark Duplass, donated enough to get a meal paid for by the couple, though winners are responsible for their own transportation to Los Angeles.
Incentive: Hype from Bret Easton Ellis
Cost: $500
Ellis and director Paul Schrader offered notoriously unconventional prizes for backers of their thriller The Canyons, including a money clip autographed by Robert De Niro (sold for $10,000). Another option: Have Ellis and producer Braxton Pope tweet about your movie.
Dana Packard, director of the film 40 West, on his tweets from Bret Easton Ellis:
This idea of backing The Canyons came from one of our investors. The Twitter mention did absolutely nothing for our film, not so much as a teeny-weeny little bump. From a straight-up investment standpoint, the monetary gift that they got from our investor gives more to them than the tweet did for us. The 300,000 Twitter followers on Bret Easton Ellis's account seemed like a good sort of exposure for our film. But I think people follow him to see what nasty things he's gonna say. Frankly, I really wasn't too thrilled to be associated with it. I didn't talk to [Bret]. I talked to one of the producers, whose name I can't remember. It was like the No. 3 guy. And he was fine to deal with. He offered [feedback on the film], and frankly I declined, because I just think that that's a gimmick."  Not Worth It         

Incentive: Party with Amanda Palmer
Cost: $5,000
The former Dresden Doll singer's Kickstarter campaign to raise money for her last album has become the stuff of legend. Her original goal was only $100,000. She raised a total of $1.2 million. Thirty-four funders bought a chance to host a house party for her. For $10,000, Palmer would paint a backer's large-scale portrait. Clothing optional.

Weston Verdegaal, age 19, on his date with a Dresden Doll:
It was gonna be my graduation party from high school. But then she could [only] do it in July, so it was just a normal backyard bash. My parents were here. She came here about 4:30. And then we hung out and talked and swam. I knew she liked hummus and pita bread, so we had to go somewhere special to get that. And she enjoys her wine, so we had wine. Well, she had wine. Her manager brought her piano to the backyard underneath the lamppost. And she played for like an hour. We got to hear the album before anyone else. Then we sat around a campfire. I couldn't even think straight when she was near me. We were lying in the grass together, and then one of my friends was like, 'Can you sign my phone?' So she was on my stomach, like, signing people's phones. And I was, like, lying there shaking. It was amazing."  Worth It
*This article originally appeared in the April 1, 2013 issue of New York Magazine.