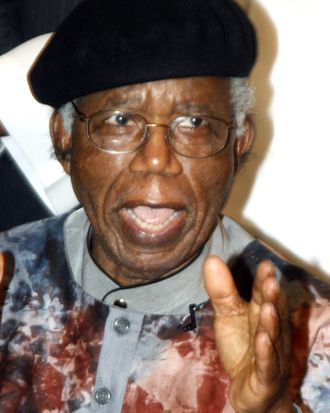 Nigerian writer, 70, Chinua Achebe is pictured on January 19, 2009 during a welcoming ceremony at the Transcorp Hilton Hotel in Abuja upon his return to Nigeria for the first time in over 10 years. Achebe, whose most famous work is 1958's "Things Fall Apart," is a literature professor at Bard College in New York state and he is a harsh critic of Nigeria's successive governments, accusing them of corruption and bad governance. He has rejected several national awards and honours.
Photo: ABAYOMI ADESHIDA/AFP/Getty Images
Chinua Achebe, the acclaimed Nigerian author, has died, according to his publisher. Achebe was best known for his first novel, 1958's seminal Things Fall Apart; he was also a poet, essayist, professor, and critic of the Nigerian government. He was 82.