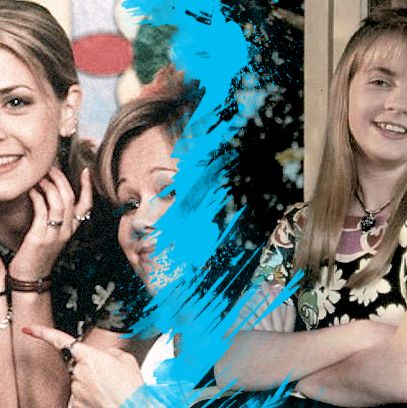 Vulture is in the midst of its Sitcom Smackdown, a three-week contest that pits the best sitcoms of the last 30 years against each other to crown the ultimate winner. But while that bracket focuses on the greatest, most innovative modern comedies, it couldn't cover all of the series that live on in our hearts, the ones that may not fit those highfalutin parameters but which we could talk about for days. To give these other series their moments to shine, every day we'll be pitting two like-minded comedies against each other: We'll pick our winner, and readers will then vote for their own. Today: It's the battle for the title of Best Melissa Joan Hart Show, with Clarissa Explains It All squaring off against Sabrina, the Teenage Witch.
Today's contenders: Clarissa Explains It All  (1991-1994) vs. Sabrina, the Teenage Witch (1995-2003)
Melissa Joan (Catherine) Hart was born April 18, 1975 in Long Island, New York. She started acting when she was four – commercials and junk – until she got her big break right before her 15th birthday when cast to star on Nickelodeon's Clarissa Explains It All. Hart played a quirky, kind of cynical, media-savvy teenager, who was both motivated and a bit out-there. She dreamed of being a journalist or the first female rapper in space. Five seasons, but only three years, later Clarissa graduated high school, and Hart got cast to play another quirky, motivated but out-there teen, Sabrina. Oh yeah, Sabrina was a witch. Between the two shows, Hart, entertained tweens for 12 years (her TV career was a tween itself).
Invention: Both Clarissa and Sabrina played with the sitcom form a little. Clarissa was incredibly quick for its time, featuring 30 Rock-esque cutaways, an array of on-screen graphics, and a really active score. Also, the show was built around Clarissa speaking directly to the camera, telling the viewer her thought process, which was new for kids' TV. Also, it was one of the first kid shows with a female live-action lead that was watched equally by girls and boys. In the case of Sabrina, having a witch at the center allowed for a lot of messing around. Most notably Sabrina, more than you probably remember, played with genre and parody. In one episode, because two witches cast silence spells in the same house, the entire third act was shot as a silent movie.
Guardian sitcom dynamic: In the case of both shows, the guardians were almost always responsible for the B-story. Sabrina's aunts, Hilda (Caroline Rhea) and Zelda (Beth Broderick), were a classic odd couple. Clarissa's parents, Janet (Elizabeth Hess) and Marshall Darling (Joe O'Connor), were another in a long line of oafish sitcom husbands and their smart, attractive wives.
Annoying housemate: Ugh, Clarissa's brother Ferguson (Jason Zimbler), was the worst-guson (I'm not sure if that is an actually line from the show, but it sounds like it could've been.) He was written to exhibit every terrible trait a little brother can have, including an obsession with Dan Quayle. Sabrina lived with Salem, a talking black cat (voiced by Nick Bakay). He was turned into a cat because of his attempts to take over the world. Despite this background, all Salem did was toss out zingers.
Lovable male lead: Clarissa's best friend was a Sam (Sean O'Neal), a happy-go-lucky dude. He was just a loveable guy with a unibrow. They tried to date once, but realized they were better as friends. Their completely platonic relationship was rare on television at time, and still to this day. Harvey (Nate Richert) was Sabrina's on-and-off boyfriend. (They end the series on.) He was a loveable idiot-type and a sensitive jock.
Tiger Beat pandering: Clarissa: James Van Der Beek appeared in an episode, as a dude who falls for Clarissa's punk-rock alter ego. Sabrina: Andrew Keegan appeared in an episode as a nerdy magician. It was basically the only time he didn't play a good-looking, cool guy.
Opening credits gimmick: They both had opening credits for a time that involved Melissa Joan Hart trying on different outfits (though, I can't find the Clarissa one online). Sabrina's credits were best known for ending with a new outfit each time, causing Sabrina to make some brilliant/dumb pun. Clarissa's credits were all about that song, which you won't be able to get out of your head this weekend.
Influence (if you really think about it): Besides 30 Rock as mentioned before, all of Clarissa's narration and talking to the camera feels like it inspired Sex and the City. Also, Tessa on Suburgatory feels very post-Clarissa. A talking, worldly pet, who wants to take over the world: Tell me that doesn't sound like Family Guy's Stewie and Brian put into one cat? Also, we can neither confirm nor deny whether Dan Harmon learned to do parody on TV from Sabrina the Teenage Witch.
Are the shows any good? Totally, for what they were. Both were essentially shows for tweens. If you watch either today, you'll probably think the jokes stink, but the same would be true if you watched Shake It Up or whatever Disney shows are on now. Both were really good at their time and at least done with some vision. Some of Clarissa's visual gimmicks still ring interesting and the talking to the camera stuff is pretty fun. Also, the show is so obviously done on the cheap that it gives the thing a cute "let's put on a show" vibe. (The not so great acting contributes to this feeling as well.) Sabrina was a late-era TGIF show, so you can't expect too much, but Salem and the sisters are still kind of funny and the show had some really fun guest stars (Dick Van Dyke, Raquel Welch, etc.).
The moment of truth: You can't underestimate the power of someone in your general age group talking directly to you about the things that matter most in the world (i.e. pretending to be sick for school). The show is hokier and a bit rougher around the edges than Sabrina, but it had a real voice. It's hard to go back and watch either, because the jokes are pretty bad, but at least Clarissa feels like something super specific to the time.
Winner: Clarissa Explains It All. Take that, Ferg-face.