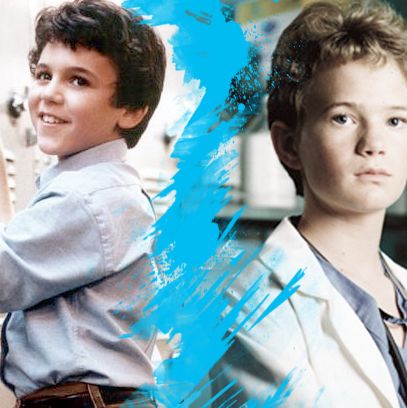 Vulture is in the midst of its Sitcom Smackdown, a three-week contest that pits the best sitcoms of the last 30 years against each other to crown the ultimate winner. But while that bracket focuses on the greatest, most innovative modern comedies, it couldn't cover all of the series that live on in our hearts, the ones that may not fit those highfalutin parameters but which we could talk about for days. To give these other series their moments to shine, every day we'll be pitting two like-minded comedies against each other: We'll pick our winner, and readers will then vote for their own. Today it's child warfare, as The Wonder Years' Kevin Arnold takes on Doogie Howser, M.D.
Today's Contenders: The Wonder Years (1988-1993) vs. Doogie Howser, M.D. (1989-1993)

These two late-eighties comedies each found a way to put a major twist on the tired teen sitcom formula. For one thing, both were shot single-camera-style, eschewing the studio audiences and laugh tracks that dominated TV at the time. It was a format choice that likely limited their ratings potential (though early in its run, Wonder Years got an audience boost from being sandwiched between the enormously popular Who's the Boss and Roseanne). While Wonder Years borrowed a trick from the Happy Days playbook (both were set two decades in the past), it was otherwise light years from any other teen comedy TV had done before, substituting sentimentality for shtick. By its very premise, Doogie was a bit more gimmicky, but it still stood out for portraying teen years with heart and humanity rather focusing on hormones.

All-American teen: Boy doctor Douglas "Doogie" Howser, so virtuous he spends the bulk of his teen years saving lives rather than chasing girls, and Kevin Arnold, a C-student growing up in the sixties who gets by with a little help from his friends.

Dorky best bud: Vinnie Delpino, the hormone-fueled devil on Doogie's shoulder, who's always trying to get the good doctor to act his age, and Paul Pfeiffer, whose Über-nerdiness makes Kevin look like a relative stud. Ironically, both sidekicks lose their virginity before their supposedly cooler friends.

Lifetime love that ends in heartbreak: For Kevin, it's Winnie Cooper, the dream girl he kisses in the pilot, and sleeps with (presumably) in the finale but doesn't end up marrying; for Doogie, it's Eastman Hospital, where he spends far too much of his childhood but ultimately leaves to travel to Europe. (Yes, Doogie dated Wanda for two seasons, but she left for college at the start of season three.)

Paternal influence: Kevin's pops, Jack, was what Don Draper might have been had he ended up in middle management: a Korean War vet who didn't know how to show emotion and wasn't big on verbal communication. Doogie's dad, David, is a doctor who's better at the whole love-and-support thing, but nonetheless allows his young son to be scarred for life by becoming a teen doctor.
 
Biggest enemy: Kevin's brother Wayne was a first-class bully, but ultimately learned how to love his little butt-head. Doogie had a bit of a rivalry with Dr. Jack McGuire for the first couple of seasons of the show.

Common ancestry: Though she never ran either show, writer Jill Gordon spent at least one season on both series. She'd later go on to work on another teen classic, My So-Called Life.

Memorable opening credits: Wonder Years used Joe Cocker's classic "With a Little Help From My Friends" along with grainy home-movie footage from Kevin's childhood; it made you cry before the episode even began. Doogie featured an awful, yet awfully catchy, theme song that sounded like it was recorded on a Casio toy keyboard.

Computer skills: Doogie keeps a daily journal on his bedroom computer. Kevin has no idea what a computer is.

Are the shows any good? Very much so. Neil Patrick Harris is really, really strong and completely believable as genius kid doctor Doogie Howser. While the conceit of the series wasn't particularly realistic, the show always felt grounded. And while Wonder Years could sometimes be syrupy — the adult-reflection narration all but guaranteed that — it was more often powerfully moving.

The moment of truth: Both are shows I unapologetically rank among my favorites of the early nineties. Doogie tackled serious issues and presented teens as more than just horny idiots. And as mentioned, Harris was a major presence in his first major role. But Wonder Years was better written and benefited from a bigger purpose: Like Mad Men (yup, I just made that comparison), it was telling the story of an entire generation, of a key moment in America's history, as much as it was documenting the tale of Kevin and his family. I don't remember how Doogie ended, but I'll never forget the Fourth of July–set finale of The Wonder Years, and I still get a bit misty-eyed watching the show's opening credits.

Winner: The Wonder Years.