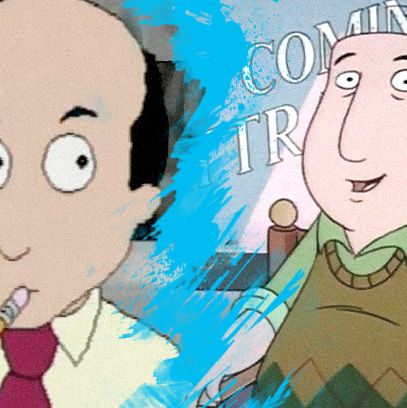 Vulture is in the midst of its Sitcom Smackdown, a three-week contest that pits the best sitcoms of the last 30 years against each other to crown the ultimate winner. But while that bracket focuses on the greatest, most innovative modern comedies, it couldn't cover all of the series that live on in our hearts, the ones that may not fit those highfalutin parameters but which we could talk about for days. To give these other series their moments to shine, every day we'll be pitting two like-minded comedies against each other: We'll pick our winner, and readers will then vote for their own. Today it's a battle of cult animation, Dr. Katz versus The Critic.
Today's Contenders: Dr. Katz, Professional Therapist (1995–1999) vs. The Critic (1994–1995)
By the mid-nineties, The Simpsons was a force of nature. And of the many things it did for television, one was that it reintroduced animation as a venue for adult comedy. From its wake, Dr. Katz and The Critic emerged. The Critic, which told the story of an ornery yet lovable film critic, was created by former Simpsons showrunners to be a more pop-culture-focused animated sitcom. Dr. Katz, the show about a psychologist to the comedy stars, was formally and stylistically something completely different, but still shared The Simpsons' cynical yet warm tone. Both have since developed a cult following in their own right.
Protagonist: Dr. Katz: Dr. Katz (Jonathan Katz), a middle-aged, balding, skinny, Jewish single dad and psychotherapist who mostly sees comedians. The Critic: Jay Sherman (Jon Lovitz), a slightly younger than middle-aged, balding, fat, Jewish (though raised by a WASP family) single dad and TV film critic.
Crazy families: Dr. Katz: It was just Katz and his good-for-nothing-but-some-shared-chuckles son, Ben (H. Jon Benjamin). The Critic: Jay had a miniature version of himself in his son Marty. But more prominent were his completely insane parents: the early-onset-dementia-suffering former U.S. Secretary of Balloon Doggies Franklin and his Katherine Hepburnian mother Eleanor.
Catchphrase: Dr. Katz: "Whoops, you know what the music means … " (or some version of this) said at the end of the last session. The Critic: The iconic "It stinks," which he said constantly — but it still wasn't enough.
Animation style: Dr. Katz: "Squigglevision." It's an animation technique invented by the show's co-creator Tom Snyder, which had the characters and some foreground objects outlined with oscillating squiggles. The Critic: Pretty traditional, if a bit more cinematic.
Comedy Nerd pedigree: Dr. Katz: Besides being Comedy Central's first breakout original show, it was a showcase for many of the day's biggest undiscovered stand-ups. Here's a quick list of notable comedians who appeared and did chunks of their act in the guise of a therapy session: Louis C.K., Marc Maron, Ray Romano, Jon Stewart, Dave Attell, Mitch Hedberg, Wanda Sykes, Laura Kightlinger, Conan O'Brien, Dave Chappelle — seriously, the list is nuts. Beyond that, much of the Dr. Katz crew went on to work on the beloved Home Movies and the currently beloved Bob's Burgers. The Critic: Right at the top there's the fact that the show was created by Al Jean and Mike Reiss, the writing partners who famously ran The Simpsons during its early prime. And included on their absolutely stacked writing staff was Modern Family creator Steve Levitan and a little guy named Judd Apatow.
Are the shows any good? They are both really fucking good. Both were super funny and perfectly balanced heart and irony. For Dr. Katz, the retro-scripted, improvised dialogue (a style they pioneered, especially for animation) between Katz and Ben still totally kills. And it's not a stretch to say The Critic was as sharply written as prime-era Simpsons. That being said, they both struggle a bit from their own timeliness. The Critic leaned especially hard on skewering popular culture, so all the Madonna, Michael Jackson, The Mask, and Steven Guttenberg references kind of fall flat today. (Though, to be fair, you can see the major influence it had on Seth MacFarlane's shows.) Dr. Katz suffers because, though it had a lot of brilliant stand-ups on, it also has had some less noteworthy ones, which on repeat viewing really get in the way of the good stuff.
The moment of truth: It's really hard to decide. Both were so, so good. And, more so, both were appointment viewing for my family, like few shows were. Whatever I decide here, I'm going to vote for the other in the poll. Actually, let me ask my editor if I'm allowed to make it a tie …
Okay, I'm not. Umm …
Winner: The Critic