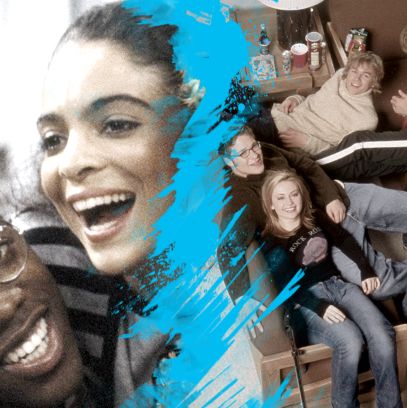 Vulture is in the midst of its Sitcom Smackdown, a three-week contest that pits the best sitcoms of the last 30 years against each other to crown the ultimate winner. But while that bracket focuses on the greatest, most innovative modern comedies, it couldn't cover all of the series that live on in our hearts, the ones that may not fit those highfalutin parameters but which we could talk about for days. To give these other series their moments to shine, every day we'll be pitting two like-minded comedies against each other: We'll pick our winner, and readers will then vote for their own. Today: It's a rivalry between college-set comedies as we pit A Different World against Undeclared.
Today's contenders: A Different World (1987–1993) vs. Undeclared (2001–2002)
College seems like a great place to set a TV show, but when your characters fall in that no-man's-land between "teenage high-schoolers" and "grown-up doctors or lawyers," you've actually got your work cut out for you. Just ask Judd Apatow, whose beloved but low-rated Undeclared was cut down after one short season. On the other side of the spectrum, you've got A Different World, which stayed on the air for six seasons thanks to its fresh cast and plum scheduling berth after The Cosby Show, which it was spun off from. But which of these college sitcoms deserves to come out No. 1 in our school rankings?

University Setting: Undeclared was set at the fictional University of Northeastern California (where would that even be, geographically … near Lake Tahoe?), while the all-black school Hillman College, where A Different World was set, was located in Virginia and based on real-life Spelman College.

Star-Crossed Lovers: Undeclared's Steven (Jay Baruchel) sleeps with Lizzie (Carla Gallo) during his first night at UNC, but that's before he finds out that she's got a clingy boyfriend played by Jason Segel. On A Different World, Whitley (Jasmine Guy) and Dwayne (Kadeem Hardison) couldn't seem more ill-suited for each other: She was an uptight southern belle, while he was a thoughtful brainiac with the flyest flip-up glasses in America. But do they make it work? Well, by way of answering that question, why don't you take a minute to relive the moment where Dwayne crashed Whitley's wedding? Be careful, though: This video is NSFW, because like the studio audience, you will begin shrieking and crying while watching it.

Supporting Player Who Took Over the Show: A Different World was supposed to follow Cosby daughter Lisa Bonet, but when the wild-child actress got pregnant during the first season, she departed the show and Whitley became the central character after a creative revamp. Segel didn't quite take over Undeclared to that extent, but while his recurring character began the series heard and not seen, he was centering episodes by the end of the season after Lizzie broke up with him for Steven. Frankly, the show seemed way more interested in him (and his Greek chorus of copy-shop co-workers played by David Krumholtz and Tenacious D's Kyle Gass) than in Lizzie.

Issues Tackled: Undeclared had a light touch, but A Different World wasn't afraid to go deep. Some of its Very Special Episodes tackled hot-button issues like AIDS, hate crimes, Operation Desert Storm, and — in a famous season premiere — the Los Angeles riots. The show wrung laughs out of looting! Sister Souljah was there! I mean …

Older Father Figure: A Different World incorporated plenty of older actors like Glynn Turman and Mary Alice into its youthful cast, but Sinbad popped the most as the Jaleesa-wooing Coach Walter Oakes. Over at Undeclared, there was a literal father figure, as Loudon Wainwright played Baruchel's divorcing dad, who kept insinuating himself into his son's college life.

Before They Were Stars: College-set shows are a fertile breeding ground for young actors who go on to great fame, and these two were no different. Watch Undeclared now, a little over a decade after it aired, and marvel at how young and skinny Segel, Seth Rogen, and Sons of Anarchy star Charlie Hunnam were! Plus, you've got nearly unrecognizable guest spots from actors like Amy Poehler, Jenna Fischer, Kevin Hart, and Tom Welling. The graduating class at Hillman was plenty star-studded, too, launching famous names like Jada Pinkett, Marisa Tomei, and Halle Berry.

Opening Credits: Undeclared had a fun little riff from the Dandy Warhols, but A Different World's room-spanning opening credits sequence? Totally creative, amazing, and head-scratching. How'd they do that?

Are the shows any good? Yes. Undeclared holds up pretty well in its own gentle way, and since fewer than twenty episodes were produced, it's an agreeable pick for a Netflix marathon. A Different World is a more immediately dated comedy in its multi-cam, late-eighties way, but it grew into something genuinely wonderful when all the ingredients came together. (And there were a lot of ingredients, since there was so much cast turnover.) Watch those Different World videos I linked to! Come on! This show is weirdly underrated. Can we at least get Jasmine Guy a guest judge spot on RuPaul's Drag Race, for God's sake?
The Moment of Truth: Undeclared, you're great and sweet, but you didn't even get a sophomore year. Graduating with high honors, then, is …
Winner: A Different World.