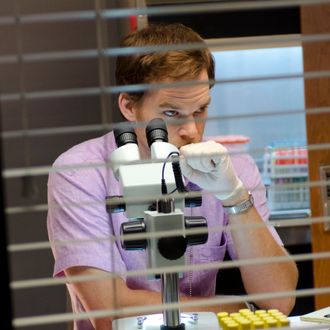 Michael C. Hall as Dexter Morgan.
Photo: Randy Tepper/Showtime 2012
Dexter's demise has elicited caginess from showrunner Scott Buck ("We've been picked up for one more season, but whether that is the last one or not has not yet been determined") and a done-deal vibe from Showtime president David Nevins ("There is a clear endgame in place"). On Monday, asked what Showtime viewers can expect this year, CBS CEO Les Moonves said at a conference, "We have Ray Donovan coming on with Liev Schreiber, which comes on with Dexter's last season starting in June, and then we have Masters of Sex." Showtime execs won't confirm the news, and a spokesperson tells THR there's "nothing confirmed" re: Dexter's fate, but … c'mon. It's over.