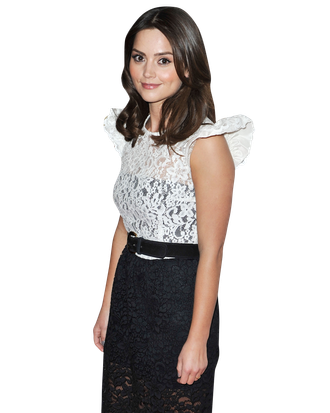 Photo: Gareth Cattermole/Getty Images
Before being cast as the new companion in Doctor Who last spring, Jenna-Louise Coleman had spent several years on a British soap and done a couple of period dramas. Now, she and boyfriend Richard Madden (you know him as Game of Thrones' Rob Stark) preside over … oh, ninety-seven percent of all fanboydom — and the mystery of her Who role has already confounded many of them. The 26-year-old Coleman made her debut in the fall, surprising everyone when she turned up not as the Doctor's companion but Oswin, a doomed girl-turned-Dalek with a taste for soufflé. Complicating matters: She reappeared in the Christmas special as an also-doomed Victorian governess named Clara, and will return as yet another version of Clara when the show kicks off the second half of its season Saturday (8 p.m. on BBC America). Coleman assured Vulture it will all make sense soon, and was game to discuss the very non-spoilery topics of her dynamic with co-star Matt Smith, sharing Dame Diana Rigg with her boyfriend (Rigg has roles on both Games and Doctor Who this year), and the real reason she suspects boss Steven Moffat is so secretive.
Did I see you at Monday's Game of Thrones premiere?
Yeah, I was there. Were you? It was exciting, wasn't it?
The audience was filled with celebrity fans. Jason Bateman and Adam Scott were a couple of rows ahead of me, Sarah Silverman was on the right —
Wait! The people from Arrested Development were there? Are you joking? I didn't know they were there! Literally, I've just watched season one because I hadn't seen it and it's awesome. I love it so much.
Since you have an "in," have you seen past the Thrones premiere already?
No, just the premiere. But I'm a really big fan of the show, so I can't wait to see the rest.
I've read Richard is also a big Doctor Who fan. Can he explain the Clara Oswin connection to me?
He is. He was almost more excited than I was when I got the part. He doesn't ask for secrets though. It's the opposite, actually. He doesn't want to know!
Whose fans are crazier? Yours or his?
Do you know what? Because we've been shooting in Cardiff, I've been locked away in the studio. I've had really lovely fan mail. I think maybe my agent takes out the other kind, I'm not quite sure. So I haven't fully encountered the fans yet. I expect I will when I go to Comic Con this year.
Has Matt warned you about what that's like?
Yeah, but he loves it. He absolutely loves it. I imagine it's a mad version of Coachella. More costumes.
Another thing you and Richard share, apart from Comic Con this year, is Dame Diana Rigg.
Oh my God, she was so funny on set. She's got a lot of banter on her! I think [co-star Matt Smith] described her role as an old hag – but in the best possible way. She's our villain and she runs a place in 1800 Yorkshire called Sweetville, which is kind of Stepford Wives-y. She has a big factory and she's up to no good. Her daughter, Rachael Stirling, is also playing her daughter on the show, and they just go at each other.
Tell me about Clara's dynamic with the Doctor.
Well, there's tension there. The Doctor can't figure her out, and he can figure everything out, so that's driving him mad. For her, he's a guy who's turned up on her doorstep and he's a Time Lord with a police box. It's really a lot of them getting to know each other, and it can be a bit awkward. It was a bit like that for me and Matt as well. By jumping straight into the middle of the series the way we did, me and Matt were like, we can't force it. We just need to enjoy the getting-to-know-each-other time.
Did Karen Gillan and Arthur Darvill give you any advice about being on the show?
I've seen Karen in interviews say that she didn't want to give too much because she wanted me to experience it on my own. It's funny though because I was totally playing it cool, but really I wanted to be like, "Tell me everything I need to know!" We mostly just made fun of Matt. We were texting and she was telling me how to handle him, ways to wind him up. He got really paranoid about it.
What's the best way to do it?
The thing is, he's the wind-up, as in he's too busy doing it to everyone else. He's quite a big tease in an older brother way. He was quite polite when we first started and now he's just looking for ways to provoke.
Your first appearance was a big surprise. No one had reported it was happening that early.
Yeah, for people just sitting in their living rooms, it was a proper surprise. We were all really pleased. That never happens on the telly anymore. I only did two days shooting on "Asylum of the Daleks." It was me talking to a green circle that was supposed to be Matt and I felt like I was going a bit crazy, which obviously lent itself to this girl living alone on a spaceship for a year. In fact, Matt was never there.
Right now, it's like you're playing three different people. Did you know how your character's mystery would resolve while you were filming?
There were probably six months of shooting where I didn't know why or how or the reason I popped up as all these different people because … well, there were numerous reasons. I didn't want to know because I didn't need to know. I think it would make a difference in how I played it if I understood all of it in advance. For me, they were just different people meeting the Doctor.

Is series boss Steven Moffat super secretive while you're working?
He's good with his secrets. But I was quite adamant about not needing to know. Matt didn't know [Clara's mystery] either, not until the script came through and then we were both like, "Aaah!" It's also always a work in progress. We go through a lot of script changes, things are always evolving and being tailored, so I think Steven likes to play things close to the vest until he's sussed them out properly.
You hadn't been watching Doctor Who prior to being cast as Clara. Have you since gone back to watch the recent seasons?
Steven didn't want me to watch any of the previous Doctor Who at all because I think the companion is all about the first time. It's actually quite difficult for me because I do love to research and be prepared, and this was about throwing it all out the window, turning up on set, and going, "Let's go."
Are you allowed to say anything about the 50th anniversary special, which airs in November?
We start filming it next week. I just got a new draft through, which I'll read in the plane on the way back. It's completely paying homage the last 50 years without dwelling on anything. It's very much about looking forward while celebrating the legacy. And it will be in 3D.
Any special guest stars? Previous Doctors?
I honestly can't say anything about that. Steven will fly over here and get me.
Since you were in Julian Fellowes' Titanic last year —
Yes.
Were you able to tell him off for the end of this season's Downton Abbey? Can you call him?
I haven't, but that was shocking wasn't it? I didn't see that coming at all! So sad, but then he did sink the Titanic four times in our series.
You're saying he's just plain cruel.
[Laughs] Well, it was several sets of characters, and in each episode you follow a different story on the night of the sinking. So, four sinkings.