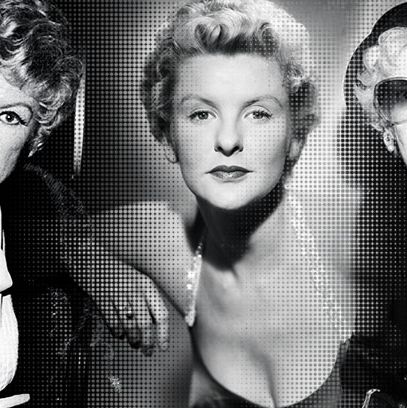 At 88, the consummate Broadway broad is giving up her apartment and moving home to Michigan. Here, a brief history of her life and career, along with some of our favorite quotes and anecdotes.
1942:
Stritch, age 17, arrives in New York from Detroit to study acting at the New School. "My biggest dream was to get out of Michigan—to discover life beyond the Sacred Heart Convent."
Hung on to her virginity until age 30—but started drinking whiskey sours with Dad at 12.
October 1946:
Makes her first Broadway appearance in a flop called Loco.
October 1950:
Understudies Ethel Merman, another leggy honker, in Call Me Madam.
"I love Richard Rodgers, but he was a nervous man … He once said, 'Every time I see you do a number, I never believe you'll be able to do it again.'"
March 1955:
Her breakout: Grace Hoylard, a sassy diner proprietress, in William Inge's Bus Stop.
1956:
Stars in an awful film called The Scarlet Hour. "The part was so terrible it looked like I was visiting the set: I had nothing to say. I just kept running into places saying, 'Hi!' The worst."
"I was a 'sweater girl' in New York City, once upon a time. I'm very well endowed."
1957:
While filming A Farewell to Arms in Italy, turns down a marriage proposal from boyfriend Ben Gazzara because she has her eye on her co-star Rock Hudson. "And we all know what a bum decision that turned out to be."

"It gets tiring being a smart­ass."
1958:
Starring in Goldilocks on Broadway, catches the eye of Noël Coward, who tells her afterward, "Any leading lady who doesn't do a double take when a nine-foot bear asks her to dance is my kind of actress."
Was cast as Trixie Norton in the pilot for The Honeymooners. Claims she was fired for acting too much "like Jackie Gleason in drag."
1960:
Stars in the short-lived sitcom version of My Sister Eileen.
For three months in the sixties, worked as a bartender at Elaine's."I asked Elaine, 'What about the regular bartender?' And she said, 'Fuck him.' "
October 1961:
Coward writes the role of Mimi Paragon in Sail Away expressly for her.
April 1963:
Replaces Uta Hagen in the original production of Who's Afraid of Virginia Woolf?
1965:
Plays the lesbian proprietor of a disco, co-starring with Sal Mineo­ in the cult film Who Killed Teddy Bear
April 1970:
The role she'll never forget (nor will any cabaret let her): vodka-stinger-swilling Joanne in Stephen Sondheim and George Furth's Company, with the showstopping song "The Ladies Who Lunch." Incredibly, does not win a Tony Award.
After Judy Garland's closing night at the Palace, spent the whole night playing poker with her at a party at the Pierre. How the evening ended:
"Elaine, I never thought I'd say this. But —good night.' "
Married  English-muffin heir John Bay in 1973; sent care packages of his products to friends for decades.
Circa 1978:
Starts cutting back on the booze. Quits altogether in 1987: "I couldn't stand the frustration of having to stop after two drinks."
On her diabetes, diagnosed in 1979: "It's a pain in the ass, quite frankly."
1980s:
Auditions to play Dorothy on The Golden Girls; during audition, tweaks a line of dialogue to say "Don't forget the fucking hors d'oeuvre." Does not get the part.
1987:
Stars in Woody Allen's September.
October 1994:
Cast against type in the revival of the very earnest Show Boat. "I've got a lot of Americana in me … These days, I have trouble with unkind humor."
July 5, 1996:
Inaugurates a recurring bit on the Late Show With David Letterman: Storms onstage, calls him the "pool boy," wrings him out for misplacing her riding crop, calls him an "insolent little twit," then makes a pass at him.
On her future non-retirement from performing: "Long as it has a wheelchair in it, I'm game."
February 2002:
Bares all in her one-woman show Elaine Stritch At Liberty. At 77, finally wins a Tony. Adapts it into an HBO special two years later, then a cabaret show at the Café Carlyle, downstairs from her apartment.
When asked whether Stritch was a Method actor, Lee Strasberg responded: "Elaine Stritch was born with the Method."
Since 2002, has lived in Room 309 of the Carlyle Hotel.
2009:
A silly fan spoof, "How the Stritch Stole Christmas," appears on YouTube, with refrains such as "You're a mean one, Elaine Stritch, but you really sell a spiel."
Is only five-foot-seven, but "my legs are almost all of me." Once, while dating a short guy, "When I finally felt secure with him, I said, 'fuck you,' and got myself some heels."
July 2010:
Replaces Angela Lansbury as Madame Armfeldt in the Broadway revival of A Little Night Music. During one performance, gropes to remember
a line; when Bernadette Peters tries to help, she snaps, "No! Don't you tell me what I'm supposed to say!" and ad-libs for two minutes, leaving the stage to overwhelming applause. Claims later that it was all in character.
On her couch: a pillow embroidered with the motto "Wherever you go, go with all your heart."
April 2–6, 2013:
Plays her final club date at the Café Carlyle and will head off to a condo in Birmingham, Michigan, near her nieces and nephews.
*****************************************************************************
Her Awards
Emmy: 1993, 2004, 2007
Drama Desk: 1996, 2002 (twice)
Tony: 2002
*****************************************************************************
The Quotable Colleen Donaghy
Stritch as Jack's mother on 30 Rock.
On feminism: "See, Liz, that's what feminism does. It takes women with nice birthing shapes and makes them believe in fairy tales."
On dating: "Two women, Jack? At the same time? What are you, Italian?"
On affection: "Tell him his mother's here, and she loves him … but not in a queer way."
On health: "When you're pregnant, one bottle of wine a day. That's it."
On immigration: "Let's all meet down at the soda shop while this country turns to Mexico."

Tina Fey on working with Stritch: "It is sometimes fucking exhausting … [but] it's always been worth it."
*****************************************************************************
Drinking Stories
She quit the bottle three decades ago. But until then, she was on a tear.
No. 1:
"I drank with Bela Lugosi … One night he ordered his seventeenth Scotch, and they said, 'Mr. Lugosi, you've had your last Scotch.' And he does that trick with the tablecloth [snatching it from under the glasses] and says, 'I vill go somewhere else for my liquor. Come on, Elaine.' "
No. 2:
"Sometimes I'd go right from the party to the matinee."
No. 3:
"For 58 or 59 years, I never put a foot on a stage without a drink. Or anyplace else, come to think of it. But I was very disciplined … I had rules … Up here: two drinks, one before the curtain, another at intermission, a little backup, and that was it. Well, three maybe."
*****************************************************************************
Yes, She Dated Marlon Brando
It didn't go so well.

At age 17, she insisted that, unlike every girl in her class at the New School, she wasn't in love with her fellow student Marlon Brando. Then he called her at the convent where she lived on the Upper East Side and asked her out. (The mother superior answered the phone.) "Marlon Brando took me to a Methodist church, a Jewish synagogue, a Church of Christ the Scientist. He took me to the public library, he took me to a Chinese restaurant, and he took me to a strip joint. And at this strip joint, a tall redhead took off every stitch of her clothes and I burst into tears." She went back to his apartment for a nightcap—and, when he abruptly appeared in his pajamas, bolted for home. That summer, when the two were doing a play on Long Island, Stritch confronted him for avoiding her; he thundered, "Elaine, I want two things from you: silence and distance." He apologized a few months later.
*This article originally appeared in the April 8, 2013 issue of New York Magazine.