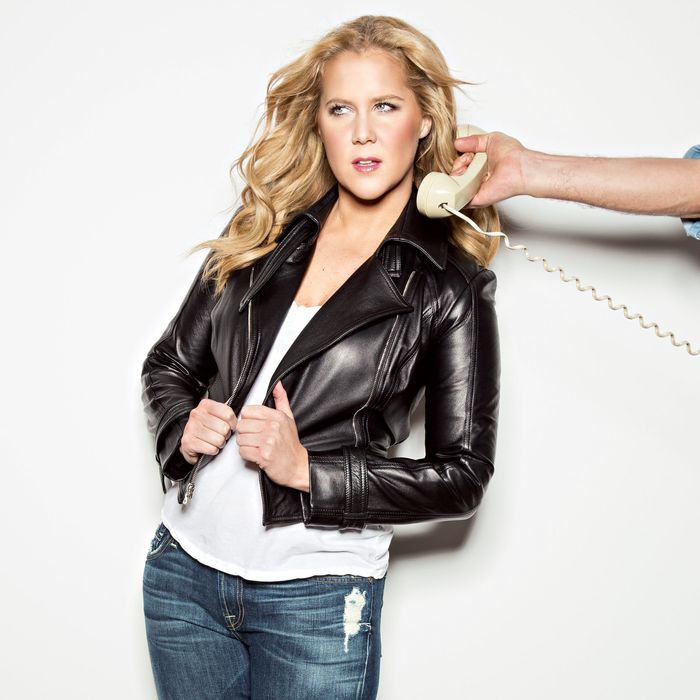 Photo: Peter Yang/Courtesy of Comedy Central
"I am into my show," says Amy Schumer, as she curls up on a bright-orange chair in her Chelsea apartment, blue-­painted fingernails circling a mug of tea. "I wonder if I can say that. I should read about how people talk about their shows." The show she's speaking of is Inside Amy Schumer, a ten-episode sketch-comedy series that will premiere on Comedy Central in April. She can be forgiven for not yet knowing how to speak of it; famewise, she's been teetering for years in the bridesmaid stage that follows "rising star" and precedes either "celebrity" or "who?" After coming in fourth in 2007's Last Comic Standing, Schumer, who is 31, earned small roles in Louie, 30 Rock, Curb Your Enthusiasm, and Girls; and roasted Charlie Sheen. She even auditioned for the Girls pilot—in Zosia Mamet's role. ("Picture me with those girls," she says. "I'm a hundred years old. It would be like, 'Who's that old lady?' ") Inside Amy Schumer is her chance to walk down the aisle.
Like its owner, the apartment splits the difference between girlish and adult: There's a bar stocked with Maker's Mark, a copy of Plato's Republic, a pair of fluffy blue slippers, a light-up bunny rabbit, and a couple of decorative geodes. Plus a very adult 26th-floor corner view facing southeast. "I'm always on the road, on a plane, so when I can just be home, I hate to leave my apartment," she says, plugging in the electric bunny rabbit. It throws off a pinkish light. "This is my prize possession."
Schumer has toured doggedly for nearly a decade, mastering a sugar-frosted delivery that smartly exploits her appearance—pert nose, sunflower-blonde hair—for effect. (The way she says penis makes it sound like a cute puppy name.) The night before, at the Gotham Comedy Club, she smiled sweetly after her opening act left the stage and thanked the audience for being so nice to the young comic. "He was riddled with AIDS," she explained, segueing into a riff about the morning-after pill Plan B and why it's justified in cases of "rape or incest or with a redhead."
Over our afternoon tea, Schumer has a quiet, Sunday-morning kind of mien. She's dressed in a long-sleeved cotton shirt with no makeup and hair pulled back. Her plans for the day include loafing around the apartment, going to Eataly with a friend, and having a glass of wine. "On my show, I'm drinking in every scene, unless it's ridiculous, like if it's a scene at a graveyard. It always bothered me on Friends—how come they're never drinking?" Wine aside, the only item in the apartment that suggests Schumer's stage persona is High Heels, Low Carbs, a book with a sexy female silhouette on the cover. "That's a fake book from the show," she clarifies. "I never want someone to see it and be like, 'Of course she's reading that.' "
Many of her acting roles—a bachelorette, a stylist—play off Schumer's looks, but her stand-up material cuts the sweetness of the type: She's a blonde babe with the switchblade wit of the chronically underestimated. It's a talent she's been honing forever. "When I was a little kid, they'd be like, 'Your shoes are ugly.' And I'd be like, 'You're adopted, and your parents haven't told you yet.' I'd go from zero to horrible immediately.
"My writing routine is to work backward from an uncomfortable premise," Schumer says, and then try to make it both funny and palatable. Examples of uncomfortable premises might be abortion, divorce, the disposability of grandparents, or the notion that there is, as Schumer put it the night before, a "sliding scale" of rape. "We've all been a little bit raped," the bit goes. "Like, not totes consensch. There is a gray area of rape." Turning to an audience member: "You've been graped, right?"
Bits like "grape" caused the audience's women to implode with laughter, while the men tended to glance sideways for tacit approval before reacting. That's a sign that Schumer is working in spiky territory—partly motivated, appropriately enough, by the often-icky sexual dynamics of her profession. "The other night I went on, and this promoter yelled, 'Break a leg, baby.' I was like, 'Would you call Dave Attell baby?' " Another time, at the Comedy Cellar, where Schumer performs every week, a man pulled her onto his lap. "I was like, 'We don't have that dynamic, and we never will.' I am very into boundaries. I respect people's boundaries." She pauses. "But I'm not above a dumb vagina joke."
Or a dumb penis joke. Or a gang-bang joke. Or a joke about an encounter with someone who doesn't have balls, which is a scenario Schumer explored in her Comedy Central special last year. Today, she adds a postscript. "He did wind up having balls." She sips her chamomile tea. "But they were much lower down than what I'd experienced. They were at a level that an elderly person's would be. The next time we fooled around, I found them."
*This article originally appeared in the April 1, 2013 issue of New York Magazine.