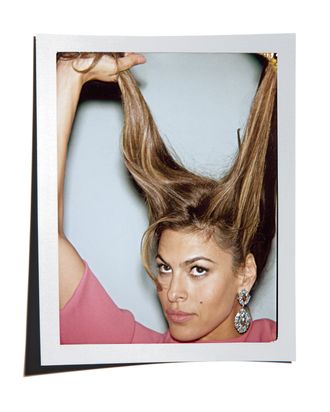 Photo: Lucas Michael/New York Magazine
Eva Mendes is lost in thought, staring into the face of the devil. "Hmmm  … Interesting," she mutters, twirling a painted wooden Satan on a stick that caught her eye while browsing the macabre wares at Obscura Antiques & Oddities in the East Village, her favorite home-décor store. What's so interesting? "Sorry!" she says, her trance broken. "It's a private moment."
Mendes hasn't sold her soul—she'd just been thinking of her "favorite devil of all time," Tim Curry in 1985's Legend—but she knows that, right now at least, it looks like Hollywood owns it. She says she's "embarrassed" by the black SUV that brought her here, and "self-conscious" about being so conspicuous a presence among Obscura's vampiric clientele in her bright-tangerine dress and seventies-glam smoky eyes. "The makeup and the outfit are for work," she explains. Today's work seems to include courting the paparazzi whom she usually tries to avoid. It's all in the name of putting attention on The Place Beyond the Pines, the ambitious new indie drama she shot with now-boyfriend Ryan Gosling in Schenectady two summers ago (they reportedly started dating after it wrapped). In it, a carnival stunt motorcyclist (Gosling) learns he ­fathered a child with Mendes's character, then turns to bank robbery until his fate becomes entangled with that of a rookie cop (Bradley Cooper) who has his own son and family issues. And that's just the first act.
At least Mendes isn't daunted by complexity or messiness—which helps when perusing Obscura's cluttered shelves. She steers clear of the taxidermied birds and gets bored quickly by turn-of-the-­twentieth-century medical journals with instructions on "the soft, easy passage of fecal matter." ("This is all the same subject? Why? Give us some variety here!") Before we leave, though, she buys a $225 papier-­mâché skull that she sees as a memento mori, a reminder that we all die someday. "I just fell in love with him," says Mendes. The shopkeeper tells us that the skull comes from an Odd Fellows lodge, where he was likely used during initiation ceremonies to frighten blindfolded inductees, and probably dates back to 1910. Mendes gasps: "He doesn't look a day older than 1925!"
Pines is of a piece with her recent impulse toward dark, idiosyncratic roles. Mendes, 39, is still probably best known for her racy Calvin Klein ads and playing hot girlfriends to Denzel Washington (in 2001's Training Day), Will Smith (2005's Hitch), and Joaquin Phoenix (2007's We Own the Night). But following a 2008 stint in rehab (for reasons that remain undisclosed), she started sending up her image, in a Funny or Die commercial for "Eva Mendes Sex Tape"—the punch line is that it's an ad for adhesive tape—and in The Other Guys as the oblivious-to-her-good-looks wife to Will Ferrell, who complains about how dowdy she is.
Mendes doesn't regret her earlier work. "I love everything I've done, in a way. But right now, I just want to work with amazing directors and challenge myself." Directors like Werner Herzog, for whom she starred in 2009's Bad Lieutenant: Port of Call New Orleans; Pedro Almodóvar, Mike Leigh, and David Lynch are all on her bucket list. "Doing films that really mean something to me, that's been my jam lately." Also among those films is last year's bizarre Holy Motors, from French surrealist director Leos Carax, in which she played a model carried off into the Parisian sewers by a goblin, who licks her armpit, eats her hair, and prances around her with a prosthetic erection. "I let my mom know it was a fake [penis] right away," says Mendes. "I didn't want to freak her out."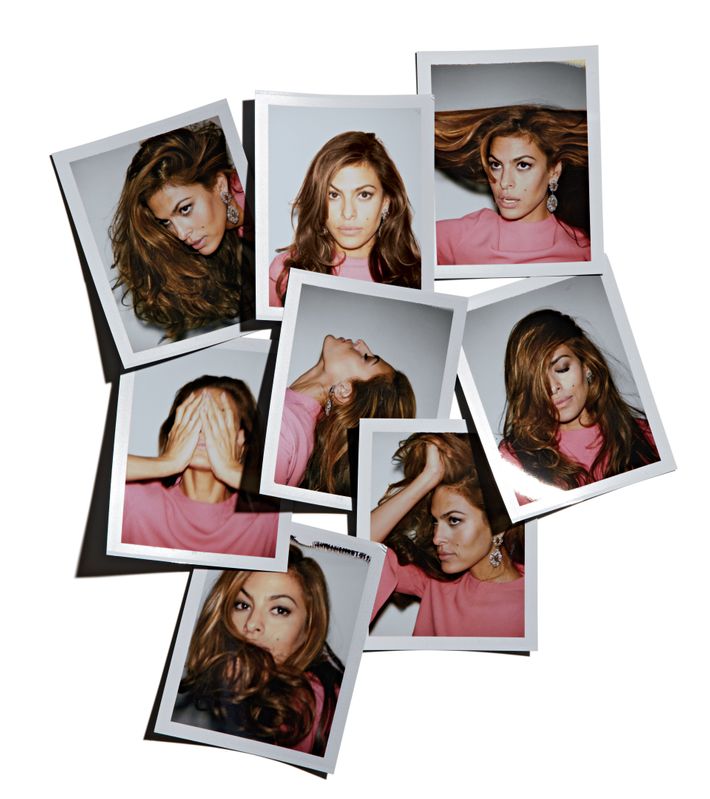 By now we've moved from Obscura to nearby Motorino, where Mendes unscrews the lid of a jar of red-pepper flakes and dumps a pile onto her pizza. She sneezes, pours more pepper, and sneezes again. "I love it so much I don't want to not have it!" she says. "It's worth the sneezes."
Fighting for the parts she wants has been worth the occasional battle, too. When she heard that Pines director ­Derek Cianfrance (who had previously directed Gosling in Blue Valentine) didn't see her as a girl who'd get knocked up by a carnival daredevil, she arrived to her audition in ill-fitting high-waisted jeans, her lips surrounded by brown eyeliner. "She was trying her hardest to be unattractive, and she was failing miserably," says Cianfrance. "But it meant so much to me. I could tell she was really nervous." (A similar trick involving sweatpants and a unibrow helped secure her role as a formerly overweight woman in Larry David's upcoming HBO movie, Clear History. "Come on, it's pretty hideous," she says, showing me a picture.)
Instead of reading lines for Cianfrance, Mendes took him on a driving tour of the Los Angeles neighborhood where she grew up (Silver Lake, pre-gentrification), the daughter of divorced Cuban immigrants. She showed him the laundromat where she'd go with her mother, a homemaker, and told him about meeting her father, a meat distributor, after work, not knowing that that was blood all over his clothes. Mendes no longer eats meat. "Eva always says she's playing a version of what she could have become if her mom hadn't been so hard on her," says Cianfrance.
By the end of the tour, Mendes had the part. To prepare, she put in full shifts at the diner where her character, Romina, waitresses. She shaved back her eyebrows and lost fifteen pounds because she wanted to look stressed and malnourished. She helped pick her own wardrobe, too. "Not wearing a bra was a really conscious choice," says Mendes of an early scene. "I thought it said a lot about her without verbalizing it; it was raw, not sexy. I wanted her to be a real girl who didn't make the best decisions in her life but was desperately trying to figure it out."
Because she and Gosling play star-crossed lovers, Cianfrance tried to keep them apart for most of the production. But he purposely scheduled a sex scene between them on the first day to create an immediate intimacy. Mendes and Gosling have known each other for years; he recommended her to Cianfrance for Pines. But when I ask how the couple met, Mendes cuts me off. "That's where I start to shut down, because it gets into personal territory that I don't feel comfortable talking about. So sorry." She wishes that tabloids would blur the faces of their dogs, Hugo (hers) and George (his), in photos, like British papers do to kids' faces. "I'll go somewhere and they'll be like, 'Hey, Hugo!' and I'm like, 'How do you know Hugo's name? That's so creepy!' " Pushing my luck, I ask if she wants kids. "I'm so out of here!" she says, laughing. "You know the cartoon where the steam comes out and it says, 'Boop-beep-boop. System down!'?" She disappears into the bathroom for a long time, but returns just as I begin to wonder if I've been ditched.
She's reluctant to discuss even her part in Gosling's upcoming directorial debut, How to Catch a Monster. "I don't want to disclose anything because I feel like there are no more surprises anymore, whether it's in film, about the ending of a story, or what a character looks like—by the time we see the movie, we've seen paparazzi shots of the actor wearing the wig. Where's the mystery? Where'd it go? I want it back."
*This article originally appeared in the April 1, 2013 issue of New York Magazine.