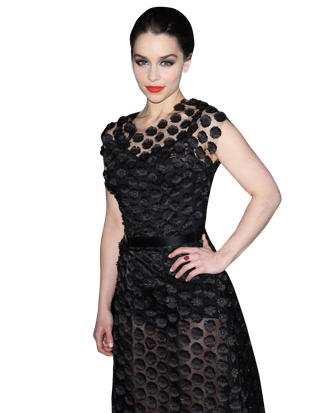 Emilia Clarke.
Photo: Walter McBride/Corbis
Emilia Clarke, known alternatively by her Game of Thrones character names of Daenerys Targaryen, Daenerys Stormborn, Khaleesi, and the Mother of Dragons, gains a new mantle in season three: the Breaker of Shackles. But even as TV viewers watch her character become a conquering queen with an army of thousands as season three kicks off on March 31, Broadway audiences have a chance to see Clarke take on a different sort of iconic character in Breakfast at Tiffany's. Clarke chatted with Vulture about where her TV and Broadway worlds collide, the alleged photo frenzy during her nude scene on stage, and what it would mean to "double date" the Iron Throne.
Apparently you have a habit of bringing breakfast to Breakfast at Tiffany's, especially if you count chocolate as a breakfast food.
Yes! That is very true. I like to take care of the cast.  Everyone keeps calling me the Jewish mum, because I keep trying to feed everyone. I take Cory Michael Smith the chocolate macaroons from Dean & Deluca — it's sweetness upon sweetness. Sean [Mathias], our director, is a crazy man for hot chocolate, so I'll always bring him one. And Scott [Faris], our assistant director, is like a huge fan of oatmeal raisin muffins, so I get them for him. I'm loaded like a pack horse full of treats every day, but I think they're appreciated, you know? It's nice to do stuff for people when everyone's stressed out.
Does anyone reciprocate? Give you treats in return?
They're giving me all their love and support! They're giving me a Broadway experience! All the muffins in the world couldn't weigh up with that.
Your co-star and your understudy told me that you get teased during rehearsals.
How they tease me? What did they say? Tell me!
They said that they yell out, "Dragons!" or "Bring me my dragons!" during inopportune moments.
That definitely does happen. I get quite a few Khaleesi jokes a fair amount of the time. They kind of all blur into one, but there have been some doozies. No matter how many muffins I bribe them with, I still get the Khaleesi thing! You'd think they'd chill out a little bit, but no. [Laughs] I'm normally the first to take the piss out of myself, so I kind of encourage it, I suppose. And a lot of the Game of Thrones fans have really come out to the show, which is really wonderful. And I hope they get a different experience than what they're used to seeing me doing.
Even though you're not supposed to do this during Broadway shows, and people should be used to this by now, people were trying to take photos of your nude scene?
It's a little distracting. It's not really the kind of theater to whip out your camera and take pictures. And the frenzy that's being highly publicized didn't really ever happen. There might be a weird looking or bizarre photo or two floating around, but I promise you, I've never been in a performance and suddenly hit with a tirade of people taking my photograph on stage. There's more of a furor surrounding the cat, to be honest. And it couldn't be the Game of Thrones fans taking those pictures, because you can just go on YouTube and see everything you want, or see something that's more centered around that.
How are you enjoying the evolution of Dany this season?
It's the most wonderful, the filming for season three, the most glorious. She made a lot of mistakes before, and she's been biding her time, and then in season three, she really hit the ground running, 0 to 60. And it's been wonderful because she has so much to do, and so much to learn, and she's so quick. And there's all these different characters she meets on her journey, and a little spattering of love.
The spattering of love must be Daario Naharis.
Yeah! The new kid on the block for her. Ed Skrein [who plays Daario] is just gorgeous. He's the sweetest, kindest person ever, and then he looks so badass, so it's a dangerous concoction.
The cast is so vast, you're all in shooting in different countries. Who do you text with when you're separated?
Me and Richard [Madden, who plays Robb Stark] and Alfie [Allen, who plays Theon Greyjoy] and Kit [Harington, who plays Jon Snow], we sort of rule the young 'uns for being the exact same age and starting at the same time. We took on this adventure together. It's quite lovely that we're all still very much in love with each other. And then obviously, my girl Rose Leslie [who plays Ygritte], who is just the coolest chick on the entire planet. I'm determined — determined! — to be a wildling extra at some point, just to find her and kind of say, "I'm in Iceland!", and see what she says. [Laughs] We're complete geeks, all of us. Of course, each of us thinks we're the one that's going to win. And wondering who Jon Snow's parents actually are is still very much up for debate.
Some people theorize that since the whole book series is called "A Song of Ice and Fire," Jon is ice and Dany is fire, so it's ultimately all about your characters.
Well, my ego would love that! [Laughs] Would that mean Jon becomes my lover? I would love for that to be the case! I think there's lots of other theories going around as well, but it does make some sense. Of course, my favorite theory is that Dany wins. [Laughs] "A Song of Ice and Fire," what else could that mean? Bring Khal Drogo back, that's what I'd like to see. He's dead. He's out cold. Maybe that can be the ice. I mean, he lives on in my dragons. But [showrunners] Dan [Weiss] and David [Benioff] know. They know all the answers, and they won't tell anyone! Doesn't matter how much of a headlock you get them in, they will not let you know.
If the headlock isn't working, maybe you need to try bribery — macaroons and muffins, as you do on Broadway.
Tell me about it! This is where I've gone wrong! Do you think Jason Momoa [who plays Khal Drogo], Kit, Rose and I could share the throne? Have a little bit each? Like double date the throne? I think that would work out perfectly. I'm going to start adding my own pages, and see if anyone notices: "And they ended up happily ever after."