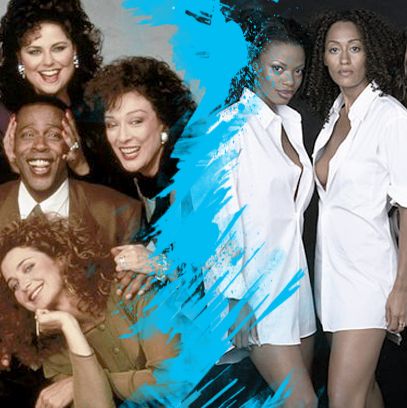 Vulture is in the midst of its Sitcom Smackdown, a three-week contest that pits the best sitcoms of the last 30 years against each other to crown the ultimate winner. But while that bracket focuses on the greatest, most innovative modern comedies, it couldn't cover all of the series that live on in our hearts, the ones that may not fit those highfalutin parameters but which we could talk about for days. To give these other series their moments to shine, every day we'll be pitting two like-minded comedies against each other: We'll pick our winner, and readers will then vote for their own. Today: It's the battle of the all-female ensembles, Designing Women and Girlfriends.
Today's contenders: Designing Women (1986–1993) and Girlfriends (2000–2008)
The four-woman comedy ensemble is a well-represented television trope, from Facts of Life to Sex and the City to Girls and more. Designing Women and Girlfriends were two refreshing, long-running sitcoms that premiered almost two decades apart and may not appear to have a lot in common, but a closer look reveals more about their similar approach to the business of being ladies.
Home turf: Atlanta and Los Angeles
Professional snobs: Designing Women's Suzanne Sugarbaker, a beauty-obsessed, oft-divorced former pageant queen, and Girlfriends' Toni Childs, a bougie, self-obsessed tough girl, constantly referencing money and class ("Is that a suit from Men's Warehouse?") in their search for long-term love.
Free spirits: Divorced single parent Mary Jo (DW) is a romantic yet practical goofball who offsets her big red bouffant with boxy oversize shirts and quirky jewelry, while Lynn Searcy (Girlfriends) is a twirling bohemian social activist with a proclivity for clubbing and living off the kindness of her friends.
Super-strong leads: Julia Sugarbaker (DW) gives snappy monologues in each episode that flay the skin off of her adversaries, and Joan Clayton's (Girlfriends) subconscious thoughts are fully on display via her fourth-wall-breaking conversations to the screen.
Dude sidekicks: Ex-convict and current design assistant Anthony Bouvier gets a second chance at life on Designing Women; corny, fumbling William Dent tells the worst jokes of the show and, though he's framed as a friend, is mostly reviled on Girlfriends.
Get Money Crew: Julia Sugarbaker started the Sugarbaker & Associates Interior Design firm in her own house after the death of her husband, and Toni Childs starts her own real-estate company to keep herself in the lifestyle to which she has become accustomed.
Cast changes that hastened the show's end: Suzanne Sugarbaker (Delta Burke) left Designing Women after season five; her replacement, Julia Duffy, lasted only one season. Toni Childs (Jill Marie Jones) left when her contract ran out after season six. Both shows had a steady decline in ratings after the major cast shake-ups.
Are the shows any good? Sort of. Julia Sugarbaker's monologues are legendary, but both shows suffer from canned jokes and laugh tracks that detract from the strength of the cast. The jokes about Maya on Girlfriends being "low-class" are often uncomfortably below the belt, and it is annoying that women on both shows are reduced to virgin/whore/quirky/leader stereotypes.
The moment of truth: Designing Women was on the air at a time when America was deep in feminist backlash; having a show centered on strong women who supported each other in love and life was powerful, even for a sitcom. Girlfriends remarkably featured a cast composed of women of color in prime time on a national network; some of the themes are great and sometimes stretch beyond the typical "I gotta find a husband" trope by focusing on the friendship between all four women, but ultimately the jokes are just not that funny.
Winner: Designing Women. This unbelievably fantastic takedown was par for the course.