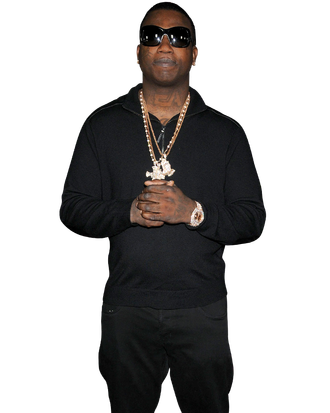 Gucci Mane.
Photo: Corbis
As Vulture reported yesterday, Gucci Mane slept through his big Spring Breakers sex scene. But many of us still weren't sure: Was the sex real or simulated? So we jumped on the phone with Gucci and asked him to set the record straight. He did, and also shared his thoughts on playing Archie (rival to James Franco's Alien), Franco's rap skills, and his own future in acting.
Gucci Mane: I got to start out the interview by saying thank you and a shout-out to Mariah Carey, because she directly plugged me in with Brett Ratner, who directly plugged me in with Harmony Korine, and that's how I got cast in the movie.
Did you know anything about Harmony or his films before you started working with him?
Yeah, I knew about Kids and another movie. He's a great director, I know that much. Kids and another movie, I don't know the name of it … Gummo.
Had you thought much about acting before he contacted you about appearing in the movie?
I had given thought to acting, but I never really had a good enough opportunity or a character who made sense and paralleled my life a little bit. I feel like I'm one of the poster boys for a bad guy in a movie. I feel like I'm a good person to play a bad guy in a movie. I can say that. The enemy of the bad guy. The worst of the bad guys, and that's exactly what [Archie] was. That intrigued me.
Harmony told us that you fell asleep while they were filming your sex scene. Did that really happen?
Yes, I was knocked out. I was tired. I had a concert down there in St. Petersburg, one of the days I had to shoot a scene. Same time, same night. We started shooting at ten o'clock in the evening until one or two o'clock. I was extremely tired because Harmony would work for almost 48 hours straight, I think. Even though Harmony is a close friend and a great director, he's a hard boss. Make sure you put that in bold letters. [Laughs.]
Were you actually having sex, or was it just simulated? It's confusing from what he says.
I tried to have some. [Laughs.] They just wouldn't let me. It was simulated, but, you know, I wish it wasn't.
Much of your time onscreen involved working with James Franco.
It was cool how he could form into this character from the hood, who's so urban, so different from the people who he really is. You would think that James Franco is from the same community, but he's not. I think he did a hell of a job.
What did he capture best about that lifestyle?
I felt like he captured the humor that goes along with that, when you come from the hood or the inner city. In the South, you know how to be creative, you know how to make something out of nothing, you know how to make the most of the situation that just comes with from where we at. You gotta make something out of what you got. Sometimes you almost have to laugh to keep from crying to deal with the pain associated with the hood. And I feel like James Franco — drugs are serious; guns are serious; killing, murdering, shooting, everything is serious — he brought a type of humor to it that does live in the hood.
What were you able to bring to your character that wasn't already there?
I ad-libbed a lot. I didn't really follow the script at all. I knew the script and I knew exactly where I needed to be and how much time I had to fill. But I wanted to add more of my lingo, add more of what was relevant, what was going on the street, what was current.
How'd Harmony take that?
He loved it. A hundred percent loved it. That's how he wanted it.
Do you want to act more after this? Was it a good experience?
My plan is to drop three of my own films, that I produce, under my own company, Brick Squad Films, this year. It's going to be a big year for me in film. I guess the filmography of Gucci Mane has just begun.

Does the film work pay well?
It pays hell of a good. Shout-out to Harmony Korine. Appreciate the money, man.
Oh, one last thing about Franco: How did he come off as a rapper?
I would collaborate with James Franco as a rapper any day.