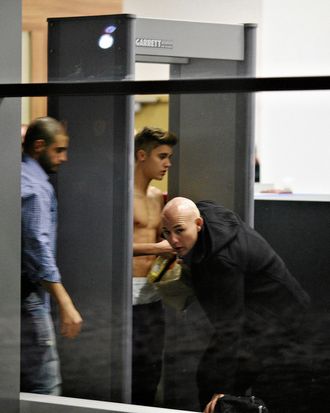 Photo: AGENCJA GAZETA/Reuters /Landov
If you said "no shirt, saggy pants, and extra hair gel," then you are correct! (In Justin's defense, the pants are practical; you can fit a passport and a snack in there.) But while we are on the subject of Justin Bieber Behaving Questionably, consider this TMZ report, which says the L.A. County Sheriff's Department is investigating a battery claim from one of Bieber's Calabasas neighbors. The accuser apparently visited Bieber's house this morning to complain about some loud parties (all held while JB was in Europe, it should be noted); the conversation escalated, and the neighbor claims Justin made physical contact. Bieber's camp says it was just a verbal argument. Is jet lag an acceptable legal defense in L.A.? It must be, right?
Update: Now TMZ says the neighbor was complaining about Justin's driving, and that Justin spit in the man's face. He's still very angry!