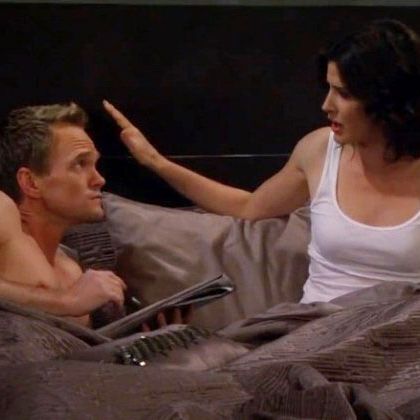 Last night, the writers couldn't come up with a joke that they didn't beat to death. The Captain's pursuit of outsider art barely worked; Barney's methods for debasing women definitely didn't. Clearly the writers thought that if Escape From Bitch Mountain and the body-mass-index-detecting device were intended to be repellent, they were somehow excusable. But the episode opens with Barney showing Robin his Ho-Be-Gone sleep system, which was a mildly disturbing and stupidly far-fetched trick that wheeled unsuspecting one-night stands into a wall — and this was before he tries to sabotage her attempts to sell his place. "Where do the hos go?" Robin asked. They might be rotting in a wall!
Okay, obviously not, but there was an inhumane bent to these punch lines. For all the ways in which this series can be smart and sophisticated, it has been consistently pigheaded when it comes to sexist slurs. In the beginning, it was understood that Barney's attitudes were extreme and no one endorsed them, but now that we're supposed to take him seriously as a more mature character, his behavior seems particularly odious. And the way Robin chimed in just as hatefully, calling his apartment "a disease-riddled bang-pad haunted by the ghosts of ex-skanks," made it seem like, if anything, she has sunk to his level.
The Downton Abbey send-up was a relief by comparison. Woodworthy Manor started off kind of funny — the overwatering of roses and a character's gout might not be too far off the mark in terms of the series' tedium as of late. But we weren't 100 percent convinced that the writers had actually seen the original show or just heard a lot about it, because their targets were imprecise — they didn't even strike upon the high-stakes jockeying for head valet or all the untimely deaths, and Emsbry Postlethwaite, the unhappy cricket player, didn't quite jive.
The part of the subplot that actually rang true was how frustrating it can be to try to stay on top of a television show when you have to wait for somebody else to watch it. Marshall can't talk about Woodworthy with an obsessed Ted because Lily, in her newfound role of art curator, is constantly tracking down new artists for the Captain to exploit: a sculptor whose latest installment is made of world currency and shows a plutocrat defecating on the poor; a murderer serving consecutive life sentences with a gift for Impressionism; a zebra with a knack for photography. It was just a few episodes ago that Marshall sat on a sculpture that he mistook for a bench, so surely this is not the last of the shots at modern art's expense. All in all, three running jokes in one episode felt a little too easy, especially when none of them was especially memorable.
What we liked:
The opening adoption fake-out. It looked like Robin was in full domestic mode when she snapped at Barney for not even being willing to consider adoption, because "it's the only thing that makes sense" — as a crossword answer.
Lily's enormous Iris Apfel–style hipster glasses that she says help her discern genius from pretentious crap, and Ted's corresponding burn: "Too bad you weren't wearing those glasses when you bought those glasses."
Ted's teapot, scones, and sandwich-serving tray. The fetishizing of dainty Englishness in part makes Downton fun for fans and irritating to detractors. On a related note: We liked Marshall's ideas of a figgy-pudding shot for every time the dowager was not pleased, and Parson Smallsby.
Ted's comment that no amount of Purell, amoxicillin, and holy water would convince him to take Barney's apartment.
Barney's point that Superman eventually gave up the Fortress of Solitude for Lois Lane, but turned into "a vag" after that (not the part we liked), all of which is to say that he loves Robin … "and the Superman films are uneven."
What we didn't like:
Robin's takeaway from the attempted sale of Barneys house: "If I ask you to change too many things about yourself, you're not going to be the person I fell in love with." Hold up: What?! This is true, generally, but it is simply not applicable here. First of all, it's completely reasonable for an engaged couple to look for their own apartment. Second, Barney's behavior throughout the process hardly deserves to be rewarded, or even understood. Of course, the stage has been literally set, and Barney's apartment isn't going to go to waste in the final season, but this was an insultingly dumb conclusion. Why does Robin care if the new owners want to remodel? We didn't buy her sudden respect for Barney's pervy genius. Also, doesn't it seem as if Robin and Barney have been fighting about his old habits a bit too much for people who are about to get married?
The return of Marshall's snap sister. It wasn't particularly funny when it was introduced in "The Autumn of Break-Ups," and it's not any better now, though Ted and Marshall do make charming life partners. (Lily was kind of unnecessarily grumpy about the charade, no?)
The floating Jor-El head. That closet of Barney's has gotten a lot of action this season. Just a few episodes back, the gang hid in there while spying on Barney and Patrice, and there was no green screen at the time. Not that this is our objection — it was just a dull gimmick.
I love this show, but this was the worst episode of the season. I fear what renewing HIMYM for one more season will mean if this is what we're going to have to put up with.