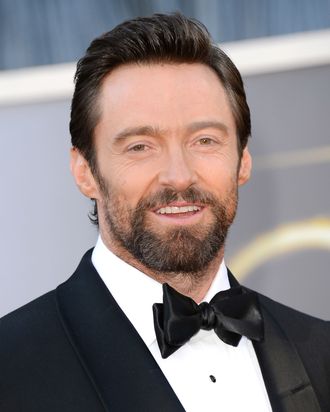 Hugh Jackman arrives at the Oscars at Hollywood & Highland Center on February 24, 2013 in Hollywood, California.
Photo: Jason Merritt/Getty Images
Hugh Jackman has lined up his next movie role, an upcoming adaptation of Harlan Coben's forthcoming novel Six Years. According to THR, Jackman has signed on to play Jake, a college professor still nursing a broken heart six years after Natalie ditched him to marry another guy. (Who ditches Hugh Jackman? Ah, the magic of movie-making.) When Jake comes across this guy's obituary, he decides to crash the funeral, just to catch a glimpse of his former flame — only to discover that Natalie is not the mourning widow and that his whole internal narrative of the last decade is badly skewed. We're picturing Jackman barking, "I want to know what happened!" or something. Seems promising.