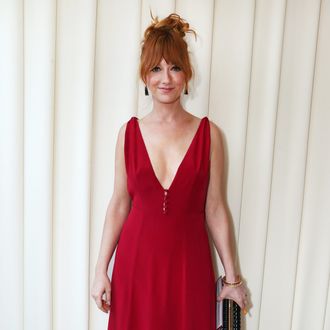 Photo: Alexandra Wyman/Getty Images
It's a safe bet that you're bound to recognize Judy Greer from at least one of her many credits, whether it's her part as Matthew Lillard's wife in The Descendants, her unhinged Kitty Sanchez in Arrested Development, or the countless rom-coms where she played the supportive best friend to actresses like Katherine Heigl and Jennifer Aniston. But now the actress — whose upcoming short-story collection bears the cheeky title I Don't Know What You Know Me From: Confessions of a Co-Star — has landed a supporting part where she'll be utterly unrecognizable: Vulture has learned that Greer will be donning a motion-capture suit to play the female chimp Cornelia in Dawn of the Planet of the Apes, the sequel to 2011's hit franchise reboot Rise of the Planet of the Apes.
"For so long I haven't been able to say anything about it, so this is exciting!" Greer gushed when I talked to her last night. Cornelia was briefly introduced in the first film (where she was played by dancer Devyn Dalton) as a potential love interest to Andy Serkis's lead ape Caesar, but the role will be expanded in the Matt Reeves–directed sequel, which has already enlisted Jason Clarke, Keri Russell, and Gary Oldman to play some of the new human characters. "It's a very different kind of work than I'm used to," admitted Greer. "I'm not going to be wearing Manolo Blahniks in this one."
But make no mistake, Greer definitely feels an intimate connection with the Apes franchise. "I married a man who … I'm gonna use the word obsessed. He is obsessed with Planet of the Apes," she laughed. "We had a chimp husband-and-wife cake topper at our wedding. At the cocktail hour, we played Planet of the Apes and Rise of the Planet of the Apes on two separate televisions in the bar area. And on the wedding gift I bought him, a vintage Rolex, I had it engraved, 'Ape shall not kill ape.' I was then told that, technically, it's 'Ape shall never kill ape,' but there wasn't enough space for engraving purposes."
Around the same time as the wedding, Greer started attending awards-season parties in support of The Descendants, where she reconnected with her former 13 Going on 30 co-star Serkis. ("He played a human man in that one," she noted.) Serkis encouraged her to lobby for a role in the sequel, and eventually she met with Reeves and revealed the depths of her Apes fandom. "I think I might have freaked him out a little bit," she said, chuckling.
So, what is it like for Greer to go from geeky fan to Apes insider? "It's gonna be fun to have some secrets, but I have to be oh-so-careful. I'm not supposed to say anything to anyone, so once I start shooting, I won't be able to talk to anybody!" she said. "I feel like I'll be on one of those reality shows where they sequester the Survivors until it's over, or a jury where they have to put you up in a hotel so you don't talk." And no one is more sensitive to her newfound spoilers than her husband. Laughed Greer, "It's funny, because when I talk to my husband about the movie, he's like, 'I don't want to know! I do want to know! Do you think you should tell me? Don't tell me!'"