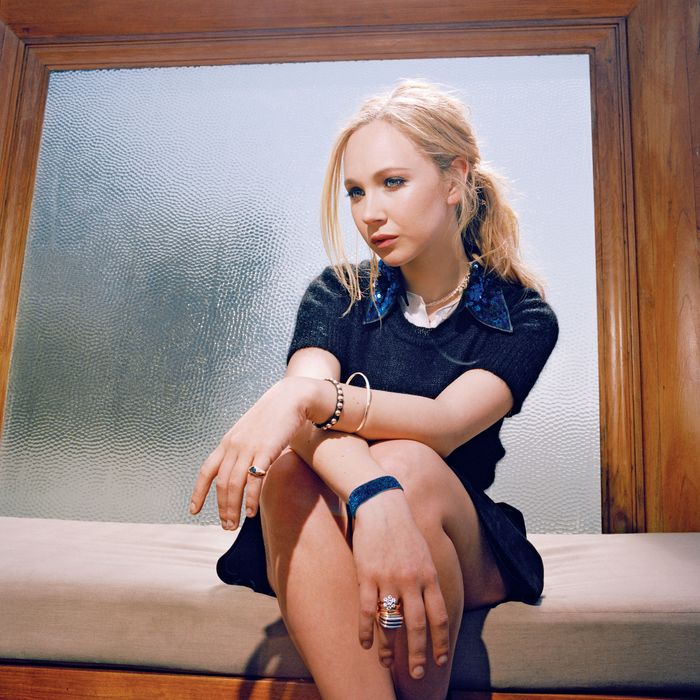 Photo: Chuck Grant/New York Magazine
It all started with an act of parental guidance gone awry. A then-14-year-old Juno Temple had just told her father, British film director Julien Temple, and her mother, producer Amanda Temple, that she wanted to be an actress. Her parents, hoping to spare her a life of endless auditioning, decided to teach her a lesson. "They handed me a paper and said, 'Here's an open audition. Go try out and see how many other girls want to act,' " the actress, now 23, recalls. "Then," as she puts it, "the craziest shit happened." The movie was called Notes on a Scandal, and she got the part of Cate Blanchett's daughter. Soon afterward, she tried out for a part in Atonement, opposite Keira Knightley. She booked that, too.
And just like that, Temple was a professional actress, with parts in five films released last year, including The Dark Knight Rises and Killer Joe, a role she got after she, "out of the blue, sent an audition video to the casting director," director William Friedkin recalls. "In it, she did the part from memory, with her 10-year-old brother playing Killer Joe. It was sensational. I had no idea who she was." This year, she'll appear in eight films, including her latest, The Brass Teapot, opening this week, about a couple who acquire a teapot that spits cash whenever they get hurt. The role required Temple to veer between emotional extremes—from punishing to pleasing, abusive to loving—within ­seconds. "I don't know anybody who ­commits the way she does," says Teapot director Ramaa Mosley. "Then she turns around, and she's a fun, normal person again. It was almost scary."
*This article originally appeared in the April 8, 2013 issue of New York Magazine.