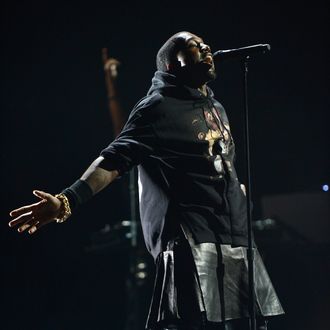 Photo: Kevin Mazur/WireImage
Since Kanye put a one-word limit on his Twitter, he's mostly had to confine his unexpected outbursts to concert rants and the occasional crying jag on Keeping Up With the Kardashians. (Just kidding — he won't even wear a mike. Work on that, Kim.) But yesterday, 'Ye had feelings that could not wait for his next show, and so he called into Hot97 for a discussion about MTV's Hottest MCs list, which turned into a discussion about how people don't like his kilts. It started off smoothly: 'Ye called Lil Wayne the "number one rapper in the world" and said some kind things about Big Sean's "Mercy" verse. Then Kanye offered some theories about why he'd only ranked No. 7 on the list. "For me, I feel like in order for them to put me in No. 7 they had to bring up things that they didn't like," he told D.J. Enuff. "They didn't like the Cruel Summer album." It got more personal from there:
What happens with these type of judges and people who are viewers, when you come in, I had the pink polo and the backpack, then I'm checking all the boxes for that Tribe Called Quest–era and J Dilla and all that, so they champion it. They don't like Givenchy-Kanye. They don't like Kanye in a kilt. They don't like Kanye in a relationship.
For the record, it would be a lot easier to love Kanye in a relationship if you could hear a single damn word he said on the show. Anyway, Kanye wants you to support his new life. The whole call is below, with bonus anecdote about how 'Ye gave Sway his first TV.