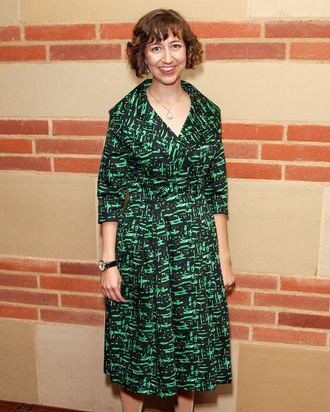 Actress Kristen Schaal attends the 40th Annual Annie Awards after party held at Royce Hall on the UCLA Campus on February 2, 2013 in Westwood, California.
Photo: Paul A. Hebert/Getty Images
Yesterday, we told you that Mandy Moore left the pilot for Pulling, because the writers wanted to "go in a different direction." Deadline reports that direction is Kristen Schaal, which is, as directions go, exceptionally different. She'll be joining Jenny Slate and June Diane Raphael, creating a freaking murder's row of funny. Together they'll play three thirtysomethings trying to get their lives together. Schaal will play Louise, which is oddly enough the name of her character on Bob's Burgers. Mike Schur's cop pilot, you have some competition for No. 1 Sitcom Pilot in Our Hearts.