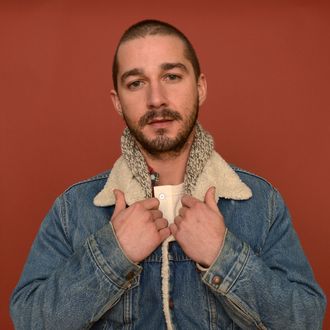 Photo: Larry Busacca/Getty Images
Last month, Shia LaBeouf left the Broadway play Orphans. The assumption was that it was because of beef (La-beef) with ex-co-star Alec Baldwin. Then earlier this week Baldwin responded to LaBeouf 's claim that "theater belongs not to the great but to the brash" by taking the young actor down a few pegs: "I can tell you that, in all honesty, I don't think he's in a good position to be giving interpretations of what the theater is and what the theater isn't." This morning, LaBeouf responded in what seems to be the only way he knows how: tweeting pictures of e-mail conversations.
Both are with "Sulyboy," which we assume is Orphans director Daniel Sullivan. One, dated February 10, reads: "Don't be too surprised if Alec doesn't look up from his script much for the first few days. I suspect he's not nearly as prepared as you are. Not unusual at all when actors have a good long rehearsal time like we have. I just don't want it to throw you. I did a reading of another play once with Alec and about 10 minutes in I thought, 'Oh, I guess he's just going to read it.'"
The other features a whole chain and is kind of nuts. First, Baldwin tells LaBeouf that he's "so fucking tired." To which, LaBeouf responds: "I'm a hustler. I don't get tired. I'm 26, chief." Baldwin doesn't just accept that: "Listen, boy. I'm not your fuckin' chief. You got that? Ha. Hahahahaha. Let's go." It's clear that then LaBeouf forwarded this exchange to Sulyboy, the director. Sullivan's response on February 12: "I thought it was a very good first. Even if Alec never looked up."
The moral of the story is this La-beef isn't over and make sure you never e-mail anything incriminating to Shia LaBeouf ever.