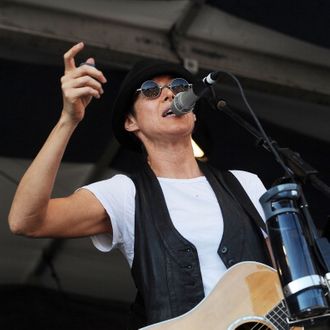 Michelle Shocked at the New Orleans Jazz & Heritage Festival in 2011.
A surplus of people vomit hateful vitriol daily — this isn't news. But there's certainly something surprising about the idea that a musician would choose a headlining gig in San Francisco as the time to go on an Internet-exploding, likely career-threatening rant against homosexuality. That artist is Michelle Shocked, a singer-songwriter active since the mid-eighties, who took the plunge into what one concertgoer called "full hate speech" on Sunday night at a venue called Yoshi's. "I live in fear that the world will be destroyed if gays are allowed to marry," Shocked reportedly said onstage during a second set.
The 51-year-old singer who calls herself "the most sophisticated hillbilly you ever met" also "cited verses from the Old Testament condemning homosexuality, first in English and then, puzzlingly, in Spanish," Yahoo reports. "She even told the crowd that they 'could go on Twitter and say "Michelle Shocked says God hates fags,"' although that particular line was interpreted differently by some on hand, as either ironic or completely sincere." While there's some hearsay, it's clear something uncomfortable did go down, with much of the audience walking out. "The operator of Yoshi's interrupted Shocked's performance to announce that, as a gay man, he could not allow the show to continue and she would have to leave the stage," Yahoo adds. Most of Michelle Shocked's forthcoming concerts have been canceled by the promoters and venues.