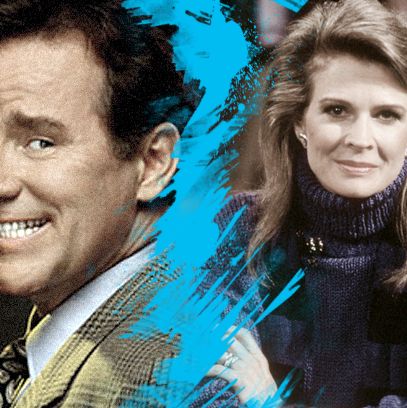 Today's Contenders: NewsRadio (1995–1999) vs. Murphy Brown (1988–1998)

Sure, these two nineties comedies are similar in the most obvious way: They both have similar settings (NewsRadio at an AM news station, Murphy Brown a network TV news show), but they have similarities even beyond that. Both feature a tight ensemble cast, both were filmed in front of a studio audience (in a time before single-camera comedies became an obsession), and some of each show's characters have a lot in common with the other's. And while the tones of the shows aren't the same — NewsRadio ran with irreverence and craziness more than Murphy Brown did — they're more alike than many fans might think at first glance.
The Deep-Voiced, Confident Anchor: Both NewsRadio's Bill McNeal (Phil Hartman, still deeply missed) and Murphy Brown's Jim Dial (Charles Kimbrough) seem to be graduates of Ted Baxter's Famous Broadcasters' School, commanding a strong anchorman-ish voice. However, Jim's voice is the same both on air and off, while Bill only goes full baritone when he's in the booth. But oh, he is a pro when the "on air" light goes on; in the episode "Bitch Session," we find out he can even replicate the reverb you get from talking into a mike, using his skull as an echo chamber. But it gives him headaches, and he can't do it for long.

The Geeky Spaz: NewsRadio reporter Matthew Brock (Andy Dick) is called a geek and a spaz at various times during the show (in "Negotiation," Bill even tapes cards to Matthew's back that spell out SPAZ), and Murphy Brown wunderkind executive producer Miles Silverberg (Grant Shaud) is a short, glasses-wearing bundle of nerves. But they're different subspecies of spaz. Matthew is the classic variety, a mostly harmless weirdo with often inexplicable behavior. Miles isn't inherently weird, but he is prone to freak-outs, especially if something on the show isn't going right or he fears his bosses are mad at him; he's geeky by way of yuppie.

Office Love: Both Murphy Brown and NewsRadio had their bosses romantically involved with an underling. On Murphy Brown, Miles gets together with fluff-news correspondent Corky Sherwood (Faith Ford). On NewsRadio, boss Dave Nelson (Dave Foley) is involved with type A producer Lisa (Maura Tierney). Dave and Lisa's romance begins really early in the show, while Miles's and Corky's takes longer to form. And while Dave and Lisa have an on-again, off-again relationship during the show's run, Miles and Corky end up getting married after Corky divorces Will Forrest (yes, at one point her married name was Corky Sherwood-Forrest).

Real-Life Controversies Affecting the Show: While we can look back and laugh and roll our eyes at the Murphy Brown controversy, when in a 1992 speech Vice-President Dan Quayle criticized the show for glorifying single motherhood (Murphy Brown even addressed the real-life comment on the show, asking, "What planet is he on?"), we can't laugh at what happened to Phil Hartman. The star was shot to death in his bed by his wife in May of 1998, at the end of the fourth season. We can argue as to whether or not there should have even been a fifth season: I say Lovitz was an unfunny, awkward replacement for Hartman, and the fifth season includes only a few episodes that match anything from the first four years (even if Lovitz did make a terrific guest appearance in a season-four episode as a different character who threatened to jump off the ledge outside of Dave's office). One of those stand-out episodes is the season-five opener, where Bill has died and the rest of the team has to deal with the loss, each in their own way (Khandi Alexander's departed Catherine character came back to the show for the episode). It was that rare moment when a sitcom has to deal with a real-life tragedy on the air. Watch the episode again. I'm pretty sure the tears you see onscreen are real.
Are the shows any good? Oh, they're more than good; they're both models as to how a sitcom should be cast, written, directed, and stuctured. And while it's too bad the networks didn't treat the shows the same (Murphy Brown was a Monday night staple on CBS for years, while you often needed a detective to find out what night NewsRadio was on NBC), they both remain great, classic network sitcoms, from the same basic mold but ultimately very different.

The Moment of Truth: You don't hear many people talking about Murphy Brown anymore, even if it is appreciated for what it was. Maybe it premiered too many years ago, maybe it's too tied into the politics and culture of the time, and maybe too many great sitcoms have come along since then, inevitably pushing Murphy Brown further down on the sitcom totem pole. NewsRadio is still loved and missed and discussed and endlessly quoted. Go on Twitter any day of the week and you'll see someone referencing something from the show. You can imagine another season of NewsRadio (maybe on Netflix!), with the entire gang up in New Hampshire working with Jimmy James (or maybe they all decided to come back to NYC to the station). I don't think anyone wonders what the characters of Murphy Brown are up to in 2013 (even if creator Diane English and CBS were toying with the idea of bringing the show back in time for the 2012 election).

How loved is NewsRadio? It's the type of show where you can even forgive Dick's personal transgressions (the arrests, the drunken stupors, that weird battle with Lovitz) because he was on this show (and if Hartman loved the guy, we certainly can, right?). And Dick was rather brilliant in the role, combining strangeness with a lot of heart better than even the writers imagined. Honestly, even if Dick ends up out of control on Dancing with the Stars and vomits on Tom Bergeron, we're still going to have a special place in our hearts for him just for NewsRadio.

Both shows are good in their own way, but it comes down to this: NewsRadio is a show that sticks in my head longer, is funnier, and I just deep-down love more. Murphy Brown may have lasted a lot longer in years, but NewsRadio lasts longer in my mind. There's nothing "bad" about Murphy Brown. It's a solid, well-done, smart show. But it was good for it's time. NewsRadio is good for all time.

Winner: NewsRadio