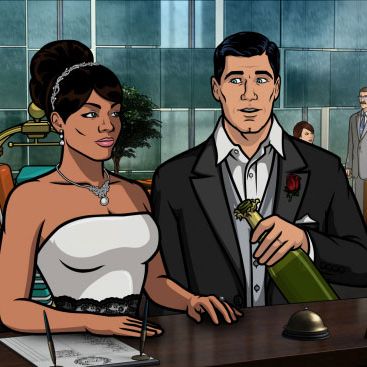 Continuing our ongoing Archer series, executive producer Matt Thompson gives Vulture the lowdown on each episode's inside jokes and obscure references. In last night's installment, "The Honeymooners," Archer and Lana pose as newlyweds to stop a sale of enriched uranium. Here, Thompson tells us about seeing Malory's nemesis Trudy for the first time!
Trudy. In the Flesh.
We were very conscious that we didn't want to show her face. It's like Norm from Cheers always talking about his wife. You hear all these horrible things about her but you never see her. That's how Trudy is designed. But, in this scene, we wanted you to feel that Malory was really pissed off, and you just had to hear from Trudy. You had to hear her voice and feel Malory being angry about it. But we still decided to frame it so you couldn't see Trudy's face.
We were gonna cast for it, but you don't want to call up Cloris Leachman and say, "Hey, would you like to do one line of a faceless character?" So we thought of [series creator] Adam Reed's mom, Mary Ann Warren. She is a retired schoolteacher, used to teach music for years, and she has an awesome voice. It's got a lot of gravel. She lives in Asheville, so we just put her in a studio there, bing, bang, boom! She loved it. And now that we actually put a voice to Trudy, it has opened up the possibility that she could be around in the future. The thing that I like about the character is that she's someone who can one-up Malory, who doesn't have a lot of those hooks weighing her down. It's really good to let it be known that there's someone who can best her.