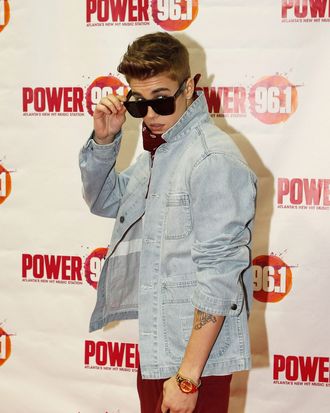 Justin Bieber attends Power 96.1's Jingle Ball 2012 at the Philips Arena on December 12, 2012 in Atlanta.
Photo: Butch Dill/Getty Images
TMZ has some more details on the battery allegations against Justin Bieber, and they aren't pretty — as in, they involve Justin Bieber spitting on a grown man. The neighbor in question was apparently upset about Bieber's reckless driving; he went over to complain, at which point he claims Bieber screamed "get the fuck out of here" and then spit in his face. Oh, and while we're sharing unflattering stories, Justin Bieber was speeding because his Ferrari had just arrived and he wanted to take it for a spin. Justin, no.