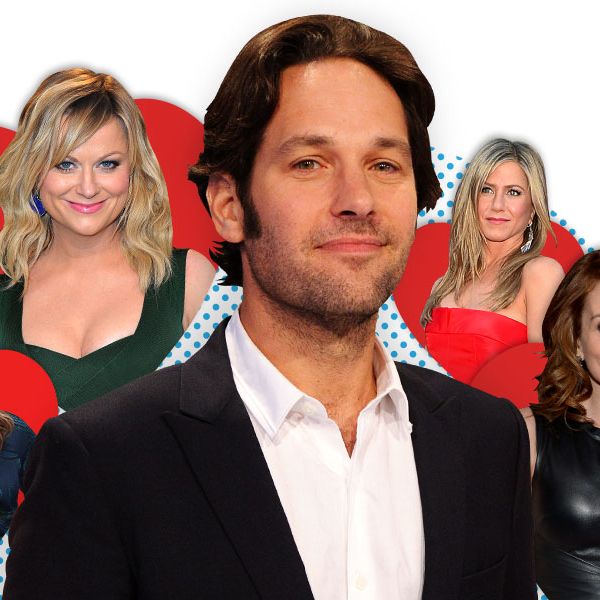 Do you want to date Paul Rudd? (Rhetorical question — you do.) Fortunately, the release of his new film Admission has revealed the quickest way to Rudd's heart: All you have to do is appear in an NBC Thursday night sitcom — easy enough! — and you'll be drafted to play his onscreen love interest at some point. Take this stroll through Rudd's long list of Must-See TV love interests for further proof. (Jenna Fischer, he's bound to get around to you eventually.)
Tina Fey
When you first heard that Tina Fey and Paul Rudd would be romantically paired in Admission, didn't it just feel right? Now you know why! 30 Rock star Fey is just the latest of Rudd's many Thursday night leading ladies, and though she initially resists his charms in Admission (maybe she's worried he'll eventually leave her for a woman with an earlier time slot?), it isn't long before they're touching tongues.
Rashida Jones
Jones played Rudd's patient fiancée in I Love You, Man, and it's no surprise that they had easy chemistry together, since Jones has screen-dated plenty of Thursday night stars herself. She's worked her way through most of the men on Parks and Recreation (including Chris Pratt, Rob Lowe, Aziz Ansari, and former cast member Paul Schneider), and that's after a stint on The Office that found her dating John Krasinski on the show and in real life. Though she's predominantly NBCsexual, Jones has also experimented with Fox's Tuesday night lineup: She had a same-sex relationship with New Girl's Zooey Deschanel in Our Idiot Brother and dated The Mindy Project's Chris Messina in the indie Monogamy.

Mindy Kaling
After her first season on The Office, Kaling popped up as the ex-girlfriend Rudd just couldn't get over in The 40 Year Old Virgin. Finally, we have a Thursday night alumna who's immune to Rudd's vast charms: "Please don't reminisce about the times we fucked," she tells him.
Jennifer Aniston
Aniston tried (with mixed results) to seduce her gay BFF Rudd in The Object of My Affection, but the Friends Emmy winner had better luck in Wanderlust, where she began the movie already married to him.
Elizabeth Banks
A recurring presence on 30 Rock (where she played Jack Donaghy's baby mama Avery Jessup for several seasons) and in Rudd's filmography (they've appeared in five films together), Banks has played kissy-face with Rudd in two of his movies, Role Models and Wet Hot American Summer. In the former, their rocky relationship is healed by the final reel, but in Wet Hot, Rudd eventually dumps Banks with the immortal kiss-off line "You taste like a burger. I don't like you anymore."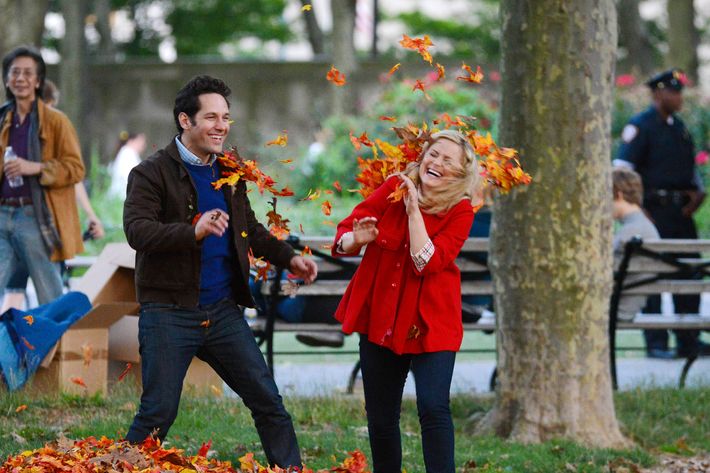 Amy Poehler
Rudd and Poehler spent last summer shooting They Came Together, a David Wain–directed spoof of romantic comedies where the two play business rivals who fall in love. Of course, Rudd already played Poehler's political rival on Parks and Recreation, and here's where things get really tricky/incestuous: Poehler's Parks and Rec love interest is Adam Scott, and in Our Idiot Brother, Rudd sets Scott up with his own two-time former love interest, Elizabeth Banks, who's now playing his sister. (This spiderweb will only grow more complicated with the upcoming comedy A.C.O.D., where Poehler plays stepmother to Scott.)
Lisa Kudrow
Why is Paul Rudd so well matched with NBC's Must-See TV funnywomen? It helps that, like most shows that air on that night, Rudd himself is smart, amusing, and totally beloved. (Yes, his box-office appeal isn't quite commensurate with how much we all adore him, but that's another thing he has in common with the indifferently rated Thursday night shows that NBC now programs.) It also helps that he's a Thursday night veteran himself: In addition to his Parks and Rec arc, he finished out the last two seasons of Friends as Mike, the eventual husband to Lisa Kudrow's Phoebe. Yes, he was her lobster.