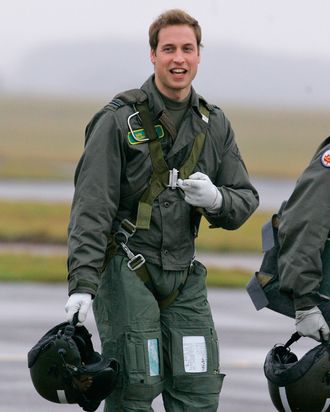 Britain's Prince William gestures as he walks across the airfield at RAF Cranwell, Lincolnshire, England, Thursday, Jan. 17, 2008. The prince, an army officer with the Household Cavalry's Blues and Royals, is two weeks into a four-month attachment with the RAF to help William, get to grips with the service's ethos, traditions and military role. The prince's father, Prince Charles, completed his flying training course at RAF Cranwell from March to August in 1971 and graduated that year as a Flight Lieutenant. While training with 1 Squadron of 1 Elementary Flying Training School, he will fly a propeller driven Grob 115E light aircraft, known as the Tutor. If successful he will move to 1 Flying Training School where he will get to grips with the faster Tucano T1 plane and finally progress to fly the Squirrel helicopter.
Photo: Kirsty Wigglesworth/AP/Corbis
Technically, it's more of a documentary, and William is not exactly the star, in a Kardashian sort of way. But he will get "extensive coverage" in Helicopter Rescue, a BBC show that will follow RAF rescue pilots (which Prince William was, until yesterday). If you are already calling this show Royal Top Gun and imagining extended scenes in which the future king of England plays beach volleyball, well, you're not alone.