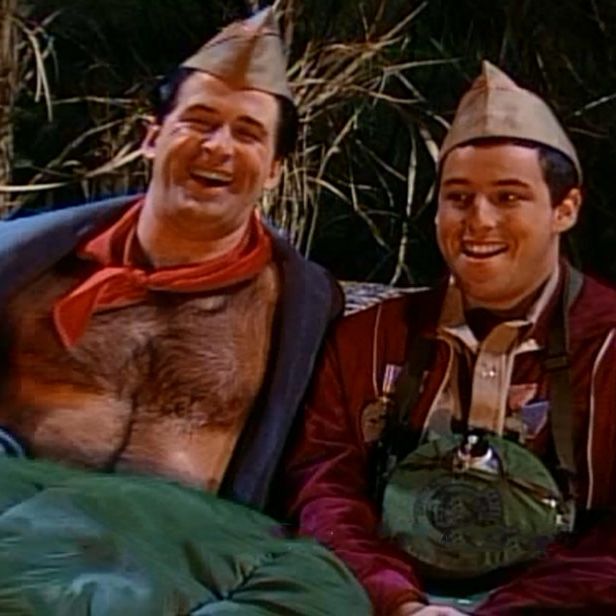 The Five-Timers Club — the elite group of actors chosen to host Saturday Night Live at least five times — was first officially codified in 1990, when Steve Martin, Paul Simon, and Elliott Gould welcomed new member Tom Hanks to the group. This Saturday, the small group expands yet again as Justin Timberlake comes back; he is only the thirteenth member of the club, and the first new one since Bill Murray notched his fifth appearance in 1999. Back in the day, SNL repeated hosts way more often — Candice Bergen, Buck Henry, and Gould all hosted twice in the first season, for example. But for our purposes, we're only including people who've hosted at least once in the modern era, which we're calling the last twenty years; nothing against Henry's ten gigs, or Gould's six, but neither has hosted since 1980. (The musical guest when Gould last hosted? Kid Creole and the Coconuts.)
There's a really good chance that Timberlake's monologue will be about joining the Five-Timers Club, and were we betting folk, we'd guess that at least one of the other members will make a cameo at some point in the episode. But here is our ranking: Only Saturday night will tell where J.T. would fall.
1. Alec Baldwin
Number of times hosting: Sixteen
Maybe it's just practice that lands him at the top — Baldwin has hosted more episodes than anyone else. Or maybe it's his Schweddy balls. He's Canteen Boy's molest-y scoutmaster, he's Tony Bennett, he's a bizarre cowboy.
2. Christopher Walken
Number of times hosting: Seven
It's hard to say that Walken is one of the best hosts. He's … Christopher Walken; either you're into that or you're not. But sketches on Walken episodes operate at a different frequency — whether it's "more cowbell" or the guy who doesn't know how to answer a census-taker's questions.
3. Steve Martin
Number of times hosting: Fifteen
It's impossible to pick a favorite Steve Martin sketch. Penis Beauty Creme? Christmas wishes? He's a wild and crazy guy, after all. He's also one of the few hosts who's been able to bring his own comedic voice to the show through different eras. Martin Short is probably the only other — and he's only hosted three times.
4. John Goodman
Number of times hosting: Twelve
Goodman's officially headlined the show twelve times, but he's done cameos on a dozen other episodes, either as himself, Linda Tripp, or even one of Da Bears superfans.
5. Tom Hanks
Number of times hosting: Eight
He played himself on "Celebrity Jeopardy," managed to out-spirit the Spartan Cheerleaders, and was a roadie on "Wayne's World." But this yoga sketch haunts us still:
6. Drew Barrymore
Number of times hosting: Six
Barrymore remains the show's youngest host ever — she was 7 when she first hosted in 1982 — and she's hosted more episodes than any other woman. Part of that is because she's had a longer career than any of her peers, by virtue of the fact that she started out so young, but she's also an incredibly game host who's proven to be surprisingly versatile when it comes to celebrity impressions — Calista Flockhart, Courtney Love, Melanie Griffith — and even managed to keep up with the controversial Gilly. She'll always be a lovah to us, though:
7. Bill Murray
Number of times hosting: Five
Murray hasn't hosted SNL since 1999, which is surprising and kinda disappointing. Bring back funny Bill Murray! He falls lower on the list not because he's a bad host per se, but none of his hosting gigs has lived up to his brilliance as a cast member.
8. Danny DeVito
Number of times hosting: Five
It's not actually DeVito's fault that he's ranking so low on this list — he's a fine host. But he's sort of the anti-Walken: His episodes take a weird dip in quality.
9. Chevy Chase
Number of times hosting: Eight
Chase has cameoed on episodes as recently as 2007, but he hasn't actually hosted since '97. Like Murray, he was never quite able to recapture his cast-member magic, but unlike Murray, no one seems to miss him that much.