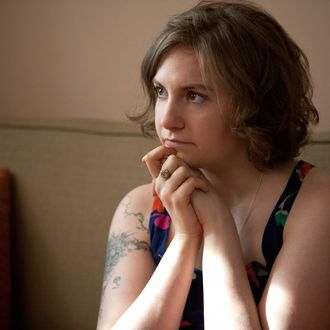 Photo: Jessica Miglio/HBO
There's been plenty of buzz for Girls this season, but it hasn't made a difference in the ratings. Last night's season-two finale drew pretty much the same audience as last summer's freshman-year swan song. HBO says 1.1 million viewers watched one of the three plays the network gave Girls Sunday, which is roughly the same number of viewers*, on average who watched the two Sunday night broadcasts of the show HBO offered last year at 10:30 p.m. and 12:30 a.m. If you look at the initial telecast of both episodes, Girls was down noticeably from 2012, averaging 632,000 viewers at 9 p.m. last night versus 1 million viewers at 10 p.m. last summer. But it's worth keeping in mind that last year, the Girls finale aired immediately after an episode of megahit True Blood, while most of the other season one episodes aired behind new comedy Veep. By contrast, last night Girls was the only big attraction on HBO. What's more, Girls this season is pulling in about 4.6 million viewers every week when you combine multiple plays on HBO, video on demand figures, and those who watch on HBO GO. According to the network, that's just as many as the number of cumulative viewers Girls averaged last season.
* An earlier version of this story incorrectly compared cumulative ratings for last night's "Girls" to ratings for the show's penultimate episode of 2012 rather than the show's 2012 finale.