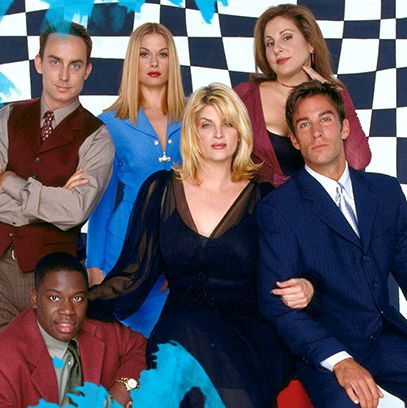 Thursday nights on NBC: They defined the second half of the nineties as "Must-See TV." But beyond the anchors of Friends and Seinfeld, and later Will & Grace, many, many other shows populated the lineup. Like, so many. More than you remember were stuffed between the 8 p.m. and 9 p.m. half-hour hits, hoping that their huge audiences would latch onto their lead-outs — and yet nothing ever really took off. In honor of Seinfeld's ousting in today's Sitcom Smackdown, let's go through the once-mighty lineup, with a complete list of everything else that ran in that NBC block since the dawn of Friends in 1994.
The 1994–1995 TV Season

Mad About You (1992–99)
Mad was only on the Thursday lineup for two seasons: 1993–94 and 94–95, when it held down the eight o'clock spot that became Friends' home the following years.
Hope & Gloria (1995–96)
This show by two Cheers vets about life backstage at a daytime talk show hosted by a boor (Alan Thicke) ran for two seasons! Good luck remembering any of its 35 episodes.
Madman of the People (1994–95)
It's hard to wrap your brain around just how many also-ran shows there have been over the years. Amy Aquino, Dabney Coleman, and Craig Bierko co-starred in this sixteen-episode clunker about a newspaper columnist.
The 1995–96 TV Season

The Single Guy (1995–97)
It was like a Seinfeld-lite, staring Jonathan Silverman. Many, many shows from this era could be called "the single guy."
Caroline in the City (1995–99)
Lea Thompson played the titular flighty cartoonist. The show was only on Thursdays for one season and then moved to Tuesdays and then to Mondays. Very, very middle-of-the-road.
Boston Common (1996–97)
Country bumpkin (Anthony Clark) attempts to chaperone his younger sister's foray into higher education. Zach Galifianakis appeared on several episodes.
The 1996–97 TV Season

Suddenly Susan (1996–2000)
Oh, you remember this one: Brooke Shields, Kathy Griffin, Judd Nelson. In its first season, the show was the third most popular series — but when it moved off the Thursday powerhouse lineup, it dropped to 65th. (Which was still around 8 million viewers.)
The Naked Truth (1996–98)
NBC really tried to make Téa Leoni happen, but endless catchy jingles weren't quite enough.
Fired Up (1997–98)
Sharon Lawrence, Leah Remini, and frequent flyer Mark Feuerstein just couldn't make this workplace comedy work.
Union Square (1997–98)
Another swing and a miss: NBC aired just thirteen episodes of this sitcom about a group of New Yorkers hanging out at a very Central Perk–like diner.
Just Shoot Me! (1997–2003)
Finally! Winner winner chicken (potpie) dinner. Shoot bounced around the schedule a lot and was never a permanent fixture in the Thursday lineup, but it aired in the post-Friends slot for a little while.
Veronica's Closet (1997–2000)
Another show that's a testament to just how powerful time slots used to be: In its first season, the Kirstie Alley–led comedy raked in 24 million viewers; once it moved from Thursdays for its third season, the number was closer to 7 million.
The 1998–99 TV Season

Jesse (1998–2000)
Shortly after Married with Children ended its run, Christina Applegate followed up with another sitcom, this time playing a single mom. It's hard to believe now, but in 1999, 16 million viewers was not enough to stay on the schedule.
Will & Grace (1998–2006)
Will actually started as a Monday series (lead-in: Caroline in the City) and then moved to Thursdays at the end of the 1998–99 season. One of the few legitimate hits on this list.
Frasier (1993–2004)
Another legitimate hit. But Frasier spent most of its run on Tuesdays; it was in the nine o'clock spot for only two seasons.
The 1999–2000 TV Season

Stark Raving Mad (1999–2000)
Tony Shalhoub played an author, Neil Patrick Harris played his editor, no one played the audience.
Daddio (2000)
Sorry, Michael Chiklis family sitcom that only ran nine episodes.
Battery Park (2000)
Sorry, Elizabeth Perkins cop sitcom that only ran four episodes. Gone are the days of shows having a full season to find themselves.
The 2000–01 TV Season

Cursed a.k.a. The Weber Show (2000–2001)
NBC tried to retool this Steven Weber–led sitcom halfway through its first season, but it didn't work. You can't just make another Wings, apparently.
The 2001–02 Season

Inside Schwartz (2001–02)
And now the lineup is really starting to show signs of fatigue. Schwartz, starring Breckin Meyer as a low-grade sportscaster, barely made a dent.
Leap of Faith (2002)
Sarah Paulson, Lisa Edelstein, Regina King, Ken Marino, and Tim Meadows — the cast was so promising! And yet it aired a grand total of six episodes.
The 2002–03 TV Season

Scrubs (2001–10)
Another show that moved around a bit: In its seven seasons on NBC, only three had permanent time slots. (It was part of the Thursday lineup in the show's second, third, and seventh seasons.)
Good Morning, Miami (2002–03)
Hello again, Mark Feuerstein. Good-bye again, Mark Feuerstein.
The 2003–04 TV Season

Coupling (2003)
And that's how NBC's Friends-era comedies ended. Not with a bang but with four episodes of a show that would become synonymous with bad TV translations. After this, The Apprentice started airing on Thursdays.