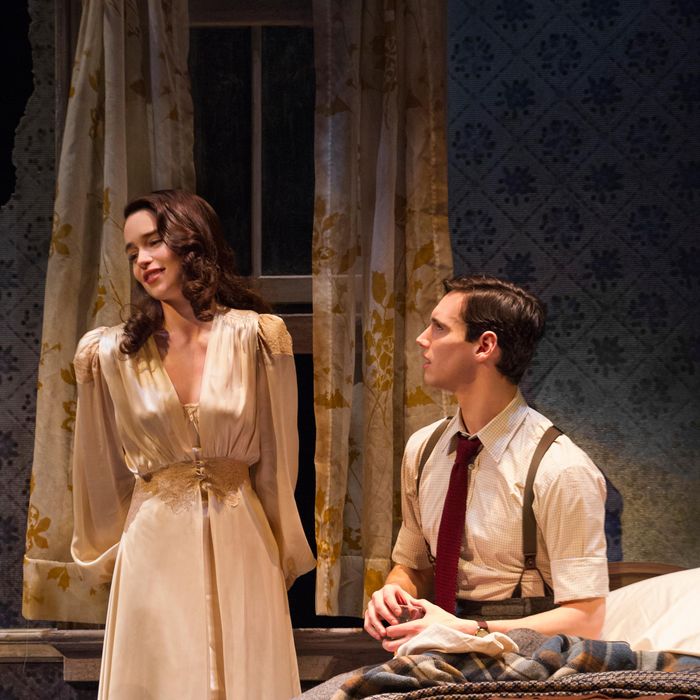 Photo: Nathan Johnson Photography
Pity poor Holly Golightly! No matter how far she travels from home, how great she looks in her stylish ensembles, how many men she beguiles and identities she dons, her past will always overtake her and her invented lives will collapse.
I speak not just of the character of Holly (née Lulamae Barnes) in Truman Capote's Breakfast at Tiffany's but of the various adaptations of the 1958 novella she has inspired. The most famous — the 1961 movie starring, indelibly, Audrey Hepburn — radically sanitized the story, in which a shy young writer not unlike Capote befriends a high-priced call girl whose shamelessness proves instructive if cautionary. (Capote wanted the more feral Marilyn Monroe for the role.)
The most infamous was the 1966 Broadway musical starring Mary Tyler Moore; producer David Merrick took an ad in the Times to explain that he was shuttering it, after four previews, because he could not "subject the drama critics and the public to an excruciatingly boring evening." (Echoing the novella's theme of misalliance, the musical featured a book by Edward Albee.) The curse continued with a 1969 television series starring Stefanie Powers, canceled even before its pilot aired, and a 2009 London stage adaptation, with Anna Friel, that flopped. If they all shared Holly's fate, it's because they also shared with her the folly of a belief in reinvention. Both the deracinated good-time girl and the perfect novella were better off where they started.
So pity poor Richard Greenberg, too. The fine playwright (Eastern Standard, Take Me Out) had the impossible job of rejiggering the material for this Broadway production. His theatrical intelligence, not to mention the license for frankness our times would seem to confer, suggested that he might finally do Holly and Capote some justice. And, in a way, he has. It's just not clear that justice, in the sense of textual fidelity, is what this material needs.
Breakfast at Tiffany's is not, after all, an especially theatrical novella. It's told retrospectively, fourteen years after the fact, by a witness who is more of a peephole than a character. (The only name he has is the one Holly gives him: Fred.) Greenberg faithfully retains this literary quality in the form of narration, often verbatim, which has the disastrous effect of turning Fred into the major character even though his enslavement to Holly renders him utterly passive. To compensate, Greenberg provides scenes in which the young man interacts with others: scenes Capote might have written, we are asked to believe, if he'd been free to. In these interactions, Fred's ­homosexuality — a ­reasonable inference from the novella — is made explicit. An editor comes on to him. Holly suggests he hook up with a trick. ("If you want to console yourself for the lost evening, you might try doing it with that," she says, indicating a sailor on the Brooklyn Bridge.) And whereas Capote's Fred is fired from an unspecified job "for an amusing misdemeanor too complicated to recount," it's not too complicated for Greenberg to imagine: His Fred is fired from The New Yorker for fooling around with another young man in the supply closet. Is that what Capote "really" meant? He himself had been a copy boy at The New Yorker and was fired for insulting Robert Frost.
However well or poorly it's done, an odd thing happens when you fill in all the blanks: the hopelessness of Fred's love — perhaps especially because it's convincingly rendered by Cory Michael Smith —­ becomes so obvious that the drama leaches out. The constant direct address to the audience exacerbates the problem; it's a paradox and glory of theater that being spoken to is not as engaging as watching people speak to each other. Breakfast at Tiffany's is thus reinvented as something you would hardly think possible: dull. And Holly is, too. While the novella suffuses her with the generous light of youthful memory, the play, enacting her exploits as they happen, grinds her down from charmer to enigma to liar to bitch in little more than two hours.
It's a trap I doubt even Hepburn could have escaped. At any rate, Emilia Clarke, whose role as the heart-eating Daenerys Targaryen on Game of Thrones might seem to have prepared her perfectly to play Holly, can't pull it off. She's likable, she sings her one song (not "Moon River") well, and she looks lovely in Colleen Atwood's costumes. But when a girl named Golightly has to work at effervescence, something's wrong — and it's wrong throughout the production. The famous party scene ("Enter: The population of Manhattan") is so flat and skimpy it must be filled out with silhouettes of additional guests projected on the walls. But then even the non-silhouettes are flat. Most of the performances are so heavy it seems as if the actors are laboring under the weight of an encyclopedia, not a slim volume.
The net result is that Capote's light touch is coarsened irreparably — not that the director, Sean Mathias (who also directed the Anna Friel version) seems to mind. Rather, coarseness appears to be what he's after. Breakfast at Tiffany's may be the least noir fiction ever, yet all the noir clichés are in place here: the chiaroscuro lighting, the neon signs, the slashing dits and dashes of rain. In such an environment, Capote's graceful humor wilts. And though the audience is grateful for the humor Greenberg has supplied in its stead, his punch lines involving the Shroud of Turin, a junior year abroad, and "little Holly: happy at last" feel snarky and out-of-period.
Capote obviously could have been snarky if he'd felt like it, but he must have known how it would unbalance the story. Because of his tonal control, he was able to keep what might have been a lurid tale lovely, a tragic one golden and sad. If he was onto his characters (Holly's varicolored hair, in the novella, is "somewhat self-induced"), he was not over them. And without that love, Breakfast at Tiffany's gets dreary pretty fast. It's more like Breakfast at Woolworth's: grittier perhaps, but hardly aspirational. Can't a girl be left to her dreams?
Breakfast at Tiffany's is playing at the Cort Theatre.