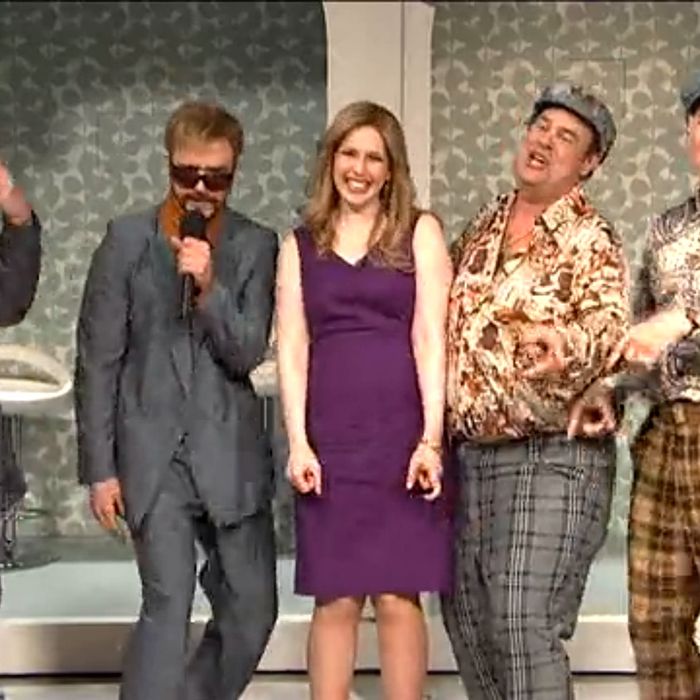 The first major sketch of Justin Timberlake's fifth go-round as Saturday Night Live host was a Dating Game takeoff that at first seemed like any other SNL game-show sketch. The first bachelor was revealed to be a bland good guy played by Bobby Moynihan, and then came the first big reveal: The second bachelor was actually a duo, Timberlake and Andy Samberg dressed as the "Dick in a Box" guys. But it seemed odd that the show would use up their big applause opportunity on Door No. 2 … until Door No. 3 opened for the second reveal — Steve Martin and Dan Aykroyd reprising their Festrunk brothers from the seventies. The dating show was hardly the last of the callbacks. If you include the monologue's "Five-Timers Club" bit (which was practically a beat-by-beat reprise of when Tom Hanks was initiated in 1990 with some notes of 2006's "Platinum Lounge"), six of the eight live segments (including "Weekend Update," but not the pretaped commercial parodies) featured returning characters. For some SNL fans, this was a giddy festival of old favorites. For others, it was the perfect example of what's been wrong with SNL for nearly 40 years: It's too up its own ass, constantly retreading old bits. These complaints have been heard since season one, and it is time to accept that not only will things never change but that Lorne Michaels is smart to ignore the haters.
The legacy of repeating characters and sketches is basically as old as the show. The story goes that the idea of bringing back something never crossed anyone's mind, including Lorne Michaels's, until the show's tenth episode, when Buck Henry was to host. As Michaels explains in the SNL oral history Live From New York, Henry showed up and simply asked, "Do you want to do the Samurai again?" And the rest was history, which, as we all know, repeats itself. Recurring characters became the show's dominant aspect, often spinning off into movies or greeting-card lines. (Last year, we made a thorough study to discover which SNL season was most dominated by recurring sketches; turns out it was 1978–79, again proving that this is nothing new.)
Even during the early years — a.k.a. the "good years," a.k.a. the "dangerous years" — some people thought it was lazy or hack. In the book on comedy writing And Here's the Kicker, SCTV alumnus Harold Ramis explained why he was happy to not work on SNL even though all his friends were: "The writing was a little weak and gratuitous in a lot of ways. I though the notion of just repeating scenes over and over, week after week, was not a good thing." However, as Buck Henry argued in the same book, "The repetition is funny in and of itself." And those who love this aspect of the show would argue that the very fact that these characters are met with exuberant applause is evidence of why it's a good practice. Fans love the characters, and they love repeating the catchphrases on their own, so why wouldn't it be a delight to see those characters repeat the catchphrases?
Classic JT characters weren't the only ones reused last weekend. The last two live sketches of the night — "Maine Justice" and "Moët & Chandon" — were not only redos, but they were also from the same episode from earlier in the season, Jamie Foxx's. "Maine Justice" lost a ton of juice in its second go-round, as the sketch became less about the concept (a surreal Maine courtroom where everything is inexplicably New Orleans–y) and more about the characters (namely Jason Sudeikis's Cajun judge, who himself strikes a resemblance to Sudiekis's character from the "Potato Chip" sketch). Conversely, Vanessa Bayer and Cecily Strong's unfortunate porn stars grow more ridiculous and compelling as we learn more about their insane past. But will it get even better the fourth and fifth times and beyond?
But ultimately, none of the aesthetic comedy debate on this issue matters. Michaels has been hearing complaints about recurring characters for nearly 40 years and has shrugged it off because, as heretical as this might sound to its critics, it would be foolish to change. While the rest of network TV slides deeper into the abyss, SNL holds relatively strong. Unlike most shows in prime time, its audience this season, particularly among adults under 50, is the same or higher than it was two or three years ago. What's more, as NBC's fortunes have sunk, SNL now often boasts a bigger audience than many of the network's comedies and dramas. TV executives flail (and usually fail) to find new ways to reinvent the sitcom, drama, or reality show; when a talk-show host retires, the network tries to find some fresh way to invigorate the host/desk format. But SNL has an automatic-refresh button: As beloved cast members leave to become big movie stars, new young faces come in with the promise of being the next generation's big star. The very appeal of this show is that young people will get new faces to "own": The unchanging institution of SNL is a machine with which we watch our new comedy heroes get built.
That's what Justin Timberlake's Five-Timers Club monologue was about: continuing to assert the show's place as an institution. So just as Tom Hanks belonged in the same all-time-great host conversation with Steve Martin, Justin Timberlake belongs in it with Tom Hanks. Michaels famously believed the show was special when he started it, and he continues to do so today. Saturday's episode reminded you that throughout the show's 38 seasons, through exceptional and less-than hosts, there's a legacy. And whether you like it or not, part of that legacy is recurring characters.