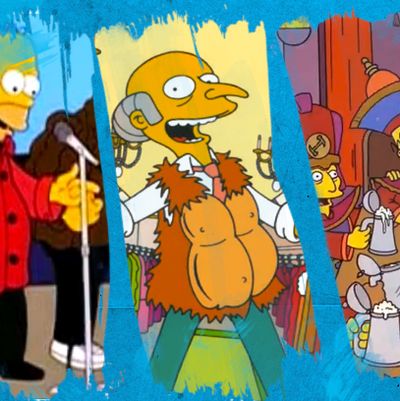 Today ended our three-week Sitcom Smackdown to determine the best sitcom of the past 30 years, and The Simpsons emerged as the ultimate champion. And what better way to celebrate this victory than through song? So we asked the writers of The Simpsons to come up with their list of their ten favorite muscial numbers from the show's 24-year history. Check out their selections, with commentary from showrunner Al Jean. Prepare to be rocked, Dr. Zaius–style.
10. "Capital City" from season two's "Dancin' Homer." In this song by Jeff Martin, Tony Bennett extols the virtues of Springfield's state capital, which includes the crosstown bridge, the Penny Loafer, and 4th Street and D. The song helped Tony Bennett reach a younger audience, but did nothing to help The Simpsons reach an older audience. [Co-creator] Sam Simon reached out to Bennett. There was an internal debate over whether or not to have a guest star playing himself. We hadn't done that before. The real world won.
9. "High to be Loathed" from season 24's "Gorgeous Grampa." Written by Matt Selman and Allen Simpson (no relation to the Simpsons). This song explores yet another dark side of Montgomery Burns and appears in the same episode where the Simpsons do the "Harlem Shake," effectively putting an end to that fad. It's getting harder to do songs. When we started, the idea of an animated show doing a musical number was novel. Now shows like SNL do things like "Dick in a Box," and Family Guy does musical numbers all the time. We like doing songs with Mr. Burns because he's just a funny person to be singing. Right now we're writing a song for Comic Book Guy, which will air in January.
8. "See My Vest" from season six's "One Dozen and One Greyhounds." Lyrics by Mike Scully, music by Alf Clausen. In this cross between 101 Dalmatians and "Be My Guest" from Beauty and the Beast, Mr. Burns extols the beauty of a coat made from dogs, and it contains the lyric "beret of poodle on my noodle." It was a chance to make a fun song about a horrible, horrible thing. Most Disney movies often break for a song from the villain's point of view. David Mirkin produced it; he also did "Who Needs the Kwik-E-Mart?" He's a talented musician, and after James Taylor appeared on The Simpsons, they became friends.
7. "We Do" (the Stonecutters' song) from season six's "Homer the Great." Lyrics by John Swartzwelder, music by Alf Clausen. John Swartzwelder does not like musicals and is annoyed when anybody starts singing onscreen. I remember him in the [writers'] room saying, "I hate it when characters break into song." So we put this in the episode. The song was nominated for an Emmy. (The Simpsons has been nominated for "Individual Achievement in Music and Lyrics" nine times.)
6. "Baby On Board" from season five's "Homer's Barbershop Quartet." The episode, written by Jeff Martin, in which a barbershop quartet started by Homer turned into the Beatles of its time, with cameos by George Harrison and David Crosby. The Be-Sharps were voiced by Disneyland's Dapper Dans in The Simpsons' attempt to capitalize on the barbershop quartet craze of the early-nineties. Martin pitched the idea of an episode where barbershop was the most popular song style in the world. And I then said, "Let's turn it into the story of the Beatles."
5. "Ode to Branson" from season thirteen's "The Old Man and the Key." Lyrics by Jon Vitti, music by Alf Clausen. Features the actual voice of the legendary comic Ray J. Johnson. You can call him Ray. And you can call him Jay. Or you can call him by his real name, Bill Saluga. We actually wanted to have Mr. T in the song, but we didn't think we could get him. We had him on the show later, and he asked us why we hadn't asked him for this episode.
4. "Everybody Hates Ned Flanders" from season fourteen's "Dude, Where's My Ranch?" Lyrics by Ken Keeler and Ian Maxtone-Graham, music by Alf Clausen. To date the only vocal collaboration between Homer Simpson and Talking Heads front man David Byrne. We sent David the song and asked him if he was interested. Music editor Chris Ledesma recorded him in New York.
3. "I'm Checking In" from season nine's "The City of New York Vs. Homer Simpson." Lyrics by Ken Keeler and Music by Alf Clausen. A tribute to the Betty Ford Center, it appears in the episode centering on the World Trade Center, which was pulled from air for a year after the 9/11 attacks. It's the most bizarre thing in the history of the show because it seems to predict 9/11. And of course we had no idea. But there are all these conspiracy theories about it — like, "Ian went to Brown and so he knows a lot of people who went to Harvard, and Harvard guys are behind everything." The thing I like about the song is that it's so exuberant about something horrible.
2. "We Put the Spring in Springfield" from season eight's "Bart after Dark." Lyrics by Ken Keeler, music by Alf Clausen. One of two songs on The Simpsons to win an Emmy (the other is our No. 3 * pick, above). "We Put the Spring in Springfield" chronicles the nocturnal goings-on of Springfield's legendary "Maison Derriere." It was kind of a jump: The show hadn't been that dirty before. The name of an informal cabaret show based on the music of The Simpsons, this may be the most popular Simpsons song ever except for …
1. "Stop the Planet of the Apes I Want to Get Off" musical from season seven's "A Fish Called Selma." Lyrics by Jack Barth, music by — you guessed it — Alf Clausen. "I hate every ape I see/ from chimpan-a to chimpanzee" may be the most quoted song line that's ever been quoted from the show. That lyric about "chimpan-a to chimpanzee" was written by David Cohen. But about fifteen years ago, we instituted a policy where we give the lyric credit for the song to the writer of the episode.
*The original text listed the No. 1 pick as an Emmy winner; it's actually No. 3 on the list, "You're Checkin' In." And two other corrections: "Capital City" was written solely by Jeff Martin, and while Ian Maxtone-Graham directed David Byrne's dialogue in New York, Chris Ledesma directed his singing in Los Angeles.