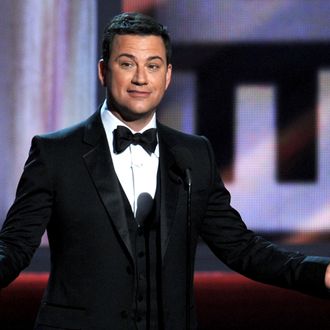 Photo: Kevin Winter/Getty Images
It's Sunday afternoon, your last chance to read all that stuff you meant to read last week before Monday brings a new deluge of things you will want to read. Below, some of our recommendations:
"Here's Jimmy Kimmel" by Jonah Weiner (Rolling Stone): Bro-ing out with Jimmy Fallon's late-night competition.
"Seduced by 'perfect' pitch: how Auto-Tune conquered pop music" by Lessley Anderson (The Verge): Auto-tune is artificial, but is that such a bad thing?
"By Any Other Name" by Teddy Wayne (The New York Times): Would you rather read a book by a John or a Jonathan? 
"Partial Magic in Pat the Bunny" by Ed Park (Slate/The Believer): On the scary, infinite regression contained in classic children's books about rabbits.
"I'm not here to make friends" by Daniel D'Addario (Salon): Survivor has been on for 24 seasons, and some people are still showing up to the casting calls.
For more in-depth weekend readings, visit our friends at Longreads.